EAST AFRICAN COMMUNITY: MYTH AND REALITY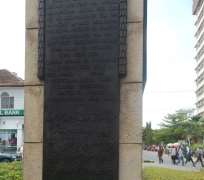 By:Abubakar Sematimba
The realization of East African community dream seems to be so near yet so far. The organization that was founded by basically three East African countries; Uganda, Kenya and Tanzania's future seem to be in the balance.
Our leaders spend seemingly sleepless nights thinking about this developmental venture, and they have gone an extra mile by formulating a legislature, with a speaker this time from Uganda Mrs. Margret Zziwa but a lot has to be done indeed.
I was in Dar-salaam recently, en route to the Indian Ocean Island of Zanzibar. I traveled by Rwenzori Ship of Azam company and this is what I discovered.
Surprisingly, Tickets are sold at different rates, depending on the nationality, a 'Foreigner' from Ghana, Kenya, Nigeria, Uganda, and elsewhere in the world, if s/he has no United Republic of Tanzania I identity card, or local permit of any kind, has to pay in Dollars, that is $25 or the equivalent of that in Tanzania Currency.
Residents from Tanzania and Zanzibar pay T.ZShs23, 000, on presentation of their Identity cards.
Zanzibar and Tanganyika forms the United Republic of Tanzania, although Zanzibar has a limited autonomy, however, the powers that the mainland has over the Island remains ambiguous, with each side accusing the other of not respecting the treaty 'Mungano' that brought the two nations together.
I was denied a local ticket because of being a 'foreigner' from Uganda; remember both Uganda and Tanzania are in the East African community.
Ironically Zanzibar which is part of Tanzania claim not to be part of this treaty, and one wonders who is fooling who.
Any how, I had to pay as a foreigner from Uganda, if at all I wanted to be allowed to board a vessel to the historical Island of Zanzibar.
Surprisingly, Tanzanians and the Islanders travel to Uganda frequently, but they don't pay differently from the locals.
Why then other East Africans have to be referred to as 'foreigners', hence paying differently to get services from their fellow East Africans.
I call upon the stake holders to sit down, and find a lasting solution to some of these irritants that are likely to hinder the process of realizing our East African community dream.
The East African Community (EAC) is the regional intergovernmental organization, it has expanded its frontiers from the original three to add other countries in the region, and these are the Republics of Burundi, and Rwanda, with its headquarters in Arusha, Tanzania.
To further ease the movement and boosting the tourism industry in the region, the East African community leaders signed a common treaty, to create a single tourist visa, and this came into effect on January 1, 2014.
Disclaimer:

"The views/contents expressed in this article are the sole responsibility of

Abubakar Sematimba

and do not necessarily reflect those of The Nigerian Voice. The Nigerian Voice will not be responsible or liable for any inaccurate or incorrect statements contained in this article."
Articles by Abubakar Sematimba