WHEN A HUNTER BECAME THE HUNTED: ELECTRICITY OFFICES IN DARKNESS, WHAT A SHAME!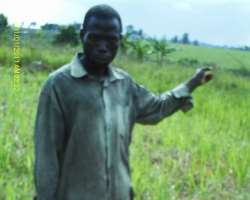 By: Abubakar Sematimba
On the 20th of March 2014, two men working for electricity board UMEME, with name tags of Luke and Lukere on their chest came to our offices to disconnect the Institute for its 'failure' to foot the outstanding electricity bill.
Unfortunately, these men later ascertained that they had wrongly disconnected the power supply; in fact the Institute was being owed over a Hundred thousand Uganda shillings by the supplier UMEME, according to the books.
The manager of the Institute Mr Siraj, visited the Branch offices of the electricity suppliers 'UMEME' situated at Nakulabye , an outskirt of Kampala the capital city, to launch his dissatisfaction, and this is what he found out.
' I was sickened to find the electricity offices in total darkness, being in Darkness could not be an issue, but how comes that a company that exorbitantly sell its power, fail even to have a small generator, not even a solar lamp for emergency situations and cases'. Mr Siraje fumed.
The UMEME offices where found in total mess, darkness, Long queues and poor services welcomed the clients.
The personnel resorted to traditional way of service, writing customer's details in text books, and at one stage they got stuck when it came to those who had fully paid but ignorantly disconnected.
The computers where off, and it became really a total mess, you could observe all kinds of emotions from the customer's faces who eagerly wanted to be served but no electricity.
I heard one customer saying that, he had passed an ultimatum at his home' never to open a door for any electricity board staff, and if anybody gains access without his approval, he will be welcomed by his dogs.
With advancement in technology, one wonders how the electricity board can fail to equip its self with a quick, but simple computerized program to ascertain the position of its clients.
The usage of list shows how back ward UMEME is in technology, the Company provides its staff with these lists in the evening, and the following day, these men move around disconnecting anybody on the list with orders from the headquarters.
In Uganda the electricity board UMEME has put in place a service for its consumers; they can now pay using their Mobile phone handsets.
On many occasions confusion had happened between the consumers and UMEME staff, where by a customer settles his bill using his Mobile phone, and the following day UMEME staff goes around with old list switching off anyone irresponsibly.
Remember these UMEME men are not equipped with any equipment/computer, to find out whether the customer had paid or not, and this is the scenario that occurred few days back when electricity supply of one Institute was disconnected wrongly.
Like many other African countries, majority of Ugandans are peasants living in villages, with no electricity at all, and the small percentage that consumes it, do so at a high price.
Uganda's unit is arguably the highest in the entire East African community.
With the growing population of almost 40 million people, Uganda's hydro electricity cannot be relied on to suit the demands of its growing population and the neighbors.
With Kampala soon beginning to explore its virgin natural resources in Bunyoro, around Lake Kyoga, the discovery of Oil and natural Gas, could in the near future lead Uganda to venture into other means of power production, thus developing peaceful nuclear reactors like other developed world to curb the electricity problem for her people.
Disclaimer:

"The views/contents expressed in this article are the sole responsibility of the author(s) and do not necessarily reflect those of The Nigerian Voice. The Nigerian Voice will not be responsible or liable for any inaccurate or incorrect statements contained in this article."
Articles by Abubakar Sematimba