My 'Analog Photography' Experience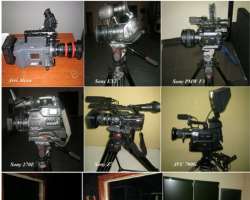 As a student of Fine Art, I took my first course in photography in '400 level', sometime in year 2014, and as required by the course outline, I, along with some of my colleagues experimented with the analog process of photography. Getting the needed materials wasn't quite easy, and very costly. I got my own Black & White film, Fuji or Kodak or so, and rented a Canon AE-1 35mm film camera to get the given project done. We were so discreet in the loading of the films; we exposed frames and made photographs.
Unlike the digital photography where you have the luxury to shoot an image, review it, delete it and then going on to shoot another one until you have your favourites, in analog, you can't see your images right away and you're left to trust your abilities as a photographer and concentrate on shooting. With digital, you can shoot on and on, but in analog, you have to frame the image you want to shoot at the back of your mind before picking the camera for you have a limited amount of frames in your film, usual of 24 or 36, to expose at a given time. So you have to be conscious of your shots and pay attention to making photographs rather than merely exposing frames.
After wandering the streets shooting- men with tribal marks, aged men with wrinkles, carpenters at work, moving vehicles, traditional hairstylists, to mention a few, we headed to a prepared darkroom for the production of the photographs. The darkroom experience was hellish. You just imagine yourself in a totally dark room with no exposure to not even a ray of light, with offensive odour of chemicals gracing your nose.
The production process wasn't as speedy and easy like that of digital. With the advent of digital photography and advancement in technology, you can take a picture and before you say jack, you have your displayed rarely washed teeth printed. More so, with photo manipulation software, you'll have your ugly face beautiful on photo-sized papers. You get photographed seated on a rough seat, but in the print, you find yourself placed on a gold plated sofa inside a beautiful mansion, and you're left to fantasize it. This has displaced the claim of the Yoruba adage that says, "iyanje o si ninu foto, bo ba se joko lo se maa ba ara e". That was in the days of analog.
During production, we placed the films one by one in the 'developer', rinsed them with water and fixed with 'fixer', before later washed with water to remove all the processing chemicals, and left to dry to have the negative images of the shots. We got the 'negatives' and went ahead with the employment of an 'enlarger' to project the images onto light-sensitive papers. We then put the papers into developer for some seconds and later fix. That produced the final images we so labored for.
We excised patience, and were very calculative and cautious in handling the films in the process. Funny enough, some of us washed the films like we were washing clothes, with some frames washed away and some films squeezed beyond being useful. Nonetheless, the result of the production was great. The Black & White photographs were masterpieces- the antique was represented, they evoked nostalgic and dream-like memories with timeless quality. Though the darkroom experience was hellish, but will forever cherish that moment...a timeless one!
Apparently, you can't experiment with the analog process for years without becoming a master in the photography art. Analog photography will make you a better, focused and creative photographer. I would suggest wannabe photographers get trained with the analog first before the exposure to the digital process. It would really help put them in the right frame of mind to create mindboggling photographs.
I give kudos to the J.D. Ojeikeres, Peter Obes, Solomon Alonges, and other master photographers who made their art and earned their living through the rigorous analog process. Am so sure photography would be a thankless job during their days. They truly worked for being legendary masters in the art. They worked for it! YES!
Oluwatomilola Boyinde, A Young Nigerian Documentary Photographer, Photojournalist and Columnist. Publisher & Editor of www.masterpiz.com – Nigerian Art Online Community. Instagram @boyindeoluwatomilola.
Disclaimer:

"The views/contents expressed in this article are of (the) AUTHORS (or Contributors or Columnists) and do not necessarily reflect those of NigerianVoice. NigerianVoice will not be responsible or liable for any inaccurate or incorrect statements contained in this article."
Articles by Oluwatomilola Boyinde