A Prayer For You, Ogbeni Rauf Aregbesola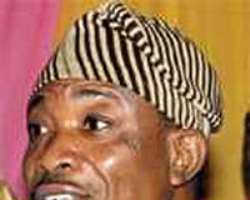 It is of no necessity to remind you what you went through to regain our "stolen" mandate and to retain that 'not-of-present' an enviable seat for another four years. It was neither a "Kiriji" nor was it a "Jalumi", but it was a battle, a fierce one you fought, and like "Agbogun Gboro" who liberated your forefathers from the Ibadan hegemony, with resolute determination, steadfastness and strong-headedness of the 'Ijesa' virtue, you conquered- you emerged victorious.
You came with a steering mission, one deeply rooted in the vision of our heroes past; people-driven governance, reminiscent of the Chief Obafemi Awolowo and Chief Bola Ige eras. In tandem with your 'Six-Point Integral Action Plan' which focused on agriculture, economic and youth development, health, education and security, defined to realize the development agenda for the State, you aimed at turning the State around in a twinkle of an eye. A visionary leader, you pictured a State that would be a model for not only other States in Nigeria.
Upon assumption of office, you hit the ground running by creating jobs for thousands of unemployed youths. You arrested the massive environmental degradation causing deaths in numbers annually. You initiated projects that would make Osun be self-reliant and be a reference point in Nigeria. We hailed you, as the messiah that will transform our State into an el-dorado. Your "unusual" style of governance won you accolades outside Nigeria and endeared you to many, and was generally acclaimed as a template for good governance.
Unfortunately, all of a sudden, like a drunken driver, you lost the wheel. You got everything wrong somewhere, somehow. Now you wander in a pathless waste; you grope in the dark without light, and stagger like a drunken man. Truth be told, you're your government gone comatose, Osun is now a failed state! Nothing works anymore, not even the walking roads. There are so many abandoned roads and projects, and the existing ones are already falling into disrepair.
There is famine in this land, human-caused one. We're in a big mess, one close to apocalypse; things are very tough owing to backlog of unpaid salaries, arrears and pensions. We're facing a lot of hardship. The commercial activities are suffering and survival is difficult; of course, everyone is connected directly or indirectly to the salary earners, the civil servants who their salaries are yet to be paid in full. We live in penury, and our lives in a tenuous balance.
Our vessels are empty; we're dying, hungry and sick, with no penny to treat ourselves, and incapacitated to provide for families. We're really suffering; our cheeks are sunk, bellies flat and despair written all over our faces. We have become like refugees where philanthropists now donate food to us and we queue to take our rations. For a Ben Bruce, the "Common Sense" crooner and boastful giver, to have stepped and spat on your once fancied gigantic beautiful mat- we the people of Osun, it speaks volume of how low you've brought us, and how we've been turned beggars in the eyes of the public.
We've never experienced this, and we never for once envisaged we could be faced with this economic crunch. So, we dared to ask salient questions: How did we find ourselves in this pitiable state? Why are we being faced with a biting economy? Why is the spring of progress and development no longer living? What has made Osun totally bankrupt and in a state of insolvency? Why is the State deeply lost and adrift in financial and policy mess? Why is our State plagued by famine? Why has your good intentions gone awry?
To political analysts, the genesis of the economic crisis that has left the State paralyzed began in 2012 with the increment in the state's expenditure due the huge wage bill occasioned by the implementation of the minimum wage for all junior workers, and later was extended to senior workers. To your sympathizers, it is due to federal government's financial recklessness, and twin factors of unprecedented corruption and poor economic policies of Goodluck Jonathan's led administration. Moreover, the dwindling allocations from the Federation Account due to tumbling oil prices at the international market worsened the situation.
To avoid being remained in a huge financial mess which the reality of the current economic situation has posed, only diversification of the economy through aggressive development of key sectors in the can come to the rescue. At this time of severe oil price volatility, rather than the perpetually dependent/over-reliance on the meager allocations from the federation account, which no doubt has hindered progress in all ramifications, your government must be creative with Internally Generated Revenue (IGR) and harness the natural resources in the state to create jobs and more sources of taxable income for the State.
To the opposition parties, your administration is deficient in honesty and truthfulness. The non-payment of salaries is a consequence of the corruption, fraud, hypocrisy, profligacy, financial recklessness and impunity that has become synonymous with your administration, which resulted in borrowing in excess of billions of naira, claimed to be spent on projects that are not in the interest of our welfare.
You're an impatient reformer; you embarked on projects without minding the cost. You embarked on lofty and grandiose projects that the State economy cannot sustain. Now the execution/implementation of the introduced many reforms/projects has boomeranged. Understandably, you want to see us live in a 5-Star building, but then, we could only afford a bungalow.
You're a recalcitrant leader who doesn't take to others advice. You're too loquacious, committed only to your empty talks, rather than facing the business of governance rested on your shoulders. Your caustic tongue; overzealousness and boastfulness brought us to this low estate- an estate where inhabitants live in penury- hopeless and helpless.
To them, the solution lies in your resignation of office. Throw in the towel. Give way for an indigenous politician, a person close to the people, someone who understand the needs of the people, a resident politician close enough to know almost all the people in his/her constituency. Give a chance for a better person that has a very good and better plan for our State. They've got no solution whatsoever to suggest, but only to seize power come 2018, or even before then if possible.
To the Christian believers, and maybe the Islam faithfuls too, you're a deluded native-doctor-coreligionist. You professed to serve their God and made them went through rigorous marathon fasts and endless prayers, seeking the face of their God for you to reclaim the "stolen" mandate they reposed in your hands. And behold, like magic, it did it! But then, you bamboozled them. You came and integrated Traditional religion.
Like Yakubu Gowon proposed it, and Olusegun Obasanjo executed it. FESTAC '77 it was! An event that brought all kinds of evil spirits, demons, mermaids, ghosts, idols, masquerades, and black energies into the country; the 28 days mammoth jamboree for black nations that got Nigeria spiritually buried and condemned, and got her glorious crown removed.
Nigeria's hosting of the Festival of Arts and Culture in 1977 marked the genesis of hardship for the country. Before then, Nigeria was a very rich country. It was so rich that it gave loans to world organizations. At that time, Nigeria's problem was how to spend money. There was money, even in excess. FESTAC brought curses- economic, moral, social, and family problems- upon Nigeria. It was then, darkly, Nigeria opened its shores to all manner of evil and malevolent spirits from almost every culture- spiritually speaking. They came, saw a land flowing with milk and honey, they never returned with those who brought them to their lands.
When the country still battles with the clutter caused by these demons, you came with "ISESE DAY", an annual event to celebrate evil spirits, demons, idols and what have you. An event that sees artistes, spiritual diviners converges to use their mystical powers at a free for all. Today, those gluttonous super-sucker gods are awaked from their coffins, and now they lay fangs on our patching economy, sipping it as they do blood.
With that single act, you have transgressed against God. He who makes nations great, and destroys them; he enlarges nations, and leads them away. He disarms the rulers and authorities and put them to open shame, by triumphing over them in him. That God, you've incurred his indignation. So, he has taken away understanding from you and make you wander in a pathless waste. Reason you grope in the dark without light, and stagger like a drunken man.
Not until you humble yourself before him, seek for his forgiveness and cleanse the state of all ties and association with idols and devils, there shall be no headway. Thus, if you pray and seek God's face and turn from your wicked ways, then he shall hear from heaven and will forgive your transgressions, and heal the state of the economic crunch that plagues her to suffocation.
No doubt, all opinions points to one fact: you've made giant strides, but hit the rock. You've strived to drive the State out from a parlous state, but lost the wheel at a core junction. To say you don't mean well for the State is to be economical with the truth. With your "O" revolution, you want to build Osun that will be economically independent and boast of tax-paying industries and companies. You want to turn our towns and villages with rutty rustic skylines to mega cities, with road networks linking them up, and also with neighbouring States, thereby facilitating rapid business development in and out of the State. You want to turn Osun to a hub of commerce, and make her a food basket for the nation.
You want to build castles in the cheeks of our kids, and estates in their bellies. You want a befitting environment for learning, and with Opon Imo (Tablet of Knowledge), you aim to digitalize the boring classrooms for our kids, and to further stimulate their interest to learning. You want to prove to us that in our life time, with sophisticatedly well-equipped health centres in place, our wives can put to bed three times in a day. That which we're fond doing, that daily chores and environmental sanitation we do can be done on the streets with stipends as rewards. You want to build castles underneath 'river Osun', and roads in the sky. Obviously, you mean well!
At this point in time, that we all are in distress, we must think and contribute to the way out. I don't have a "Barings Bank", if I do, I would have bailed the government out, contributing to our relief out of this great hunger, like it did for the Irish government centuries ago; but, I can only say a prayer. Since the holy book admonishes us to pray for our leaders- even when we don't like or agree with them, whether they be persons we respect or with whose political judgment we agree, or persons whose character and official policies we cannot endorse. Thus, I will say a prayer.
Ogbeni, this situation may have entwined your leadership traits, personal character and political actions, but I pray your creator restore what have been ruined in ten folds. I pray for you, Ogbeni, may you find peace of mind and direction in this time of confusion. Yes! It is an obvious truth. You're confused! Henceforth, may you be led by wisdom; and a light shine on your path as you lead us to the prosperity we so believe. I pray that you would govern with wisdom for the "welfare of the State", not for personal gain or for the advantage of a favored few.
I pray you succeed. The Ijesas are twins of success. You have to succeed, more-so for you're a product of collective struggle, and we wouldn't live with their spiteful strokes. Those who brazenly stole our collective mandate and turned the state into a theatre of brigandage and haven of bloodbath; they spat on our faces and called us retards when we screamed of being robbed.
They made life brutish for us in the face of political intolerance and bitterness. In their bid to pervert the cause of justice, they oppressed, assaulted, terrorized, brutalized, dehumanized and humiliated us simply because we've got the gut to challenge their daylight robbery. They broke bottles on our heads and condemned us to death. They trampled on our human and democratic rights. No! We would not live with their spiteful strokes. Ogbeni, may you succeed.
This present situation, I believe and pray it's a temporary setback, with a lot of lessons to guide you to sail in the maybe turbulent years to come. Though you've failed our trust, for we believe you'll lead us to prosperity, but here we are, in a perishing valley plagued by great hunger. You still have two years to redeem your image, and make us have a paradigm shift about our weakling thoughts. Nevertheless, like the song goes: "Aregbe n k'ore bo wa, e fara yin bale" (Be calm, Aregbe is coming with good tidings), we're still calm in anticipation of the promised good tidings.
I believe! Osun will be great again; the dried "spring" will come "living", and the virtues of the 'State of the Virtuous' will be felt and seen beyond our shores, so I believe. You Believe!
Oluwatomilola Boyinde, Initiator & President, Ijesaland Renaissance Initiative, writes from Osogbo, State of Osun. www.ijesalandrenaissanceinitiative.blogspot.com , [email protected] , 08032434218.
Disclaimer:

"The views expressed on this site are those of the contributors or columnists, and do not necessarily reflect TheNigerianVoice's position. TheNigerianVoice will not be responsible or liable for any inaccurate or incorrect statements in the contributions or columns here."
Articles by Oluwatomilola Boyinde