Impressive CV Of Mr Peter Obi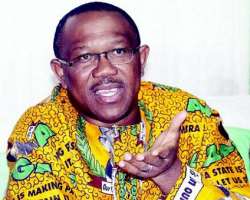 EDUCATIONAL INSTITUTIONS ATTENDED:
* Christ the King College, Onitsha (W.A.S.C.)
* University of Nigeria, Nsukka, (B.A. Philosophy)
* Lagos Business School, Nigeria (Chief Executive Program)
* Harvard Business School, Boston, U.S.A. (Mid to Mid Marketing)
* London School of Economics "L.S.E" (Financial Mgt./Business Policy)
* Columbia Business School, New York U.S.A. (Marketing Management)
* Kellogg Graduate School of Management U.S.A. (Advanced Exec. Prog.)
* Institute for Management Dev. (IMD), Switzerland (Snr. Executive Forum)
PRESENT AND PAST POSITIONS
* Fmr GOVERNOR: ANAMBRA STATE OF NIGERIA
* FORMER CHAIRMAN: FIDELITY BANK PLC
* FORMER CHAIRMAN: GUARDIAN EXPRESS MORTGAGE BANK LTD
* FORMER DIRECTOR: GUARDIAN EXPRESS BANK PLC
* FORMER CHAIRMAN: FUTURE VIEW SECURITIES LIMITED
* FORMER CHAIRMAN: PAYMASTER NIGERIA LIMITED
* FORMER CHAIRMAN: NEXT INTERNATIONAL (NIGERIA) LTD
* FORMER DIRECTOR: CHAMS NIGERIA LIMITED
* FORMER CHAIRMAN: DATACORP LIMITED
* FORMER DIRECTOR: CARD CENTRE LIMITED
PROFESSIONAL ASSOCIATION/ORGANIZATIONAL MEMBERSHIP:
* Member – Nigerian Economic Summit Group (NESG)
* Member – Nigerian Chartered Institute of Bankers
* Member – Common Wealth Business Council (CBC)
* Member – West African Business Committee (WABC)
* Member – British Institute of Directors (IOD)
* Member – British Nigerian Business Council (BNBC)
* Member – Nigerian South African Chamber of Commerce (NSACC)
CHAIRMAN SECURITY AND EXCHANGE COMMISSION -SEC
D-DG GOODLUCK CAMPAIGN 2015
Mazi Odera
Truth is our standard,accept it in good faith or
we shove it down your throat.The Choice is yours.
I am off but on
t witter@ MAZIODERAIGBO

Disclaimer:

"The views expressed on this site are those of the contributors or columnists, and do not necessarily reflect TheNigerianVoice's position. TheNigerianVoice will not be responsible or liable for any inaccurate or incorrect statements in the contributions or columns here."
Articles by Mazi Oderaigbo