Oyakhilome: Apostle Paul Is Now Vindicated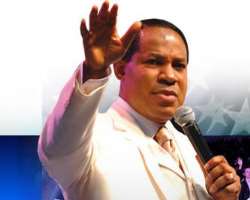 Apostle Paul stated clearly that,'if it is possible let a man not marry,but to avoid sexual immorality,a man can marry.' Apostle Paul hit the nail on the head by preaching the life of celibacy as the first and more important option while he later suggested marriage,as a second and less important option, for those who could not obey the first option.
There is no gainsaying the fact that Satan tempts men of God either through their children or through their wives and both children and wives are associated with marriage. Biblical history told us how the sons of Eli brought shame to their father,their family and the land of Israel in general. Even Samuel's children were not better than the children of Eli.
We saw how the wife of Josiah almost ruined his life by continuing with her former 'trade',prostitution, even after being legally married to this powerful man of God. Catholic denomination,having understood this ,made it a law that all her priests should lead celibate lives.
Apostle Paul did not only preach celibacy but also unequivocally practised it. Imagine a scenario where St. Paul was married and was embarking on those missionary journeys ,believe you me,the wife would either call it a quit and applied for a divorce or be cheating on him. Satan knew and still knows that women were and are still weaker vessels hence satan decided to bring the fall of man in the garden of eden through Eve.
Satan knew that if it had approached Adam,the whole plan would not have worked. Sarah was not exempted from this scenario as it was on her advice that Abraham slept with Hagar which led to the birth of Ishmael. We all know that the bible declared that the children of Isaac and Ishmael would be fighting against one another. In the world today,we are all witnesses of how the descendants of Ishmael and Isaac are still fighting one another till date.
I don't need to talk about how Jezebel did not only encourage her husband but also mapped out plans on how to take over Naboth's vine yard. In the play,Macbeth, by William Shakespeare ,we all saw how the wife of Macbeth completed the stabbing of king Duncan. Even Solomon in all his wisdom was finally misled by one of his wives, in worshipping an idol which God had forewarned him against.
If I continue giving examples,I will expectedly bore my readers to sleep. The truth is that when Satan wants to pull down a powerful man of God ,it will simply go through the easiest route which is through either the children or the wives. Sometime ago our national dailies carried a story of how the daughter of a known man of God changed her RELIGION,mind you,I did not say DENOMINATION.
Although it may not be much ado in our contemporary society,the truth is that if a child of a seasoned pastor leaves the same religion that the father is preaching to people,anybody can easily summarize that the father's religion is not good and that is why the daughter decides to leave. Some people can boldly tell the pastor to save himself and his family first before preaching salvation to them,by so doing the said pastor will be discouraged and depressed hence there will be a tremendous evangelical effect,proselytizing many believers.
Every Nigerian is aware of the Marriage life of Reverend Chris Okotie. This is a man of God whose conversion to Christianity in 1980's shook not only Nigeria but also many people in the music world. Many young people got repented and where baptized. Do you think that Satan would be happy with somebody whose repentance pulled a lot of people that were already destined for hell fire?
Satan in its characteristic nature started plotting evil means in order to pull him down. It is no news to all Nigerians on how he has been marrying and divorcing. Apostle Paul,having envisaged such occurrences, can now be vindicated when he stated that,'if it is possible,let a man not touch a woman....,' the alternative is when the man cannot lead a celibate life. Many were confused when Pastor W.F. Kumuyi married barely one year of burying his late former wife but people never knew that this powerful man of God did not want to allow any lacuna that can breed gossip of adultery.
Coming to our present case,I am neither a member of Christ Embassy nor a member of Believers Love World but I will tell you in an unequivocal term that Reverend Chris Oyakhilome has really helped in the propagation of the gospel. Many youths that would ordinarily have been enmeshed in social vices and crime are now walking and working with God. Many cultists on our campuses are now Christians,busy propagating the gospel . His devotional book,Rhapsody of Realities,is one of the widely read books in the world today . As I always tell anybody that cares to listen that God called us differently.
The call of Apostle Paul was not same with that of Apostle Peter etc but at the end of the day, they all worked for the propagation of the gospel. This matter was first carried by some media houses in April this year when possibly it was still at the incipient stage and I am aware that Pastor Chris in his characteristic nature was still looking out for rapprochement on the part of his wife, which Satan in its destructive manner would not allow to materialize.
It was reported that Reverend Chris Oyakhilome was not happy the way the wife was treating other senior pastors of the church .Reverend Chris has maintained that those senior pastors must be respected at all times by the wife. We are all aware of how women behave,if a little girl marries a rich man today ,tomorrow she will like everybody,including her elderly ones, to be calling her 'madam'.As a man of God,this is what Reverend Chris did not want hence he made it as a law that the wife should respect those pastors that were in the church before her.
Today,that selfless instruction has turned to another thing. Trust our lawyers ,go to them and tell them what you want they know how to arrange it,let the accused/defendant come and prove his innocence in the law court. Meanwhile,the headlines associated with such lawyers' legal suit must have ruined the defendant's reputation before the final verdict is passed by the court of competent jurisdiction. We are all witnesses of how the unparalleled achievements of Barrister Sullivan Chime were almost rendered nugatory by his wife with her accusation .
The people of Enugu state loved and still love their governor hence nobody attached any importance to all the allegations professionally arranged by a prominent lawyer at the instance of the wife.
In all our reactions today,we should be aware that at this perilous time ,strange things are happening not only in the Christendom but also in the world today. Leadership tussle has engulfed the Assemblies Of God Church;The Methodist and Presbyterian Churches are still licking their post-election wounds; Nigeria Anglican communion has 'seceded' from the Church of England as a result of same sex marriage and other irreconcilable issues;some of our Pentecostal churches are enmeshed in one crime or another; the Islamic states of Iraq and Syria are busy beheading innocent people; Boko Haram in the name of Jihad is busy wasting innocent lives in Nigeria; Last year,a lady was preaching that she allegedly died and later resurrected and she condemned almost all churches in her prophesy;
Today, any miracle performed by any man of God is believed to be powered by the kingdom of darkness hence nobody in reality still believes that God has sovereign power to perform miracles,all these strange things and prophecies are pointing towards the perilous time.
This is the time for all Christians to rise up to these challenges and not to help those that are sent by the kingdom of darkness to pull down men of God. Jesus warned us not to judge and that we should allow the tares and the wheat to coexist until the angels of harvest who are professionally trained to differentiate between the wheat and tares will judge mankind at the opportune time.
Dr PAUL JOHN
08083658038
[email protected]

Disclaimer:

"The views/contents expressed in this article are the sole responsibility of the author(s) and do not necessarily reflect those of The Nigerian Voice. The Nigerian Voice will not be responsible or liable for any inaccurate or incorrect statements contained in this article."
Articles by Paul John