The Esoterism Of The Current Administration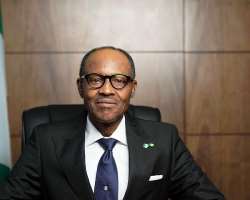 During the 2015 presidential electioneering campaigns, members of the All Progressive Congress (APC) who later formed the ruling party at the federal level promised us change and they went ahead to pledge feeding our kids in school at least once in a day. Till date Nigerians are still expecting the promised change when the change has started long time ago. The Igbos say that Ofeke amaghi mbge e ji ebufe ya n' ama nna ya [Trans: A fool does not know when he is carried past his father's compound]. To me the change has since begun. Nigerians should not behave like those who are still expecting the messiah when Jesus had come and gone. If there is anything I like this administration for, it is their choice of words. Take them anywhere you cannot win them because they are professionals. They promised us change, they never bothered to tell us if it were positive or negative change, all they promised was change and change we are currently witnessing. Whether you move from up to down or the other way, there is a change in position. Whether the economy is getting worse or not, just know there is a CHANGE in our economic status.
Immediately they came on board, policies were brought in and many companies, especially in the oil and gas sector either folded or left the country and their workers were laid off and many months later, they came on board with their N-power scheme to employ few youths when their harsh economic policies laid-off workers in millions. The N-power scheme is employing workers in thousands. That is still part of the change, fellow countrymen. Looking at the figures brought out by the National Bureau of Statistics, concerning the level of unemployment since this administration came on board, we will see the type of change they have given us. Do you think they purposely ignored campaigning with free education to at least University level? Why did they pay attention to the feeding of our kids in our primary schools? They were clairvoyant that their harsh economic policies would make parents unable to feed their kids hence they decided to campaign with free meals. They did it in 1984 when the standard of living went so low that citizens had to queue up to collect essential commodities provided by the government.
The change has been extended to the other arms of the government. The Judiciary and the Legislative arms are being forced to become an offshoot or an appendage of the Executive and no Nigerian sees anything wrong with that. If the leaders of the senate are accused of anything today, the senate will not be allowed to investigate their matters and possibly impeach their leaders, the Executive will arrest and prosecute them and of course some pro-government lawyers will defend that action. Once a leader of the senate is not liked by the Executive they can dig deeper to find the leader's atrocities 12 years back and when nothing is found, the leaders' atrocities while in the mothers' wombs will be remembered and such leaders will be prosecuted. Nigerians will of course hail the government at the centre because when people are subjected to long years of military rule, the implication is that they become used to human rights abuses. One surprising fact this time is that the 'change agents' were the same people that truncated our democracy on 31st December 1983.
Will anybody tell me any difference between 1984 and now? Obviously there is no difference. Ekwueme, the then vice president, was put in Prison while Shagari, the main man, was merely kept under house arrest. Today our anti-graft agents are for those in the opposition parties and once any opposition politician being hunted by our anti-graft agencies defects to APC his past sins are forgiven and he is now a new creature. The source of PDP campaign in 2015 election is the subject of discussion now but nobody has equally called for the investigation of the source of APC campaign funds. To Nigerians, the campaign funds of APC came down from heaven while that of the PDP came from our CBN, the arms deal and possibly from the devil. The judiciary has gotten her own share of the change; they have shown us sections of the constitution where the houses of our judges can be broken in at any time. Judges can be arrested like common criminals under what they called 'Sting operation' yet kidnappers will smile to the banks without being 'stinged'. Attackers would kill thousands of people in Southern Kaduna without being 'stinged', that is what is called 'real' change. One interesting thing here is that there are lawyers to defend the actions of the government.
I heard the Enugu priest who turned his 31st December 2014 Crossover vigil service to the campaign of APC change, recently announced that Nigerians are hungry. That is story for the birds. Was he not the one that defended his master at Aso rock that the current economic recession was caused by Jonathan even when the blind can see the administrative faus pax that landed us to where we are now? We know them, are they not the same religious leaders that tell their members all sorts of nonsense like their problems being caused by evil forces from the village? I will just warn him to be careful. This is not Jonathan's era where freedom of speech is guaranteed. This time no charge of any perceived enemy is complete without a treasonable felony. For his information, such charge is non-bailable. He may ask political prisoners like Nnamdi Kanu and others how expression of one's opinion has turned out to become an attempt to overthrow the federal government. I need not talk about Sambo Dasuki because Sambo knows he is reaping the roles he played after August 27, 1985 military coup and the so-called arms-deal is just a legal 'package'. For those asking when will Sambo Dasuki and Nnamdi Kanu be released, I will ask them how long were the politicians arrested by the same people in 1984 incarcerated without trial? The simple answer is that Nnamdi Kanu and Sambo will stay where they are until after this administration. If they like let them go to heavenly court. One thing is to get court orders for their release; the next thing is for our 'change agents' to obey the court orders. Have you not noticed that the judges that were 'stinged' once gave judgements either against Apc and the pending WAEC certificate saga or in favour of Nnamdi Kanu, Sambo Dasuki and the opposition party? Although Nigerians may see it as a coincidence but I know some coincidences are not 'coincidental'.
My utmost surprise is that people that refused to obey ECOWAS Court injunction on the release of Sambo Dasuki mediated for peace in Gambia under the umbrella of the same ECOWAS. You hate ECOWAS court order but you want another president of equal status to obey and respect the decision of mere ECOWAS leaders not even ECOWAS court. I see no difference between what Jammeh did in Gambia and what is happening here. Although Jammeh accepted defeat, he was only contesting how he was defeated. We should not mistake him for Goodluck Jonathan who refused to contest how he was defeated and now his family members, his wife and cronies are being hunted by the anti-graft agency. Jammeh did not disobey any court order. What happened to the ECOWAS court order for the release of Sambo Dasuki?
I will not end this piece without asking the question that prompted me into penning down this topic. I want to ask this administration the meaning of 'kwaruption'. This is very important to me because I have decided to always ask questions .All actions and words used by this administration are purely esoteric and only perceptive minds can decipher the underlying meanings. After the presidential elections, people began to trek long distances in appreciation of Mr President's victory, but unbeknown to them the trekking was just a harbinger of what was to come. As the PMS pump price was raised from N87 through N97 to N145, the import and purport of that prophetic and esoteric trekking embarked upon by Nigerians when Mr President won the election became clearer to everyone. Today, the high cost of PMS has made long distance trekking a necessity and not a mere exercise. In view of this, I will not accept 'kwaruption' to be the phono-linguistic interference version of corruption because the change the present administration promised us which we all thought was going to be a positive change has finally been confirmed to be a negative change. Even at this point it can still be argued that this administration is quite right because it is our stupidity and naivety that made us think it was a positive change hence we ignored to ask the appropriate questions.
It will be foolhardy for me to continue my life of assumption, having seen the change we assumed was not the change we have now. Thus, I am beginning to speculate that the term 'kwaruption' might have been derived from two words. 'Kwa' which is an Igbo verb, meaning 'to push' and 'ruption' which was gotten from 'corruption' itself to form that new word of 'kwaruption' meaning 'to push into corruption'. As I have earlier stated, I have sworn to pay more attention with every details of this administration. If 'kwaruption' turns out to be what I now assume then this administration cannot be blamed for the economic hardship which in the long run will achieve the meaning of 'to push into corruption'. For instance, while watching news the other day I saw where civil servants were complaining that their salaries could only sustain them for one week in a month hence they would go on borrowing for the remaining three weeks in a month. With such conditions, one requires very strong divine intervention not to accept bribes or be pushed into other forms of corruption. Many workers are owed their salaries for months, how will they survive without 'kwaruption'? We need better explanation for that confusing term so that we will understand better if the aim of this administration is not to indirectly use harsh economic policies to cause 'kwaruption' and later use the anti-graft agency against the victims of 'kwaruption'.
I don't know if Nigerians have noticed that more people are getting mad these days. Imagine how Nigerians rush into Ponzi schemes despite expert warnings and the inherent dangers in such Pyramid schemes. That is just a reflection of how Nigerians are determined to survive this government-induced economic recession. In a lively rendezvous where I relax every Saturday, there was this little girl about 10 years old who paraded herself as a Plantain-chips hawker. Her location was at the car park of the rendezvous and the modus operandi was to be crying that she lost all the money she got after selling the Plantain-chips the stepmother gave to her. On the first day, I asked her how much the amount was; she said N1800.I gave her N2000 and asked her to go home immediately. Surprisingly, I came to the place the next Saturday and saw the same girl at the same location and time, crying over the loss of her money .She did not recognise me but I recognised her. It was the same story hence I angrily left her believing that her stepmother would teach her a lesson that day .While placing my order to the waiter, I enquired why such a little girl would be losing her money regularly but I was jilted by the waiter's response.
The waiter simply told me that, that was how the little girl was being used by her parents to be getting money from unsuspecting members of the public and that the management of the place had warned her not to be coming to that place but she would not yield.On hearing that, I rushed down to the car park and instructed that little girl to leave there immediately or else I would arrest her .Surprisingly, she took off with the speed of light before I could finish my sentence. Imagine what our self-inflicted economic recession is doing to the people. Let the 'change agents' tell us whether they are fighting for corruption or 'kwaruption' because the harsh economic conditions they put us into are already pushing Nigerians into diverse forms of corruption .I may not be wrong if I say the 'change agents' are fighting for 'Kwaruption' and not corruption based on my own understanding and definition of KWARUPTION.
Dr Paul John
Port Harcourt, Port Harcourt, Rivers State,[email protected],08083658038
Disclaimer:

"The views expressed on this site are those of the contributors or columnists, and do not necessarily reflect TheNigerianVoice's position. TheNigerianVoice will not be responsible or liable for any inaccurate or incorrect statements in the contributions or columns here."
Articles by Paul John