Leonard Umunna: The Iconic Ambassador Of God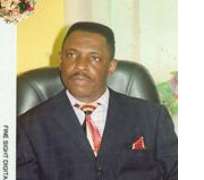 Any first timer or convert that visits Bible Life Church Cathedral (BLCC) International will experience an awesome power of God through Bishop (Prof.) Leonard Umunna, The presiding Bishop of one of the largest single congregations in Africa and Abroad.
He got converted in 1963 and continued to be waxing stronger in the God's kingdom without backsliding or defeat. He is a God- made Bishop with reputation that knows his divine purpose of God in his life. "Who says Bishop Umunna cannot become the National President of the Pentecostal Fellowship of Nigeria (PFN) or Christian Association of Nigeria (CAN) if he is willing to accept such apex leadership of integrity.
He is a servant of God that self – tutored himself through the education without passing through the Secondary School System but made his glorious calling to manifest. No worshipper that stays under the ministration of Bishop Leonard Umunna at Fasasi Street who will not experience a power- package of the Holy Ghost baptism of salvation. He is a servant of God whose calling is difficult to emulate unless such a called minister of God wants to be a chronic imposter without a mentor.
Bishop Umunna is such versatile Bishop whose ministerial integrity cannot be easily altered because anytime he steps on the pulpit to minister; there is always a new word for his congregation. He is not a repetitious minister of God but a man that has an adequate spiritual knowledge of God before he steps into the pulpit.
As a great and in dept researcher of the word, he believes that as a called servant of God, you must be adequately prepared for the flock of Jesus Christ. He believes that the era of ministerial repetitions of notable scriptures of the Holy Bible is over and to make believers know that God is the author and the finisher of our faith. Professor Leonard Umunna got converted at 9 when his equals then were still seeing themselves as children but he used that opportunity to workout his ministerial mission on earth.
Professor Leonard Umunna is a man of many parts with special interest in building people in faith. His commission to raise viable people for Christ across the world. In one of his international visits to Pakistan where occult people and magicians operated freely with callous devices, he was able to heal all manners of ailments through the divine touch of God where some notable ministers could not operate without experiencing ferocious attacks from the under- world but Bishop Umunna succeeded through God's protection that sent him there. He is a servant of God that escaped death for 99 consecutive times with several attempts of direct assassinations but always escapes through the divine power of God.
His books are blessings to African Continent and Abroad where he takes his precious time to detail his books before publications. He is one minister of God in Nigeria that loves to see his congregation progressing then begging. With his entrepreneurship drive, he has able to employ handful members of his congregation and eradicate excruciating poverty in their means. He has one of the fastest- growing theological universities with pedigree that offers quality lectures with highly qualified lecturers. His theological University is affiliated with one of the recognized international theological university.
It offers courses from Diploma, First degree and Master's degree and PhD. Bishop Leonard Umunna's dream for education not just started today but glorious passion makes him different from his equals. He believes that academic excellence that drives economy well and minimizes callous corruption among political leaders. Though education system in Nigeria is poorly managed by our political leaders and that was why he said in one of the past interviews granted at his palatial office that the then ASUU strike was more spiritual than physical and admonished educational administrators go back to the drawing board of making TC II relevant than employing graduates without educational foundation to teach in the schools.
He is one of the entrepreneurial ministers of God that sees his staffers' welfare it is own problem and that is why he pays his staffers' Salaries before 26thof each month without delay or compromise. He is not a gospel preacher that preaches on the pulpit without his personality traits. His legacies are worthy to be emulated.
His Church programmes, entrepreneurial and humanitarian events have witnessed historic moments than participants just receiving the divine touch of God with special packages.
He is a minister of God that values print works and appreciates the power of the pen-push profession inAjegunle and Nigeria. His rise to ministerial fame was never overnight but he paid the price of total commitment and hardwork and never derailed in his calling. Owning private Schools were not his mission to mint money but to provide Scholarships for the less- privileged ones in Ajegunle and Nigeria. Leonard Umunna's College, Extra Real Nursery And Primary School, Umunna's hospital and other investments are the products of never tired minister of God who wants to see others progressing without perturb. He is one of the most sought after and valuable servants of God in Ajegunle and Nigeria with intellectual credibility.
He has delivered over 100 seminar papers across the globe and still making his congregation felt the unction power of God than other ministers that see ministries as business ventures. He is holyghostically connected with the power of God filled with spiritual and physical nuggets that make Christians grow wisely in the Lord. He is one of the dignified and distinguished mentorial fathers Nigeria has ever produced in recent times. His 21st century knowledge remains unbeatable in the sands of time.
Bishop Leonard Umunna remains unstoppable even when sometimes ministers of God gathered against him in 2001 and took away large numbers of his congregation to start their own churches without receiving their blessings from him, he forgave them and allowed God to intervene, today Bible Life Church remains one of the progressive Pentecostal churches in Nigeria. He sees every ministerial tribulation as a way to his success land. His yearly prophecies are well- connected from Holy Spirit of God. He is a real minister of God with honesty.
He has prayed for governors, presidents, senators, Bishops, Pastors, Local Government chairmen, Lawyers, Doctors, journalist. He also prayed for all categories of persons in Nigeria and Abroad and still remains faithful to God. Long live Bishop Umunna! Long live Bible Life Church!! And long live Nigeria!!!
Disclaimer:

"The views/contents expressed in this article are the sole responsibility of

Godday Odidi

and do not necessarily reflect those of The Nigerian Voice. The Nigerian Voice will not be responsible or liable for any inaccurate or incorrect statements contained in this article."
Articles by Godday Odidi