Ambassador Obitex: Giving Hope To The Real Face Of An African Child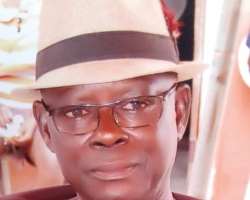 "The best interests of children, we serve the best interests of all humanity".-Carol Bellamy
Apart from being the director and South-west co-ordinator of helping hands international(H2i),Ambassador Emmanuel Obitex is the CEO of Hope Alive Concept, an NGO that addresses salient problems affecting the African child over the years.
This noble vision was birthed since 2005 while Ambassador Obitex was still struggling with hi-tech poverty in Ajegunle but never gave up in giving succor to less-privileged children in Africa. The purpose of this NGO is to primarily addressed exploitation, violence and discrimination against African less-privileged children.
According to Ambassador Obitex, this non-profit making organization is a platform to showcase the African child innate talent for the world and give them basic education from primary level to university level. The desire to bringing hope to an African child gave me this golden mindset to set up Hope Alive Concept.
Again, this creative NGO is to transform the less privileged by inspiring them creating an avenue to improve their standard of education, knowledge and communication skills in Africa. The maiden event was held at Metropolitan Palace Hotel, Daira, and Dubai on the 25th of December 2015 and an 8years old girl, Miss Jessica Obalu won the talent hunt. Only children from 5-13 are qualified to participate in this event. It is corporately supported by DSTV, AIT and other major private companies in Africa. This year audition is holding in different cities of Nigeria.
Finally, Ambassador Obitex must be commended for his great work in Africa and beyond.
Godday Odidi
Gabrio Voice Magazine
Lagos

Disclaimer:

"The views expressed on this site are those of the contributors or columnists, and do not necessarily reflect TheNigerianVoice's position. TheNigerianVoice will not be responsible or liable for any inaccurate or incorrect statements in the contributions or columns here."
Articles by Godday Odidi