Bishop Leonard Umunna: A Man Of God With Philanthropic Heart In Nigeria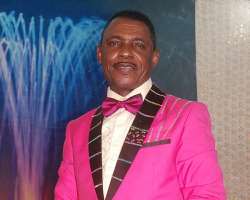 "What you give today you get tomorrow".----Matshona Dhliwayo
One renowned and committed clergy Nigeria has been blessed with spiritual and creative records in the Pentecostal world is Bishop Leonard Umunna, presiding Bishop of Bible Life Church Cathedral.
When it comes to grassroots philanthropic development, Bishop Umunna has singled himself out from the crowd of pulpit preachers and remained committed in putting smiles on the faces of the poor despite the present economic recession. His spiritual voice remains one of the voices that cannot be easily ignored with the gifted of knowledge and spiritual alertness in him.
Apart from cautioning the present government of policies somersault and leadership inequality, his grassroots philanthropic development has continues to grow from strength to strength in Ajegunle community and beyond. Even at the economic recession that is biting harder on both the rich and poor, his unflinching support for the poor is worthy of emulation.
Again, Bishop has earmarked third Sunday of November of every year to be empowering Nigerian widows and widowers, which each beneficiary goes home with food items and cash gift. This is one of the philanthropic goals laid in the heart of the servant of God to help the needy in Nigeria.
To crown it all, Bishop Umunna is a man with his word who does not double speak but rather do God's assignment dutifully and creatively for legacy to be remembered in the sands of time. His words "economic recession is for the poor not for the rich".
Every committed servant of God must do the needful to help the poor on the street. One thing to be called a servant of God and another thing to practice what you preach to your admirable congregation. His record on philanthropic development among Ajegunle clergies is yet to be broken and every day, he keeps bringing new innovative ways of empowering the poor without tears in Nigeria. He remains a servant of God with large heart.
Godday Odidi
Gabrio Voice Magazine
08058124798
Lagos

Disclaimer:

"The views expressed on this site are those of the contributors or columnists, and do not necessarily reflect TheNigerianVoice's position. TheNigerianVoice will not be responsible or liable for any inaccurate or incorrect statements in the contributions or columns here."
Articles by Godday Odidi