Madam Roseline Odidi:You Left indelible Marks On Earth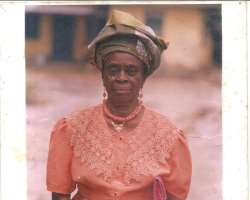 How time flies, exactly today,10th October 2011, my lovable grandmother that taught me humility and rules of entrepreneurship,prepared me for great career task in life left the world to meet the Lord..
It is now 6th year of your departure from this world but left a legacy in my life,even your grave will continue to smile for moral role played in my life.While leaving you on February 14th,1998 at Ivrogbo-Irri in Isoko South of Delta State to Lagos for educational pursuit and greener pasture as adolescent then,you told me Aguriase , you are going to Lagos now,don't belong to those that want quick money or fame or involve yourself with fetish things,because if you pray to God for assistance,He would be far from you.I took that advice from that moment which has been my guide in life.
Aguriase , she said to me, in Isoko language,the water you drink cannot pass you by just be patience.Thank you ma,Madam Roseline Onomewerike Odidi(nee Izeghe).You left the world in a ripe age.I know God will give me the grace to live a ripe age in Jesus name amen.Mama rest in perfect peace.
Disclaimer:

"The views expressed on this site are those of the contributors or columnists, and do not necessarily reflect TheNigerianVoice's position. TheNigerianVoice will not be responsible or liable for any inaccurate or incorrect statements in the contributions or columns here."
Articles by Godday Odidi