Olawale Ariyo: The Unstoppable Philanthropist With Intimidating Legacies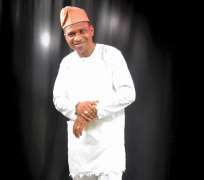 "The mark of a great man is one who knows when to get aside the important things in order to accomplish the vital ones".-Brandson Sanderson, the Alloy of law.
Precisly two months from now, Alhaji Olawale Haruna Ariyo,the Atun Ilu se of Aiyetoro 1 would be marking his 38years on earth, but his previous and recent intimidating successes and achievements attracted Mindset Media Limited and Gabrio Voice Magazine to nominate him and his foundation for the 6th Mindset Media Achievers Excellence Awards coming up November at Apapa,Lagos.
For over two years, the success story of Alhaji Ariyo has become a ringing tone in the comity of grassroots media professionals and those that have benefitted from his benevolence. Having verified some of his previous and recent grassroots achievements, Mindset Media Limited and Gabrio Voice Magazine decided to showcase a broader picture of a man who started from Ajegunle and remembered his root.
Growing up shortly in Ajegunle taught me how to use passion and hardworking to achieve a set goal in life. The story of Ariyo is a case study for young men or women to look beyond this present economic hardship of Nigeria and set their goals rolling for the future to celebrate them like as Ariyo has demonstrated over time.
The name Ariyo is synonymous to success and giving to the downtrodden in Ajegunle.One thing that makes this handsome and amiable entrepreneur to achieve a great feat in life is humility, perseverance, integrity, hardwork, prayers, passion, trust, dedication and above all is God.
Again, Ariyo saw what his peers could not see in life but worked assiduously into progressive minds to achieve desirable goal on earth. His non-governmental organization (Olawale Haruna Ariyo Foundation) has been helpful to humanity and beyond.
No day passes by in Ajegunle, at least two or three persons will speak the good works of a man who had no financial background but humility brought him farther than his peers. His selfless service to humanity is worthy of emulation with the support of his elegant and charming wife (Alhaji Aishat Ashabi Olawale and the union is blessed with three lovely children (Zainab,Seminat and Uzenat).
Ariyo is a committed Muslim faithful and detribalized man whose philanthropic gestures cut across every tribe in Nigeria. His financial commitment to Islamic studies remains his first port of call.
Alhaji Ariyo is the Managing Director of Single Soul Ventures that provides professional works on industrial, rural and urban electrification, electrical works, estate developer, suppliers and general contractor. He is a members of Licensed Electrical Contractors Association of Nigeria (LECAN) and Lion's club international Apapa.Single Soul Ventures is one of the fast-growing electrical companies providing quality services to clients all over the world.Ariyo attended the Ministry of Works and Housing training school where he studied Electrical Engineering and did excellently well in the school. He had his secondary education at Ebute Elefun high,Sura,Lagos State and hails from Abeokuta.
Indeed, Ariyo has sponsored many to Saudi-Arabia for the holy pilgrimage and embarked on massive community projects in recent times. His footprints are felt in Ajegunle community and Ariyo's quote "By giving back to the less-privilege is my way of thanking God".
Finally,Ariyo has made a great mark in philanthropic development in Ajegunle and beyond.Today,Mindset Media Limited and Gabrio Voice Magazine add him among those Ajegunle think-tanks like Michael Ubogu,Adewale Adeogun,Leonard Umunna,Rasheed Adekunle,Obitex Emmanuel,Fatai Ajidagba,Efemena Elutabe,Ahmed Musa,Tunde Alapini, Christoper Ogosi,Fatai Ayoola, Pa Oluwa,Daddy Showkey,Rita Orji,Odion Ighalo,HKT,Peace Emmanuel,Matthew Omodiagbe,Diplomatic OPJ and host of others. He remains a committed philanthropist with impeccable character.
Godday Odidi
Image Maker expert/blogger
08058124798
Lagos
Disclaimer:

"The views/contents expressed in this article are the sole responsibility of

Godday Odidi

and do not necessarily reflect those of The Nigerian Voice. The Nigerian Voice will not be responsible or liable for any inaccurate or incorrect statements contained in this article."
Articles by Godday Odidi