Isaac Idahosa: A Bishop With Passion For Media Evangelism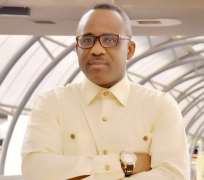 "If you believe in what you are doing than let nothing holds you up in your work. Much of the best work of the world has been done against seeming impossibilities. The thing is to get the work done".-Dale Carnegie (1888-1955) American writer
For those that are not physically or spiritually closed to Bishop Isaac Idahosa, the Presiding Bishop of Godfirst Ministries International (a.k.a Illumination Assembly) would quick to criticize his social media postings as a "worldly clergy". Anyway it is described; Bishop Idahosa is just a product of social media evangelism that has what it takes to win souls for Christ. Only few clergies still know the relevance of social media evangelism and other forms of media to reach out to souls across the globe.
To Mindset Media Limited, Bishop Isaac Idahosa's evangelical exploit on the media could be traced to his full knowledge of media evangelism, which has not only helped illumination Assembly to be known all over the world but also redefined the African Christianity in recent times. His spiritual exploits in ministry cannot be taken for granted and with his love for global media evangelism, he has able to draw multitude of believers into the kingdom of God over the years. Anyone that sits under the ministration of Bishop Idahosa for once would have a glorious testimony to testify in his or her life.
My intimacy to Bishop Idahosa as a writer and preacher, he has one way or other impacted my life in terms of spiritual encouragement and creativity.Today,Ilumination Assembly is one of the fast-growing Pentecostal churches in Lekki-Ajah area of Lagos State, where thousands of worshippers troop in to hear the raw word of God and nothing more.
By July, 2016, Bishop Isaac Idahosa's wife (Pastor Mrs Christy Idahosa) would be making her 50th birthday bash in grand style. The success story of Bishop Idahosa would not have been completed without his darling wife who saw greatness in him when he had nothing to write home about then.
In terms of social media evangelism in Nigeria, Bishop Isaac Idahosa is one of the fast-growing clergies using social media tool to win souls for Christ. He does not use anybody to manage his facebook page than himself. To Bishop Isaac Idahosa,the gospel has grown beyond church pulpit or street evangelism,globally,people want to hear the word of God at their comfortable
homes. This constant social media evangelism has equally added more souls to Illumination Assembly and created ministerial opportunities for international connections to this noble servant of God. He remains a social media advocate of God with reputation in Nigeria and beyond.
Godday Odidi
Social Media Analyst
08058124798
Lagos
Disclaimer:

"The views/contents expressed in this article are the sole responsibility of

Godday Odidi

and do not necessarily reflect those of The Nigerian Voice. The Nigerian Voice will not be responsible or liable for any inaccurate or incorrect statements contained in this article."
Articles by Godday Odidi