Linus Okorie @42: A Passionate Leadership Speaker With Tenacity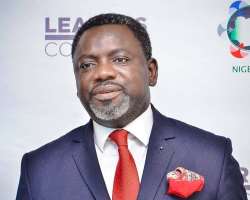 If one young man that has impacted my life through motivating talk with testimonial achievements in Nigeria is Mr.Linus Okorie,the Igbo-trained leadership expert who draws his motivating inspiration from Nehemiah in the Bible.
I met Linus Okorie in 2007 at Inside-Out programme with Agatha Amata, when he came to speak on a topic alongside with Future Awards organizers (Adebola Williams and Chudi ) on youth leadership in Nigeria. His tenacious style of speaking cut my attention as an Inside-Out audience and I quickly introduced myself to him. He promised to introduce me to Patitosgang of Prof Patrick Utomi,the renowned Nigerian economist and investment banker. That was how our relationship started and he briefed me on his organization called Guardians of the Nation International (GOTINI) and I became a member where I run several eras on his programme before he relocated to Abuja.
My relationship with Linus Okorie was never a mistake, because I was introduced to many A-class motivational speakers in Nigeria then like Niyi Adesanya,Ubogu Essien,Fela Durutoye,Remi Dairo,Sam Adeyemi and just mention but a few. His leadership programmes from Museum centre to Terra culture and Civic centre equally changed my leadership orientation. Linus Okorie popular saying always motivate my life everyday "If a man has no purpose in life, sleeping becomes interesting".
Linus Okorie is a young man full of passion for quality leadership in both political and economic sectors. Leadership advocacy has become his passion as the then Student Union President of Imo State University.42 years is not 42 days but Linus has greatly achieved some feats than some of our political office holders in Nigeria. Some features of Linus Okorie I admire so much are: humility, comportment, resilience, intelligence, creativity, hardworking, punctuality, perseverance, doggedness, integrity, trust and above all, the love of God in his life.
To Mindset Media Limited family, we say happy birthday to a man that has love for quality leadership in Nigeria. Linus Okorie achievements are awesome that we cannot enumerate all in one year but we give God the glory for his life. He is one of the leadership experts doing credibly well in this present generation. May God continue to protect him in Jesus name Amen? Happy birthday sir!
Godday Odidi
Mindset Media Limited
08058124798
Lagos
Disclaimer:

"The views/contents expressed in this article are the sole responsibility of the author(s) and do not necessarily reflect those of The Nigerian Voice. The Nigerian Voice will not be responsible or liable for any inaccurate or incorrect statements contained in this article."
Articles by Godday Odidi