Burhari: From A President To An Emperor...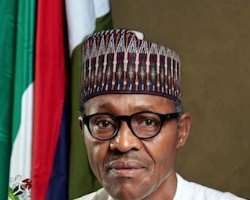 Well, "na my own way" as Nigerians will say and I don't owe anybody any apology for my pen militancy. I am saying this because of recent, my Arewa brothers are beginning to show some discomfort over what they consider as my 'metuh-listic'criticism of the Buhari Regime. For those who know me well, one thing that may likely land me in Kirikiri is my love for Nigeria and Nigerians irrespective of their ethnic background, religious inclinations and political persuasions. So, I don't have particular love for any tribe or particular hatred for any religion.
Bishop Kukah is one Nigerian I hold in high esteem not only because he is a Catholic Bishop but due to his values and intellectual prowess. His belief in a better Nigeria has earned him a place in my heart like the likes of late Gani, Aminu Kano, Fela Kuti, Fr.George Ehusani and Mohammadu Sanusi. Bishop Kukah was among the first Nigerians to warn us that all that glitters is not gold in respect of APC and PMB, but Nigerians, especially Northern politicians requested for his head in a platter for what they saw as a pro - PDP and Pro- Jonathan position.
Here, it is salient that I state that any good student of Nigerian Political history know that what Bishop Kukah saw in APC and Buhari while sitting down , many emergency ' busybody" critics who took joy in castigating him in the social media and will never see even from the top of Kilimanjaro
Truth be told, if Nigerians, drag me to the court of political disappointment, I will plead guilty and pray that the Judge will temper justice with mercy and give me a light sentence without hard labour because I was an ardent supporter of Buhari throughout his over twelve years in the political wilderness . Somehow, my desire for a better Nigeria and my quest to sack the kleptomaniac PDP from Aso Rock actually prevented me from looking at the other side of the coin. I joined the APC choir in singing "Hosanna!!! Here comes Buharithe Messiah who has come to wipe away the tears of Nigerians.
Some of us who believed in the doctrine of second chance thought that after several baptism of Political failure the Daura Sheriff must have learnt to some political lessons and cultivated democratic culture . Little did we know that we were like innocent lambs dancing into the hands of a wolf in sheep clothing. The guy was still a "Bloody Junta" who was only dancing a democratic Azonto with us during the Presidential campaign and elections so as to get our votes. Now that we have sent the squander mania, Kleptomania and unpatriotic GEJ to Otuoke to prepare for a long vocation in Kirikiri, Buhari has in that space of six months shown us his true colour .
His hatred for rule of law and disdain for the judiciary is becoming as clear in the tropical sun shine. I hope we have not jumped from PDP frying pan into APC fire .For sixteen years the PDP and their prodigal sons turned Nigerian into George Orwell's ( Eric Blair) animal farm and if care is not taken Nigeria will soon become another Mubutu farm like the Zaire of old under Buhari.
Constitutionalism is a fundamental column upon which any democracy is built. And, no nation that disrespects the principle of subsidiary of power or separation of power can claim to be flying a democratic flag. No matter what we think, the supremacy of the constitution and the independence of the Judiciary must be respected.
It is only an Emperor that can claim to be fighting corruption and yet disrespects a constitutional order from the law court. To rob Peter and pay Paul as Burhari has done in his selective Justice in the case of Dasuki and Kanu is not only an insult to the judiciary but also a dictatorial symptom that is against the tenets of rule of law and constitutional democracy.
I find myself in the same page with Governor Shettima who was bold and patriotic in saying that " we should not encourage what is happening. If Buhari as the president can undermine the Judiciary, it gives me a lot of worry and concern. He should not be seen to be higher than our institutions, what we should be looking at is for our institution to be strengthened. Due process must be followed. If a court of law gives an order, that order must be obeyed. Investigation must be carried out and if the court found anyone guilty such fellow must be convicted''.
This is the same thing Bishop Mathew Hassan Kukah warned us about. Buhari cannot be higher or greater than our constitution and by undermining the judiciary , he has proven that Bishop Kukah was right in raising concern about the kangaroo Justice practiced by dictators like Buhari.
To advocate for the respect of rule of law and due process is not to support corruption or shield GEJ from Persecution. The lord Bishop was only insisting that the right means should be used in getting the right result. We now know better!
Disclaimer:

"The views/contents expressed in this article are the sole responsibility of the author(s) and do not necessarily reflect those of The Nigerian Voice. The Nigerian Voice will not be responsible or liable for any inaccurate or incorrect statements contained in this article."
Articles by Martin-hassan E. Eze