APC And Buhari: Before This Hope Turns Into Hopelessness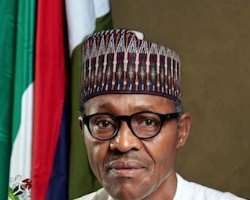 At a time like this that Nigerians are hungry and angry, saying 'I am sorry' may be the best escape route that some of us who championed the sai Buhari crusade and were his ardent supporters in his ANPP and CPC days in the political wilderness of failed political ambition can offer to Nigerians who wish to drag us into the shooting range or send us to golgotha after the magical wand of the Daura sheriff had failed to perform the needed magic after one year in office.
Wallahi, I actually believed the APc and Buhari will herald a paradigm shift from the messy stories of the past. I was also convinced that before a year in office, the APC led FG could have proven to majority of my Ibo brothers who seem to have a pathological hatred for Buhari for reasons I dnt know and other 12 million Nigerians that rejected him at the last presidential polls that he was a better candidate than GEJ- the incompetent shoeless fisher man from Otuoke and the 'boo' of Biafrans. But, some of us are beginning to lose our voices in shame if not regret.
This days I dnt worship at my Cathedral where I am a popular face and even sneak in and out of some streets like Nicodemeus to avoid confronting citizens who will insist I explain why Buhari have denied every single phantom promise he made during election or have done exactly the opposite of what he said he will do as if I share the same sitting room with the old man. Biko kwa, I dnt know Aso villa and I am not in any way related to Lai Mohammed the megaphone of APC and the FG
My greatest dissappointment with the APC and her greatest undoing is(was) her inability to properly manage her suceess and adorn the party with a nationalist bubariga bearing in mind the ethnic and religious division that greeted the election. I was expecting to see Buhari at the Saint Theresa's Cathedral in Nsukka sharing smiles and handshake with Most Rt Prof Godfrey Onah, the Catholic Bishop of Nsukka or drinking sapele water with our Ijaw and Urobo brothers in Effurun. The APC and PMB lost the game the moment they failed to realise that after election, partisanship and party politics is sent to the morgue as governance and national building takes the centre stage. I actually wept when the President started exhibiting the same sectional mentality that robbed him of a national wide support that Abiola enjoyed in 1993 in his political appointments. I was expecting a system of appointment that will be so wazobian in nature that all haters and bigots currently dominating and polluting the social space will be relieved of their jobs but the old man 'fucked up'. The winner take all school of thought was not what a New Nigeria we were expecting from Buhari need judging from the religious, ethnic and regional tension the last Presidential election generated. Extending an olive branch to some sections of the country that don't love his face was a political master stroke and common sense that could have scored some goals for national unity and intergration but Buhari and his handlers have so far proven that sense is not common as some of us think.
Sincerely speaking, it is a truism that under PDP led FG for the past sixteen years the nation was heading to Somalia as the socio-economic lanscape of the nation was submerged in darkness and was decaying irredeemably in a frightening downward trend. The art of looting was elevated to a culture by the political class and PDP buccaneers some of whom are Buhari's friends today. And, the consequence is that despite, the seemingly enormous human and natural resources, true national development and prosperity for most citizens remained an elusive trophy.
Nigerians were in deep pit of poverty and wanted a way out. The APC propaganda megaphone came calling and what do you expect? The Apc and Buhari like a young man desperate to win a haert of a lady promised a lot and now that the chicken has come home to roast, they are realising the implication of fathom promises in a country like Nigeria where decades of misgovernance and looting have left the nation in a state of decay. This 'changi' intoxicated Politicians forgot that propaganda may help you will election but propaganda will not sustain you if you fail to provide solutions to the teething 'wahalas' confronting the citizens.
It may sound sweet to the ears of Lai Mohammed to blame PDP and accuse GEJ for all the mess in this country but that was not why and what over 15 million Nigerians elected PMB to do. The poor man in Ajegunle who is sleeping with one eye open due to insecurity, the young graduate wandering in the streets of Abuja in search of job, the woman who has just lost her only son because our hospitals are glorified mortuaries, the man who lost his family in a fatal accident because our roads are death traps, the students who live like pigs in our universities due to decayed infrastructure and the young woman brutalised and abused by security forces are expecting a better deal from Buhari and not rhetorics. With the way the blame game is going and the manner the APC and ASo rock have found comfort in dishing out the menu of falsehood and pointing accusing fingers at GEJ and PDP, we will soon wake up to hear that Lai Mohammed is unable to get a 13years old bride like Senator Yerima due to the failures of the defunt GEJ and PDP government. If this is what the APC have for Nigerians , then, the services of "I go die'' and 'basket mouth' are seriously needed because they are better comedians when compared to the arrogant Femi Adeshina.
Had the APC and PMB listened to the series of articles , interviews and public lectures of Bishop Mathew Hassan Kukah of Sokoto Catholic Diocese the anti- corruption crusade which is the only stock in APC's store will not be weeping at the alter of selective justice. Shehu Garba, Femi Adesina and lai Mohammed will not be suffering from political high blood presure due to the stress associated with manufacturing lies and halftruths to defend why the government seem to be paralysed even after one year in office. Like Bishop kukah observed, the anti-corruption propanganda have been employed by past governments yet at the tail end, there was always nothing to write home about them. When anti-corruption crusade is designed to gain cheap popularity and settle old political scores while actionable blue print for socio-economic and infrastructural development is relagated to the background, the government is shooting herself on the foot because after all said and done ,no body will be given a medal for sending political enemies to jail at the expense of good governance and dividence of democracy.
Bishop Kukah was actually right in his postulations. One stone can be used to kill two birds. The government can strenthen the anti-graft agencies and allow them to do their work giving her time to primarily pay undivided attension to the need of Nigerians that was not in the scale of preference of the ruinious and kleptomaniac PDP led FG for the past sixteen years. APC ignored the eminent Bishop to her peril. The most regrettables episode of the whole drama is that muslim-northerners who see APC is an Islamic enclave and Hausa-fulani santuary threw all sort of dirty cannons at the distinguished Catholic Bishop of Sokoto; a patriot and active citizen that no any Northern Malam born of a woman can withstand intellectually. Today, APC is in a feacial mess and she is battling to ensure that the wailing wailers don't pull the rug off her feet just after one year in office.
It is instructive and salient I state that the hope that greeted the victory of PMB is fast turning into hopelessness. Most Nigerians and especially Arewas who had thought that they will be picking up dollars in the streets of Sokoto, Kano, Zamfara, kebbi and Kastina after every Friday prayer are also increasingly becoming disappionted with the direction of the government.
Well, Nigerians are fed up with the worthless rhetorics of governmnet megaphones which are most often than not illogical,unintelligent, unreasonable and insulting. Here, I most confess that I miss the celebral Olusegun Adeniyi and the legendary Reuben Abati. While the cap fits the veteran Shehu Garba, the seemingly overfed little bird from the Sun newspaper have grown wings and is arrogantly vomiting rubbish like Doyen Okupe for Nigerian to swallow.
The APC must stop telling Nigerians 'story for the gods'. It is time to work the talk because the last time I checked, angry, hungry and hopeless citizens are already dusting their voters cards. I , for one, moves around with mine in case Allah reads the minds of patriotic Nigerians( not these Biafran renegades and ND lunatics )and decides to fast forward 2019. Is Buhari hearing me?
Martin-Hassan Eze------Writer/Author/ Freelance Journalist/ Independent political Analyst
07086770315 Kontagora Niger State

Disclaimer:

"The views expressed on this site are those of the contributors or columnists, and do not necessarily reflect TheNigerianVoice's position. TheNigerianVoice will not be responsible or liable for any inaccurate or incorrect statements in the contributions or columns here."
Articles by Martin-hassan E. Eze