Leo Ogor @57 And The New Isoko Politics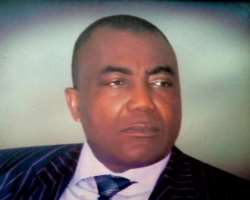 In as much as we continue to criticize our Isoko political leaders which is healthy in any democratic setting, there is need to appreciate some of these politicians who have improved through constructive criticisms in the region over time.Hon.Leo Ogor, the present Minority Leader of the House of Representatives is fast distinguishing himself from the crowd of political non-achievers in the region.
Born January 6th, 1959, Ogor has become a lone voice for Isoko politics. For his first and second tenures as a honorable member of House of Representatives, representing Isoko Federal Constituency, I was one of the first most vibrant critics that used various print and social media platforms to criticize his first and second tenures in the house even when social media platforms were not popular in Isoko region then. Maturity and experience counts in displaying legislative skill which Leo Ogor has demonstrated since 2011 till date.
Though, I am not here to praise Hon.Leo Ogor as a media professional but the truth must be told that he has able to give some political leverages to the people. In 2013, September 20, Isokotoday team including myself went to his Ozoro's abode to interview him on constituency projects and he gave a total break-down on how federal constituency projects are executed. He enumerated his numerous achievements in Isokoland and told us point-blank that PDP would be difficult to be defeated in 2015 in Delta State.
For being described as the'Oyibo of Isoko Politics' shows that he is not representing himself but the people that elected him into power. No election that is not marred with irregularities in Nigeria and Hon.Leo Ogor should not be different from others.Isoko nation is gradually creating a new face of politics where people are rewarded excellently not violently. Mindset Media Limited is a media that sees beyond the nitty-gritty of Isoko politics and entrepreneurial leadership in the region. In one of my write-ups before the general elections, I said, it would be difficult to beat Hon.Leo Ogor but many condemned my view. In 2014 local government elections in Delta State, I wrote that Sir.Hon Itiako Ikpokpo(KSM) would not be easily defeated but one of the opposition candidates criticized me but the fact is that his philanthropic legacies gave him the opportunity to assume Isoko South chairmanship position.
The issue of car gifts, Hon.Leo Ogor has really convinced Mindset Media Limited that he is not a bedroom politician but politician that sees hardwork as pride to reward for excellence. Unlike when some politicians were given car gifts to thugs to intimidate their opponents and they have faded out of the political system. Food items distribution by politicians to grassroots dwellers is not a crime but the season demands it. To some extent, Hon.Leo Ogor as the then Deputy Majority Leader in the 7thNational Assembly to Minority Leader in the present 8th National Assembly should be commended for his legislative matters in Nigeria. Many a time, I have watched Leo Ogor speaks at the lower chamber exhibiting political maturity, competence, experience, dexterity, articulation, creativity and sagacity in knowledge. He is the eye of the media in major political issues across the country. National issue of discourse has been critically and technically analyzed by Hon.Leo Ogor time without number. Leo Ogor's developmental strides cannot be swept under the carpet in Isoko nation. He is one brilliant Isoko politician that has the mind of the people at hand.
Reading through some alleged contracts some claimed that Hon.Leo Ogor failed to execute in Isokoland,I discovered that many yet to know the power of a serving legislator in the National Assembly. Everybody seems to be interested in constituency funds, but the issue here is that, Hon.Leo Ogor has proved his third and fourth tenures, that good representation is the ultimate goal of the grassroots and nothing more. His political and social inputs are felt from the local to the state and the federal levels.Hon.Leo Ogor has become a rebranded politician that is gradually exhibiting his legislative legacies in Isokoland with integrity under the PDP platform. Having received several meritorious awards, he remains the most committed and vibrant Isoko politician to reckon with at this present political dispensation. Mindset Media Limited does not praise politicians but we treat issues objectively as Leo Ogor has turned a new leaf and remains the voice of Isoko people. Even the former House of Representatives Deputy Publicity Chairman Committee Hon. Victor Ogene, a friend of Mindset Media Limited once commended Hon. Leo Ogor for his legislative articulation and named him as 'Old boy politician 'in the house.
Again, Hon.Leo Ogor is also creating political unity among Isoko politicians through his noble constituency projects. One of the Leo's media aides recently replied one of the Isoko editors who went on social media to join the bandwagon of critics of taking the Honorable member to the cleaners and he said you can as well be a philanthropist too. Despite the hard economic situation, Hon.Leo Ogor has not left his constituency behind than fulfilling some his political promises to the people. Different names have been used to tag Leo Ogor's aides but the issue is that, all have tirelessly work hard to emancipate Isoko nation with their pens.Isoko people need constructive criticisms that would help to build Isoko unity. Another political drive Hon.Ogor must be commended for, his total commitment to grassroots empowerment by using the right hands to deliver his manifestoes.
One issue that has taken Isoko politics backward is sentiment and leadership conflict where many have failed to appreciate good leadership from our repentant politicians. The Isoko social media professionals interactive session held by Hon.Leo Ogor indicated that, he is one politician that has absolute respect for the media in Nigeria.
As we celebrate the New Year, we want to see more apologetic politicians not just the PDP but other political parties creating enviable legacies in Isokoland.Hon.Leo Ogor should continue to represent the people well and in politics you cannot satisfy everybody on earth. Let all Isokos join forces to make Isoko nation a great region in Nigeria. Once again, happy birthday sir, more fruitful political years on earth in Jesus name amen.
Godday Odidi
Social Media Analyst
08058124798
Lagos
Disclaimer:

"The views/contents expressed in this article are the sole responsibility of the author(s) and do not necessarily reflect those of The Nigerian Voice. The Nigerian Voice will not be responsible or liable for any inaccurate or incorrect statements contained in this article."
Articles by Godday Odidi