Two Men Of God With Uncommon Anointing: Idahosa And Kenoly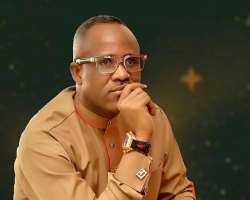 These two notable men of God have uncommon anointing that makes them difference from others in Nigeria and abroad. Bishop Isaac Idahosa, the Presiding Bishop of Illumination Assembly is a gifted gospel artist and spirit-filled motivational speaker with integrity. In Nigeria, as far Pentecostal ministry is concerned, Bishop Idahosa has ministerial influence of inviting great ministers of God and business tycoons to his church on yearly basis.
By January 17th, 2016, he would be bringing Dr.Ron Kenoly, the celebrated American Worship Christian leader,singer and songwriter would be ministering in song at the church headquarters, Illumination Assembly by 9am.This invitation is open to every Christian that loves to worship God with heavenly heart and to make 2016 a year of amazing miracles and testimonies.
For over the years, Dr.Ron Kenoly and Bishop Isaac Idahosa have uncommon anointing of impacting Christians through holy worship with love. January 17, heavenly worship would be honored by these two wonderful men of God. Humility in God's kingdom has become a ringing tone in their lives. Nobody that comes to Illumination Assembly without experiencing the full power of God through these noble gospel leaders of thought.
There is no satire or exaggeration in this upcoming holy worship by these two intimate gospel singers. It is a worship program set to make the captives free from all wicked oppressions and with imaginable testimonies. The program will commence precisely on Sunday 17th, January, 2016 by 9am.Everyday is a plus prayer manual and prayers that moves mountain would be available for those that want to rebrand their lives spiritually in 2016.God's presence would be seen at the Illumination Assembly cathedral and nothing more.
Godday Odidi
Social Media Analyst
08058124798
Lagos
RON KELLY
Disclaimer:

"The views/contents expressed in this article are the sole responsibility of the author(s) and do not necessarily reflect those of The Nigerian Voice. The Nigerian Voice will not be responsible or liable for any inaccurate or incorrect statements contained in this article."
Articles by Godday Odidi