My New Book To Change Kingdom Competitive Preachers—Apostle Blessing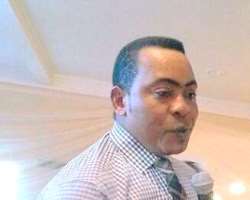 Apostle Blessing Samuel is the General Overseer of Royal Place International Ministries and recently wrote a book in USA called 'Kingdom Competition' that is yet to be officially launched out. Apostle Blessing Samuel wrote this book on the experience he had while living in Nigeria before travelling to the United States of America for ministerial growth and church planting.
He is a motivational speaker to the core. In this interview with Mindset Media Limited via Email, the Nigeria-American- based clergy spoke on his new book and while Nigerian pastors must avoid kingdom competition and preach the real word of God to their congregation and other issues.
Excerpts:
Can we meet you sir?
My name is Apostle Blessing
Samuel, the General Overseer of Royal Place International ministries. I hailed from Delta State of Nigeria.
What is the difference between Nigeria and American ministry?
Ministry in Nigeria and here in the United States are not the same, the system here works, and it make you more focus and determine, many pastors here are discipline and not material conscious unlike Nigeria, the ministers here don't play with God, they are humble. No doubt Nigeria is blessed with great men of God, fully loaded with the word and revelations, but pride, greed and jealousy is killing the ministers.
How are you relating with your church you left in Nigeria?
Thank God for technology, I always communicate with my ministers and members via the phone and Internet. I can't be everywhere at the same time, but I am glad that God gave me faithful ministers. The church is doing well at present.
What is your book Title?
The title of my book is KINGDOM COMPETITION. It breaks my heart when I see pastors plot evil against one another, they rejoice when their brother falls, no pastor wants to help each other. They run each other down just to be noticed. So much competition even while on the altar, when you attend conferences especially in Apapa, Lagos Nigeria. Every guest speaker wants to be the best preacher for the day; they prefer to IMPRESS RATHER THAN TO IMPACT. My heart bleeds when I see all this. I pray for a change
Are you planning to come back to Nigeria again?
I will definitely come to Nigeria to rebrand my church, but I might not live there, I now live in the United States. But will come to Nigeria from time to time, God gave me a commission of taking the gospel and planting churches over 120 countries of the world.
Sir, tell us briefly on your new book?
This book is not just for my personal experience, is for the body of Christ in totality, the sky is too big for two birds to clash, so I don't understand why we fight each other, some ministers even have clique, my advise to them is to turn a new leaf, and they should not forget that it is God's work, if you pull someone down, one day someone else will pull you down.
Why did you delay so much before writing this book?
I was waiting for the right time, and considering what is happening in the church today, I think we need this book.
How would you describe the reading culture of an African man?
Well they say if you want to hide a secret and keep it from an African man, then hide it in a book, Nigerians read little compare to International communities, we find it difficult to invest money in books, but minister here spends time and money to read.
Wealth showcasing on different Social Media platforms is common among the new generational pastors, so what is your stake on this?
I have no problem in people celebrating what God has done for them, but one thing I know is that, SUCCESS IS NOT HOW HAPPY YOU ARE, BUT HOW HAPPY OTHERS CAN BE BECAUSE OF YOU. Most of the ministers show casing their wealth are very stingy, I know many of them, what is the essence of making money when you cannot help anyone, if God's blesses you, then put a smile on someone face.
While living in Nigeria then, you were one of the most criticised pastors in Ajegunle city, how was you able to overcome these nefarious allegations against you?
If they can criticised Jesus, then who am I? But the truth remains that I am a voice in Apapa, and there is no pastor that don't know me or heard of me, I am one of the most popular, and I was able to achieve this because of their criticisms, because I refuse to be an hypocrite like them, they are not God to judge me, I have right to dress the way I want as long as I am not dressing indecently, anyway I have nothing against them, many of them have apologised to me, I have long forgiven them but am glad today in their very eyes the good Lord has lifted me higher.
Are you proud of Nigeria?
I love Nigeria and I am proud to be one any time , anyday.anywhere I travelled in the world, I am always proud of where I come from, I tell people that, I WAS MADE IN HEAVEN, PACKAGE IN AFRICA, THEN DELIVERED TO NIGERIA TO BE A BLESSING TO THE WORLD. So I would still want to start in Nigeria, I love affecting lives.
When are we expecting to see the lucky woman in your life?
I don't wish to disclose that now
What is your advice for ministers of God in Nigeria?
Every ministers of God should be focus, if you enter the ministry with the wrong reasons you will not last, Jesus said, seek first the kingdom of God and his righteousness, and every other thing will follow, I advise them to be focus on their vision, fame and wealth will come later.
Like we know, behind every glory, there is a story, everything is time and process, and you can rule that out, so if anyone is trying to take a short cut, then they will also face the repercussion.
GOD Has Being Very FAITHFUL To Me AND THE Ministry, and I thank God for the ministers he gave to me, they have been a blessing, my birthday was awesome, I was celebrated here in the United States, and also in Nigeria, it shows how much they love me, pictures of the celebration in America and Nigeria are all in my Facebook page. I am humbled.
How have you been relating with Bishop Chris Matthew in USA?
The bishop and I live in different states, and so far so good, everything is ok, concerning the time, Americans don't joke with their time, so we have learnt to be time conscious, when you go to Rome , you behave like the Romans, so personally I try to keep to time in all my functions.
Disclaimer:

"The views/contents expressed in this article are the sole responsibility of the author(s) and do not necessarily reflect those of The Nigerian Voice. The Nigerian Voice will not be responsible or liable for any inaccurate or incorrect statements contained in this article."
Articles by Godday Odidi