Homosexuality: Good Or Evil? (1)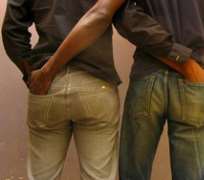 Homosexuality is simply romantic attraction, sexual attraction or sexual behavior between members of the same sex. It is man being sexually attracted or involved with a fellow man or same a woman to another woman. The female homosexuals are commonly referred to as the lesbians and the males the gays,though gay is also used to refer generally to both homosexual males and females.
Sodomy
Then, another name for this practice is sodomy (Though, it now has a wider use). It is generally used to describe anal or oral sex between people or sexual activity between a person and a non-human animal (bestiality). Expectedly, you already know that this name is derived from the two cities – Sodom and Gomorrah that were totally razed off existence thousands of years ago by God because of this same sin of homosexuality. They were deeply into this perversion. Both the Bible and Quran make references to this city Sodom and warn against the 'sin of Sodom'. Can you permit us to go to the background of this practice?
Sodom and Gomorrah
Sodom was one of a group of five towns, the Pentapolis: Sodom, Gomorrah, Admah, Zeboim and Bela—also called Zoar. The Pentapolis region is also collectively referred to as "the cities of the plain. The people of Sodom tried to rape the Lot's male visitors. You know the story of the three men (angels) that visited Abraham in the plains of Mamre. After enjoying the hospitality of Abraham couldn't resist revealing their mission to Sodom and Gomorrah. The extreme immoral atrocity of the people of Sodom was causing a great disquiet on earth and in heaven (As it is presently doing in America and other Sodomized places). Imagine, there could not be found ten righteous people in the whole of Sodom! My God!
People in other climes were living in immorality, but that of the people of Sodom was of a strange kind and that made God to leave His throne and come with two of His angels to 'investigate' them. But to the greatest shock, the men of the city as usual also tried to rape the 'men'. Even when Lot begged them to take his daughters instead of the men, these depraved, reprobate sodomites bluntly refused and became very desperate and violent in their lust to have sexual intercourse with the men. Homosexuality is always initiated and driven by a very high and powerful demonic influence. And that is why it is always difficult to come out of it. Many gays are known to have committed suicide in this struggle. We will get to all these soon. Till next week.
Watch out for the pat two of this article.
Rev Agbo is the author of the book Power of Midnight PrayerWebsite: www.authorsden.com/pastorgabrielnagbo Tel:08037113283 E-mail:[email protected]
Disclaimer:

"The views/contents expressed in this article are the sole responsibility of

Gabriel Agbo

and do not necessarily reflect those of The Nigerian Voice. The Nigerian Voice will not be responsible or liable for any inaccurate or incorrect statements contained in this article."
Articles by Gabriel Agbo