Fatai Ajidagba: The Peoples' Choice With Credibility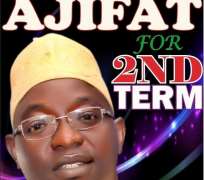 Alhaji Hon.Fatai Ajidagba is the former chairman of Ifelodun Local Development Area of Lagos State. Hon Fatai Ajidagba is fondly called "Ajifat" by Ifelodun admirers of politics.
Before Hon.Fatai Ajidagba became the former Ifelodun LCDA chairman, he was a notable medical director that provides primary health care services for the people within Ifelodun community. As a graduate of Lagos State University many years ago and was recently awarded with a Masters degree in the same institution,Hon.Fatai Ajidagba never envisaged that he would one day emerge as the local government chairman with the community support. Though, his humble beginning and community relationship gave him a landsliding victory over other contenders in Ifelodun LCDA.
Hon.Fatai Ajidagba has able to prove his political critics' wrong that a medical expert can also makes or displays leadership qualities in a coveted office without hesitation. Political experience has nothing to do with leadership calling than individual that has the heart of the grassroots like Ajifat.Within one year of his first tenure, Ajifat was able to change the face of Ifelodun LCDA through laudable projects that his predecessors could not execute.
Hon.Fatai Ajidagba is a man of the people that knows the worth of creative leadership that is why his house office opens from Mondays to Wednesdays for anybody to see him.Ajifat evaluates every criticism posted or texted to his cell phone and works towards it without seeing it as an insult. He has given out customised books,biros,pencils and bags to all Ifelodun public schools, skills acquisition, free GCE forms, caring for the elderly, building roads,bridges,schools and staff buses, maternity centres,ICT centres, Libraries, modern market construction, adequate security of life and property, Public-Private partnership, retraining of Ifelodun staffers and just mention but a few. He is a man of grassroots sports and others. He is friendly to both community and national media.
Again, Hon.Fatai Ajidagba has received several meritorious awards to his credit. His hospitality leadership is worthy to be emulated in all ramifications. Everybody in Ifelodun seems to be stepping down for a grassroots leader that knows the mindset of his people. He remains a grassroots leader with integrity.Ajifat carry go! Sure for second term. He has helped many Ifeloduners to secure flight tickets to yearly holy pilgrimage and nothing more. Hon.Fatai Ajidagba has one of the best medical homes in Ajegunle. One thing about Ajifat is that, he has reverence for proletarian leaders, traditional rulers and elders within the Ifelodun APC family.
The only former LCDA chairman, that Orile-Iganmu PDP has given political kudos to for his formidable projects than other former LCDA chairmen in Lagos State. He is a tested politician with intellectual credibility.Today; he remains a sought after grassroots leader in Ifelodun LCDA in spite that some group of persons have decided to carry out violence in the name of an innocent leader called Ajifat.He deserves a second term in the local government. Those that thought Ajifat sponsored some young politicians to fight for their political rights got it wrong by assumption. Ajifat remains a leader with God's heart in Nigeria. He is happily married and blessed with children.
Disclaimer:

"The views/contents expressed in this article are the sole responsibility of

Godday Odidi

and do not necessarily reflect those of The Nigerian Voice. The Nigerian Voice will not be responsible or liable for any inaccurate or incorrect statements contained in this article."
Articles by Godday Odidi