Rasheed Adekunle: A Man with Entrepreneurial Prowess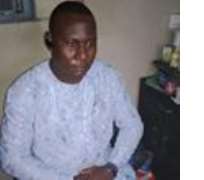 Mr. Rasheed Adekunle Bola is the Managing Director of Global Ventures Limited popularly known as 'Boladek'. He is one Ifelodun LCDA Entrepreneur that has interest on youth development in Nigeria. Having started as oil and gas marketer in low quantity before he was advised by a friend to start a lotto business and today he is counting the blessings of God upon his life.
Though, he has little stake on grassroots politics but with the recent performance of Hon.Fatai Ajidagba,the immediate past Ifelodun LCDA chairman, he has been convinced that political leaders can still work for the common people.
One thing that makes me get closer to Rasheed Adekunle Bola, he is a man with his words. He does not double-talk like some people after attaining such enviable heights would decide to look down on people.Boladek as a company is growing faster in Ajegunle community where he also runs agent offices of cable TV stations like DSTV,Startimes and others. He is a trained entrepreneurial expert who believes on youth employment.
Though, he has no stake on grassroots politics because many elected politicians have failed the people. For a single man to generate jobs for handful of Ifelodun youths that indicates that any government in power must recognise his company for partnership.
As a Muslim, he still honours Christian programmes and ready to show his financial support. To prove God's blessing in his life, the recent visit of HKT to his office before the election was a testimony of man recognised by the grassroots.
He does not believe that only those in politics that can make it in life. He has the spirit of business satisfaction that is why it is hard for anybody who has worked with him to criticize his entrepreneurship style than seeing him as a mentor. Adekunle Bola is a man with few words and ready to use his available resources to help the poor in Ifelodun community.
His love for Hon.Fatai Ajidagba is not because he was the chairman of LCDA but used his 3 years in office to perform well in terms of grassroots projects.
He has received several media awards and be added to the hall of fame calendar for many years now. He is one of the trusted lotto agents in Ajegunle and Lagos State who does not play with people's money. He has become the Ajegunle Entrepreneur ever birthed with his meteoric rise in business in recent times. He is happily married and blessed with children
Pastor Godday Odidi
Social Media Analyst/Media Entrepreneur/Mindset Media Limited
08058124798
Lagos
Disclaimer:

"The views/contents expressed in this article are the sole responsibility of

Godday Odidi

and do not necessarily reflect those of The Nigerian Voice. The Nigerian Voice will not be responsible or liable for any inaccurate or incorrect statements contained in this article."
Articles by Godday Odidi