Michael Ubogu: The Man Behind Micura Services Limited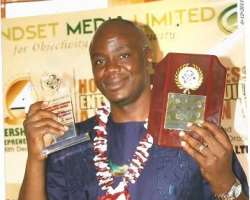 High Chief Michael Orobosa Ubogu is the Managing Director of Micura Services Limited and Grand patrons of several organizations in Nigeria. The man Ubogu started as nobody from a village called Ashaka in Ndokwa East Local Government Area of Delta State where he had both his primary and secondary education before coming to Lagos for greener pasture. His father also hailed from Ozoro in Isoko North Local Government Area of Delta State. He later proceeded to Obafemi Awolowo University (OAU) where he read Personal Management and Industrious Relations and attended several management courses both in Nigeria and abroad. Chief Michael Ubogu was a typical village boy who knew the nitty-gritty of hunting and farming and was trained by a well- disciplined mother to the core.
His coming to Lagos was not easy because he knew nobody and decided to put his life before God and worked out his destiny to the top in the area of Maritime Entrepreneurship. Though he grew up in Ajegunle where today he has affected lives positively both widows, orphans and young footballers in all ramifications. He was born on the 16th of November 1970 where he has decided to set aside a particular date to help the Nigerian prisoners and young footballers in the country. He is a faithful giver not because he is the richest in Nigeria but God has destined him to help the less privileged ones through scholarships and others. He is an open-minded man with integrity and ready to pursue excellence in his business.
Having worked with several private companies where he rose from a factory worker to a manager and decided to set up his company and today Micura Services Limited is one of the sought after Maritime companies(Stevedoring) in Nigeria who brought creative innovation to the industry. As a smart entrepreneur, he knew what he wanted and never allowed gratifications to take over Micura Services Limited rather invested massively on the growth of the company. He is a called real life teacher that teaches on entrepreneurship and leadership conferences with distinction. He is not carried away by the mundane things of the world and he is a devoted member of Redeemed Christian Church of God. Micura Services is into Bulk bagging, loading and offloading, discharging and connecting to vessels, equipment leasing and outsourcing manpower services. Micura Services Limited has become a household name in the Maritime sector that is trustworthy. Chief Ubogu has employed over 4000 workers to his credit. He pays his workers before 31st of every month. One thing about Ubogu is that, he is not a greedy employer that considers himself first but rather than his staff. He is one of the Nigerian entrepreneurs whose company is run on his absence because he has set a standard for it. Even without Michael Ubogu, Micura Services Limited still operates its business strategies because of the laid down procedure in the company.
Finally, Michael Ubogu remains one of the best Maritime entrepreneurs Nigeria has ever produced in the recent times. With Micura Services Limited, your business transactions are well-secured. He has received several meritorious awards from different organizations in Nigeria due to his humanitarian services to the society. Even in Ashaka community today, Michael Ubogu's presence is felt there unlike some rich Nigerians that snub the poor people in their communities.Weath does not intoxicates Ubogu rather creates all-embracing environment for the downtrodden. At 44 plus two months old; Michael Ubogu is ready to take the Maritime industry to the next level. He is the present Vice-President of National Association of Stevedoring Companies, Western zone, Nigeria. He is happily married to a beautiful wife and blessed with children.
Godday Odidi
Public Affairs Analyst/Mindset Media Limited
08058124798
Lagos

Disclaimer:

"The views/contents expressed in this article are the sole responsibility of the author(s) and do not necessarily reflect those of The Nigerian Voice. The Nigerian Voice will not be responsible or liable for any inaccurate or incorrect statements contained in this article."
Articles by Godday Odidi