There Would Be Another Bloody Moon In 2015—Bishop Umunna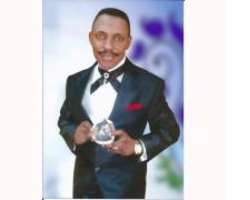 The Presiding Bishop and General Overseer of Bible Life Church Cathedral (BLCC) Worldwide, Bishop (Prof.) Leonard Umunna recently made his prophetic statement at the just concluded cross over night into 2015 in Lagos that Nigeria would experience another bloody moon on April and September this year which indicates another sign of evil things to come but God will give us victory over it.
Bishop Umunna made this prophetic pronouncement at the cross over night that was filled with over 10,000 worshippers across the country that Nigeria would experience another bloody moon of 2014 but we shall overcome all the physical and spiritual problems in the country. In his message "Because of where I want to be this year, I must do these things". He read his scriptural verse from Habakkuk 2:1-3 where he said Christians should think of how to make it in life than live in object poverty. As Christians we must correct our defective backgrounds and plan ahead of life than blaming God for our mistakes. We must ask God for direction not only help from Him and it is our responsibility to create our future in life.
He explained further that the bloody moon is a sign of problems to come in Nigeria if not averted by fervent prayers from Christians. The bloody moon of 2014 that occurred twice, we had police going on strike, Ebola came to Nigeria, Army refused to fight Boko Haram,Rain storm, sunshine to darkness, education sector paralyzed ,corruption, Nigeria football team collapsed ,security threat and devaluation of Nigeria's currency. These bloody moon never started today, it happened in Israel in 1967 and other countries like that.
Bishop Umunna also said most Christians blamed witches and wizards for their problems because they failed to plan and now they are planning to fail in their lives. As Christians you must not fold your hands and to expect manna to come from Heaven (promises), make commitment and reposition your life for greater future. Nigeria will not split but we shall overcome all the political tribulations in 2015.We must work to achieve our destinies and don't be envious of your neighbours'successes.Israel will experience some turmoil but God will open many doors for Bible lifers and faithful Christians in Nigeria.
Bible Life Church Cathedral also recounted some of the blessings in 2014 where Bishop Leonard Umunna was medically declared fitted in London, GOSEC women convention, youth convention, favored youth musical concert, testimonies, Bishop Umunna diamond's birthday and others. Bishop Umunna advised Christians to work for God than man in 2015.
Disclaimer:

"The views expressed on this site are those of the contributors or columnists, and do not necessarily reflect TheNigerianVoice's position. TheNigerianVoice will not be responsible or liable for any inaccurate or incorrect statements in the contributions or columns here."
Articles by Godday Odidi