Isoko South Constituency 11: Ferguson or Erijo, Who blinks first?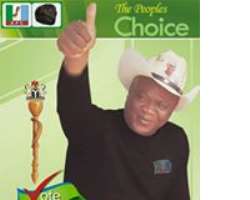 Since the defection of Chief Hon. Ferguson Ajirioghene Onwo of Olomoro kingdom from the Peoples Democratic Party(PDP) at the eleventh hour of the party primaries to the All Progressives Congress(APC) was an indication of a manipulated party ticket that ought to be given to the people's candidate. According to the recent press interview granted on the national daily by Hon. Ferguson Onwo said he had stepped down for third time to allow Prince Johnson Erijo to complete his tenure and not ready for another one again. It is sad that those that asked Hon. Ferguson Onwo to step down for a failed legislator where part and parcel of those that manipulated the Isoko South Constituency 11 ticket.
Having read through some alleged publications on Hon. Ferguson Onwo over his ambition to contest for Isoko South Constituency 11 in 2015 that has been crying for creative change, indicated that some iniquitous enemies wanted Isoko South Constituency 11 to remain backward in terms of infrastructural development and nothing more. The emergence of social media has helped to improve on Isoko politics since 2011 and every politician planning to contest must promise what he or she can fulfill in the space of time. Hon. Ferguson Onwo is a man that knows the nitty-gritty of Delta politics to the core. He read Political Science from the prestigious University of Ibadan and once a council chairman and other political appointments in Delta State to his credit.
If Hon. Ferguson Onwo was given the PDP ticket, he would have remain in the party but Isoko PDP has failed to bring credible candidates to contest for some sensitive positions in the land. The ecclesiastic hope of Hon. Ferguson Onwo is the beginning of many Isoko youths in Isoko South constituency 11 voting massively for a man that deserves the office come 2015.Isoko South Constituency 11 has suffered political setbacks in terms of empowerment programmes for the voters since 1999 till date. It has been a business as usual where fabricated lies are created to deceive the electorates but Hon. Ferguson Onwo has come to give political hope for the people. In Isoko South Constituency 1, Chief Hon. Benjamin Essien opened the eyes of Isoko voters towards empowerment programmes for the people since 2011. The recent political statement issued by Isoko Development Union (IDU) President-General, Major-General Paul Omu(Rtd) if Isoko nation is not given the Deputy governorship position, then Isoko nation will vote massively for the opposition party that is another political plus for Hon. Ferguson Onwo.
Again, Hon. Ferguson Onwo has paid his price of political sacrifice and commitment to Isoko nation. Even when he nursed the ambition to contest for 2015, he avoided the media and waited for the final decision of the party leaders, only to be disappointed by powers that be. With the present party structure of Hon. Onwo, there is no soothsayer to say he has not won the 2015 Delta State House of Assembly elections. He remains the choice of the people while political manipulators should know that the voice of the people is the voice of God. Despite that he has not been elected yet but has empowered over 100 people in Isoko that shows a working politician for the people in 2015.Some disgruntled elements have decided to campaign calumny against a man that wants change for Isoko South Constituency 11.
To some extent, Prince Hon Johnson Erijo's prowess in the Delta State House of Assembly cannot be underestimated but he failed to hearken to the voice of the people when elected previously and now. Politics is all about affecting the grassroots not selected ones in positions of power. Though, he has created a political niche for himself and Isoko nation in Delta State House of Assembly. The Aviara-born politician who left the University as a fresh graduate and was given the mantle of leadership to take Isoko South Constituency 11 to the Promised Land only to be disappointed by the voters who felt it is time for change not continuity of political failure. Nobody is against Prince Johnson Erijo but he should have followed the footprints of Hon. Leo Ogor who was elected for first and second tenures without any achievement for Isoko Federal constituency but improved on his third tenure and even doing what other federal legislators cannot do in their constituencies. This is the kind legislator Isoko people want now not arrogant or sleeping one.
Finally, the battle for Isoko South constituency 11 is not a joke but real contest for Hon. Ferguson Onwo and Hon. Johnson Erijo come 2015.It is a fight to finish for either PDP or APC but one person must win come 2015.Again, Ferguson Onwo must not be carried away by mammoth crowd of supporters but he should be able to identify political sycophants with eagle eye and Prince Johnson Erijo should not be overconfidence that PDP will manipulate result for him but should be able convince the voters that he has changed from political darkness to light of Isoko South Constituency 11 development.
Godday Odidi
Public Affairs Analyst
08058124798
Lagos

Disclaimer:

"The views/contents expressed in this article are the sole responsibility of the author(s) and do not necessarily reflect those of The Nigerian Voice. The Nigerian Voice will not be responsible or liable for any inaccurate or incorrect statements contained in this article."
Articles by Godday Odidi