Adewale Adeogun: An Educationist Cum Grassroots Sports Administrator With Enviable Legacies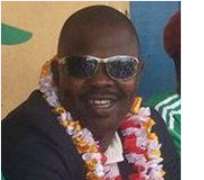 Honorable Alhaji Abduljelil Adewale Adeogun is the present education secretary of Ajeromi- Ifelodun Local Government Area of Lagos State. He was recently elected as the Chairman, National Association of Education Secretaries (NAES), and Lagos Chapter due his meritorious services to intellectual leadership in education sector in Lagos State.

He was born on Saturday 5th January 1965 to a humble family of Alhaji Adeogun at Odeda in Abeokuta, Ogun state. He attended All Saint's Anglican primary school Abeokuta in 1971 to 1976 and Ajeromi public primary school Ajegunle Lagos where he obtained his first school leaving certificate in 1976 to 1977 and later proceeded to Government Teachers College Badagry, Lagos for TC11 certificate in 1979 to 1984. He also attended Institute of Computer Education, Ikere Ekiti State in 2004 to 2008.
As a young man with creative vision, he decided to further his education by Appling for University of Ibadan admission to read a Diploma course in political science in 2010. The appointment of Hon Adewale Adeogun as the education secretary in Ajeromi- Ifelodun has brought academic light to primary education in the local government over the years. The fear of Hon.Adewale Adeogun is the beginning of innovative teaching system in Ajegunle primary schools.
Before Hon. Adewale Adeogun became the Education Secretary in Ajeromi- Ifelodun, he has held some vital educational positions in Lagos State as a Teaching Staff of Lagos State Government and State Primary Education Board Maryland, Ikeja, Lagos in 1985 to 2009 and Sports officer State Primary Education Board Maryland, Ikeja, Lagos in 1985 to 2009 and Education Secretary of the State Universal Basic Education Board Ajeromi-Ifelodun from 2009 till date and LGEA Maryland-Ikeja Lagos. He is a member of different professional organizations like Institute of Data Processing and Management, Teachers' Registration Council and Nigeria Union of Teachers.
Hon. Adewale Adeogun is one of the sought after educationists in Lagos State with credibility. His enviable educational legacies remain unbeatable since the inception of education secretary in Ajeromi-Ifelodun Local Government Area of Lagos State. His mentorial vision is to see that teachers are well-respected in all ramifications. His appointment as an education secretary in Ajeromi- Ifelodun was just like give him a trier and see what a young man can do in the means of old educational administrators that could not see beyond the poverty teaching mentality.
But Hon. Adeogun proved all his critics wrong that teachers are not meant to be poor but to be rich and the reward of teachers are on earth not in heaven again. He is a product of change in Ajeromi-Ifelodun Local Government. His legacies are too numerous to mention.
One thing about Hon.Adeogun is an educationist that admires progress which has helped him to redirect the affairs of Ajeromi- Ifelodun State Universal Basic Education Board to the 21stcentury knowledge and wisdom. He has received over 60 meritorious awards to his credit. His immense educational contributions in the local government are something you cannot take away from him.
He receives award almost every week or month including chieftaincy titles who thought an ordinary primary school teacher could be reckoned with in the political landscape and otherwise. He speaks Yoruba, English, Igbo and Pidgin English fluently. Hon. Adewale Adeogun is the only education secretary in Lagos State that wakes up early to conduct school assemblies for pupils and inculcate discipline in the Ajeromi-Ifelodun public schools.
Today, Public schools in Ajeromi- Ifelodun now have school farms, libraries and computer centres. The era where pupils come late to schools is over in Ajeromi- Ifelodun. Hon. Adeogun deserves another second term to fulfill his educational promises for the local government.
Some of the meritorious awards received so far till date are; Education secretary in Lagos State Merit Award 2012, Excellence Award by Lagos State AOPSHON chapter 2012, Islamic Merit Award by Modrasat Daru Sahdat Islamiya Wal- Arobiyah 2012, Distinguished service Award by Adeniran Ogunsanya College of Education 2012, Corporate Games Award in Liverpool, United Kingdom 2012, Jagunmolu Adinni 2012, outstanding AJ Educationist/ Administration by Image Plus Communication 2010, A role Model in Ajeromi- Ifelodun by GBA communications Ltd 2010, Pillar of Sports in Ajeromi- Ifelodun LGA by Peakline Sports in World 2010, the Commoners Grassroots Journalism Certificate of Recognition as one of the top 50 most exciting politicians at Badagry Division in Lagos State 2009, All Saints Anglican primary school, Otere Ikereku Ogun State ( Award of Excellence) 2010, Pride of the community Award 2010, Nwanne Di Namba1 by Igbos in Ajeromi-Ifelodun Local Government 2010, Mindset Media Achievers Excellence Award 2012 as the most creative educationist and sports administrator and others.

He has received over 50 awards in Nigeria and, he was recently included in the Mindset Hall of Fame of Leaders, Innovators and Entrepreneurs and won the best public school in the country. A plus for a great educationist of the 21st century in Nigeria, with the support of his head teachers and government officials in the local government. He recently marked his 49th birthday bash with a difference.
Hon. Adewale Adeogun's hobbies are reading, researching, travelling, football and playing. He is one of the creative and progressive grassroots sports administrator and educationist that Ajeromi- Ifelodun local government has ever produced since its existence. His tall passion for teaching profession was never a mistake but Hon. Adewale Adeogun proved all his doubting critics wrong that teachers are meant to live exemplary lifestyles to others. He also believes that the era where teachers live in poverty is over, that is; teachers can afford decent houses, ride comfortable cars and write books for sale and nothing else.
Any first timer to Hon. Adegoun's office will quickly misplaced his office to an Executive Director or Managing Director of a company not knowing that the office belongs to a teacher with vision. He has created a niche for himself in Ajeromi-Ifelodun. His first tenure as education secretary in the local government has brought educational freedom to public schools and others. Who says Adewale Adeogun cannot be reappointed for second term, a man with unbeatable records in Lagos State.
The sudden increment of large enrolment of pupils in Ajeromi- Ifelodun public schools from private schools is a testimony of a great achiever of one man called Hon. Adewale Adeogun. He is fondly called by his admirers as "a century educationist with distinction". He is an educationist that loves social media with passion.
He believes so much on information technology as a way to propagate educational information to the public. He has invited many great achievers like Daddy showkey, foreign football player and others to Ajegunle public schools for mentorial attainment in life of the pupils. He has helped to develop grassroots sports in both public and private schools in the local government. He is a humble educationist to the core. He is a staunch and active member of the All Progressives Congress (APC) and as a card carrier.
Hon.Adewale Adeogun is a household name in Ajeromi- Ifelodun Local Government Area of Lagos State. He has also being invited to deliver lectures on education, leadership, politics, sports and others. He has granted over 50 media interviews including the electronic and print like the Commoners, the Mindset media, Image Newspaper, Project Thirteen magazine, the Examiner, the Nigerian online, the nation, the punch, the peakline magazine, Mallam Africa Magazine and others. He has also provided both GCE and Jamb forms for less privileged ones in Ajegunle. He is a philanthropic teacher with credibility.
He has appeared in various achievers calendar as patron and others. Lastly, Hon. Adewale Adeogun is the leader of leaders, father of fathers, teacher of teachers, educationist of educationists, politician of politicians, philanthropist of philanthropists, writer of writers, sports administrator of administrators, leader of leaders, education secretary of secretaries, social media networker of networkers, giver of givers, award winner of winners, mentor of mentors, title receiver of receivers, computer guru of gurus and others. It will be hard to see the person of Hon. Adewale Adeogun in the next 10 years to come in Ajeromi- Ifelodun. He is happily married with a beautiful wife and children.
Godday Odidi.
Public Affairs Analyst.
08058124798. Lagos.

Disclaimer:

"The views/contents expressed in this article are the sole responsibility of

Godday Odidi

and do not necessarily reflect those of The Nigerian Voice. The Nigerian Voice will not be responsible or liable for any inaccurate or incorrect statements contained in this article."
Articles by Godday Odidi