Bishop Leonard Umunna Deserved Nigerian National Merit Award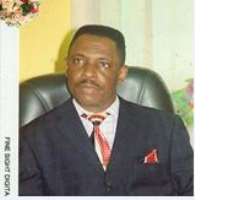 Since the establishment of the Nigerian National Merit Award (NNMA) act of 53 of 1979 and 1964 which holds every two years, only few credible ministers of God had been bestowed with these distinguished honors over the years. To some extent, the Nigerian National Merit Award had lost its intellectual integrity because of high profile political influence that greeted the programme.
As far the Nigerian National Merit Award continues to honor credible Nigerians that cut across all endeavors of life, some credible Nigerians are yet to be honored like Bishop Leonard Umunna of Bible Life Church Cathedral International and others that deserved it.Bishop Leonard Umunna, the General Overseer and Presiding Bishop of the Bible Life Church Cathedral (BLCC)International located at Ajegunle in Ajeromi- Ifelodun Local Government Area of Lagos State deserved the Nigerian National Merit Award with credibility. He has duly served his father's land and mentored sons and daughters in his ministry. Bishop Umunna has able to create a niche for himself in all facets of life.
President Goodluck Jonathan must be commended for the great award bestowed on Ajegunle public schools through the current Education Secretary of Ajeromi- Ifelodun, Hon. Adewale Adeogun for recognizing Ajegunle at Aso Rock Villa. Bishop Leonard Umunna is a household name in the ministerial assembly that received his calling at 9 till date without backsliding or defeat. He was one of the first Ajegunle Bishops to register his ministry on website with great evangelism to reach out to people. He is a minister of God of many parts and excelling in all endeavors of life. Bishop Umunna's national prophecies had come to pass without altercation. He is not a prophet of dome.
He once prophesied about Abacha's government, Olympic Football Victory of 1996 and June 12 election saga where he prophesied that the tension that nosedive to the election annulment will not lead to war. He also prophesied Obasanjo's government and President Goodluck Jonathan as a messiah God has sent to douse the tension of the country on the sudden demise of President Musa Yar' Adua. In 2014 prophecies so far, Bishop Umunna said Nigeria will receive great commendations and congratulations from the world. He also said President Goodluck Jonathan's leadership is ordained from God not man. By June 25th this year, he will be a diamond at 60. At 60, Bishop (Prof) Leonard Umunna has achieved great feats which some pastors of his age have not achieved. He is a humble minister of God with integrity that has organized first class evangelical events in Ajegunle like anniversaries, GOSEC, Grassroots Sports, Inter-sports, education summit and others.
With Bishop Umunna's philanthropic mindset, he has provided scholarships for less privileged Muslims and Christians in Ajegunle as a great investor on education. He was not privileged to attend a secondary school but today he is a professor with distinction. The Nigerian National Merit Award is all about honoring like minds of Bishop Umunna than giving awards to criminally-minded people and recycled politicians in Nigeria. Though, the National award process of selection and nomination has been abused by some privileged committees in recent times. Even the recent centenary celebration, Umunna needed to be honored with his extra-ordinary and overwhelming legacies in life. President Goodluck Jonathan must know that some ghetto pastors had offered jobs for many youths in Nigeria through their ordained ministries and other entrepreneurial investments in Ajegunle like Bishop Umunna and others.
It has been observed that only moneybags politicians and business moguls are the recipients of these awards in previous years except few ones with integrity. A system of referendum should be adopted in selection process than using one political father or leader to select its candidate for the award. Bishop Leonard Umunna is not just a dreamer, but he has trained sons and daughters in ministry that are equally excelling in all ramifications. Bishop Umunna has travelled far and wide through God's ministration. He is a renowned Public Affairs Analyst whose contributions to National issues have helped to maintain peace in Nigeria. He was an avid contributor to NTA channels 5 One on One programme.His messages are viewed on YouTube, Facebook, TV and Radio stations, Twitter and other social media in Nigeria and abroad.
He has authored over 45 books and tracts whose research works and articles are read all over the world with commendations. He has debuted over 10 Christian albums and films in Nigeria, He is a professor of repute that spanned for many years and not tired of making people great in life. He is a Bishop that makes things happen in the gospel of Christ. He has received several awards both local and international as; Apapa Role Model for Humanity, Best Education Manager, Exemplary and Committed Service to God and Humanity, Authentic Drama Producer, Distinguished College Proprietor, International Christian Leader, Courageous Philanthropist, Best Artiste, King of Christian Music, The Most Visionary, Disciplinary and Influential Pastor, Excellency for Nigeria Community Counseling and Rehabilitation, Transparency and Excellency in Ministry (PFN), African Leadership and Peace Promoter, No1 Heart of Gold award(British Society of Arts-Nigeria) Global Leader of Integrity Award man of the year etc. He is a patron of chaplain in Nigeria and others. He is the owners of Umunna College, Umunna Hospital, Extra Real Nursery and Primary school, Professor Umunna Foundation, Bishop Umunna Bible College and just mention but a few. He has granted interviews on national newspapers, magazines and online media till date on national issues heart-rending the country.
Bishop Leonard Umunna is not a roadside Bishop that got his ordination from a roadside ministry. He is a well-trained minister of God with accountability. His choir won the best gospel act few years ago in Nigeria because of his glorious contributions to music industry. He holds a PGD in Business Administration and Masters in Education, Doctorate Degree in Divinity- GMF and Literature USA, Fellow of the Chartered Institute of Public Administration, a Fellow Strategic Finance and Administration Institute, visiting Faculty London College of Theology and currently, General of GM Chaplaincy and Professor of Christian Leadership. He oversees one of the largest single congregations in the world. Bishop Umunna's outstanding attributes towards ministerial development in Nigeria is one that deserved the Nigerian National Merit award.
Often times, most Nigerian pastors are rated as the richest in the world but no one has evaluated the tenacity of the gospel to the ghetto city of Ajegunle where ministers of God both old and young are doing extra-ordinary things in life. Bishop Umunna has affected lives through his gospel over the years. All his investments are for the less privileged ones which is affordable and accessible without discrepancy. He is the only Ajegunle Bishop that has camping ground where prayers and crusaders are hosted. Bishop Leonard Umunna's ministry brought salvational light to Fasasi area of Ajegunle where it used to be a dumpsite and Indian hemp smokers. Apart from Methodist, Anglican, Seraphim Cherubim, Catholic and others, Bible Life Church is one of the oldest Pentecostal churches in Ajegunle and Nigeria waxing stronger in every minute with transformed method of evangelism of the word.
Lastly, If TB Joshua, Enoch Adeboye,Pastor Ayo, Cardinal Okojie and others have received the national merit awards with similar achievements, then Bishop Umunna deserved the national honors without qualms. He has digitally contributed to grassroots sports and spotting out young talents for future exploits in Nigeria. He is a Bishop with consummate integrity that has respect for local and national leadership. He is a progressive Bishop cum Professor of our time that knows the nitty-gritty of leadership in Nigeria. He has been invited to Aso Rock and many highflying Nigerians have patronized his ministry through his undiluted word of God and salvation. Daddy you deserved the national honour!
GODDAY ODIDI. 08058124798. Public Affairs Analyst Lagos
Disclaimer:

"The views/contents expressed in this article are the sole responsibility of the author(s) and do not necessarily reflect those of The Nigerian Voice. The Nigerian Voice will not be responsible or liable for any inaccurate or incorrect statements contained in this article."
Articles by Godday Odidi