Aminu Tabuwal Decamping To APC: Open Letter To Mr. President Goodluck Jonathan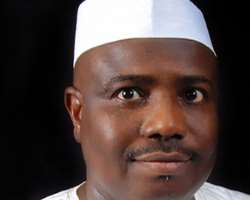 Nigerian House Of Representatives Speaker, Aminu-Tambuwal
This is not a big deal. From 1999, his history has been decamping from one party to the other. The issue is really not APC but what APC stands for. Those propagating APC, what are their backgrounds? I am neither an apologist for PDP nor a member.
I am only a Missionary of the Gospel of JESUS CHRIST to Northern Nigeria. So, I have no political interest. But I have taken time to point out that any muslim whosoever he is, has primary allegiance to the cause of islam before considering any other thing.
Aminu Tambuwal decamping to APC is to garner support to become President of Nigeria under APC banking on the support of Yorubas added to Hausa-Fulani. But you should not be dismayed either. The truth is that you will be President of Nigeria in 2015, Jesus willing, whether Tambuwal decamps to APC or remains. It is not based on political tantrums thrown here and there.
It is 100% based on veracity of purpose. But your becoming President cannot solve the problem of Nigeria, as it will be only based on the euphoria of "uwanbe" of rollicking and gay time, if you do not put your leg on ground using this National Conference to change Nigeria's Constitution, making it a true Secular Constitution, and CREATING STATES EQUALLY in each Geo-Political Zone, 8 states each, to correct Lord Lugard Mistake of 1914 Amalgamation of Structural Imbalance. Do it Mr. President.
COMRADE KINDNESS INNOCENT JONAH:
AN ASTUTE HUMAN RIGHTS ACTIVIST THAT FIGHTS AND WINS INJUSTICE ANYWHERE FOUND IN THE GLOBE. HE IS ALSO IN FACE BOOK.
+234 – 803 – 6662 - 901 & +234 – 809 – 5957 - 698
Disclaimer:

"The views/contents expressed in this article are the sole responsibility of the author(s) and do not necessarily reflect those of The Nigerian Voice. The Nigerian Voice will not be responsible or liable for any inaccurate or incorrect statements contained in this article."
Articles by Kindness Innocent Jonah