Communique' On SarakiGate In National Assembly Delivered By Concerned Civil Crusaders To Move The Nation Forward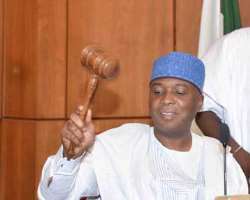 Segismund, a well known social leader in Germany in the middle ages when Roman Catholic was calling the shot in Europe, when confronted by the then Pope Leo X on the perceived recalcitrance of Martin Luther over Papacy with tacit belief that Segismund himself being an unrepentant Catholic would bulge to break known rule by handing over Luther to Papacy, said "if honour were to be banished from the heart of all men, it should be found with princess".
In other words, though it is evident that a certain rule has been broken and flatly abused, because there is honour in preservation of fate, Segismund decided to disobey Papacy, and refused handing over Martin Luther, though Segismund himself never liked what Martin Luther was doing.
This is maturity. This is understanding. This is articulation. Interest of Papacy adjudged Segismund, could not override the collective interest of Europe as a continent and those of the progressives.
It was a square-peg-in-a-square-hole-decision which precluded miasma looming in the horizon, and saved Europe and the entire world from trauma. This same thing should be replicated in the impasse currently pull-dragging between the Presidency and Senate, to wit, between President Buhari and Senator Saraki.
We are not standing in for Saraki, neither are we hobnobbing with him to dismember equity and justice. We are not putting back the developmental hand of the clock either. Infact, Saraki is a Nigerian politician, and if indictment is anything to go by, many top rank Nigerian politicians are regular customers of EFCC or ICPC. The Nation has been plundered collectively and singularly by these breed of politicians. So, we have no reason to be on the part of Saraki.
But because it is axiomatic and true saying that "he that must go to equity, must go with clean hands", or, speaking in the corollary, "he that Lives in glass house should not throw stones", we as gadflies in ethnocentric and religion-biased Nigeria would like the Presidency to toe the line of reconciliation in the Sarakigate. Just as Segismund considered the fate of Europe and shielded Martin Luther from Papacy, going against his own personal interest, so also we humbly advise His Excellency, Muhammadu Buhari, as the President and Commander in Chief of the Armed Forces, Federal Republic of Nigeria, to consider the collective interest of Nigerians which should override personal reasons and shit sword and let sleeping dogs lie.
Moreso, the person that could replace Saraki as Senate President is still self same from the same political family of questionable credential of political sanctity. What we adduce should be the natal star in the purported extra-mouthed fight against corruption is packing out from glass house before throwing stones.
Often times in Nigeria, this glamorous grandstanding is befurged and put inside cirrocumulus cloud of divisibility, while contrariwise, it is where the groan serpent lies, in delineating both electoral and political sanctimonious spree. Avalanche of condemnations against or encomiums for Saraki are neither here nor there in resolving the current imbroglio, but the goose that laid the golden egg is only articulate reasoning to move Nigeria forward negating the nastiness of the status quo, especially, where there is very thin line of both judicial and political uprightness separating the plaintiff from the defendant.
Nigeria seems to be a farmland of many farmers from diverse cultural and religious proclivities. We have struggled to live together as a Nation, and managed to foster line of best feet which in itself is utmost shaky, being tremendously challenged chiefly by religious disequilibrium which even was the hand behind closed doors in the botched civil war, but was patched up for acceptability then, but which in the now, has resurfaced in tetratonic dimension that concorts dog bitting the owner.
Yet, the hullabaloo is undone in the religious blowhole of the North, in the disquiet of the West, as well as in the unyielding separatist demand of the East, all variously disuniting the line of best feet. If by our omission or commission, we dovetail to smithereens by our callousness in political gerrymandering or ideological impasse or call it highhandedness in cooling off hydra-headed monsters that impinge perpendicularly against our collective peace, then we have ourselves to blame. More blame, that done, goes to the gladiators of political dissuasions far more it descends to the wormwood and the gall.
The man who head-scarffed Nigeria when this untoward divisibility knocked on our door has nowhere to hide himself if eventually the Center refuses to hold. Besides, such tumultuous instinct is unmitigated inimical to Nigerian oneness costly fought for, but loosely maintained.
The East should not be given chance to sing halleluya in this direction. The West should not be handled with kid-glove in this side Jordan. The South-South is already boisterous and should be pacified in this guise, while the Christian North as recipients of elephant match should not be constantly derided or challenged to wreck surprises.
That bespeaks the overriding importance of National peaceful gladiation and shitting sword between Presidency and Senate in the on-going Sarakigate. Mr. President should find ways of reaching consensus without removing Saraki which certainly flutters dovse coats in the dead hours of the night. Cause us no more pain as a Nation, Mr. President. Add no more salt to injury, Mr. President. Allow sleeping dogs lie, Mr. President.
Please allow Saraki be: resolve your impasse amicably even though you have personal scores (we do not know) to settle with him. Just as Segismund to Papacy, swallow your pride to save Nigeria by forgetting removing Saraki as Senate President. Let issues iron themselves out without singing the dirge of Nigeria, less the enemies of Nigerian oneness rejoice.
Signed:
……………………………………………….
Comrade Kindness Jonah,
National Co-ordinator,
Human Rights Organizations' Coalition of Nigeria - HUROCON
080-3666-2901
(For Human Rights Community)

Disclaimer:

"The views/contents expressed in this article are the sole responsibility of the author(s) and do not necessarily reflect those of The Nigerian Voice. The Nigerian Voice will not be responsible or liable for any inaccurate or incorrect statements contained in this article."
Articles by Kindness Innocent Jonah