Open Letter To His Excellency P.M.B.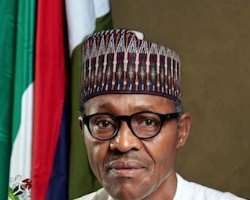 His Excellency,
Muhammadu Buhari,
Executive President,
Federal Republic of Nigeria.
Your Excellency,
KIDNAP OF CHRISTAIN GIRLS AND LADIES IN NIGERIA BY MUSLIMS: TIME HAS COME TO TELL THE TRUTH ABOUT ISLAM: WE CANNOT CONTINUE THIS WAY: GO FOR UNCONDITIONAL RELEASE OF THESE LADIES FROM ISLAMIC HOODLUMIC CAGE AND RESTOR ORDER IN NIGERIA.
Mr. President, Segismund in 1529AD, in the Diet at Worms in Germany, in reacting to the Safe Conduit granted to Martin Luther the Reformer which the then murderous Roman Catholic papacy had pressed him (Segismund) to revoke as he was personally against Martin Luther's new found faith, said:
"Though Honour were banished from the heart of all men, it should be found with Princes"
The import of this statement, Mr. President, is that though Segismund never liked the Revolution Martin Luther was bringing to the World which was counter to the established Roman Catholic Order, having promised safety to Martin Luther as he was invited to appear before the august Body to defend his Theses of Revolution, and having discovered that Martin Luther was trailing a line he Segismund never wanted, but having opened his mouth earlier to grant Safe Conduit to Martin Luther no matter Luther's stance, and though Pope Leo X was against it, and wanted Martin Luther killed on the spot, disrespecting any official Safe Conduit earlier endorsed, he (Segismund) could not go back.
Mr. President, this scenario captures the untold tendencies of islamic machinations in Nigeria. Mr. President, you are President of Nigeria and NOT President of muslims. The spate of islamic destruction of Nigeria has so come to the fore that we cannot anymore pretend to be tolerant of islam as a religion. islam, from statistics and status quo, does not appear to be, but certainly is "a conquest ideology, and not necessarily a religion". I define islam to be a warfare in which the superior side wins. islam is unavoidably belligerent and this is, 100%, a foundational problem. We cannot anymore be fooled that "islam is peace". We cannot anymore be tolerant of islam. We cannot anymore be calling Mohammed "a holy prophet". islam, Mr. President, is 100% terror-prone. islam is the definition of lawlessness.
Lawlessness is fundamental in islam
Lawlessness is, 100%,, koranic
Lawlessness is, 100%, Mohammedanic
Lawlessness is, 100%, Sharia, and sharia system
Lawlessness is, 100%, jihadic.
Lawlessness is, 100%, approved in islam.
KIDNAP OF GIRLS AND LADIES FOR SEX AND SEX SLAVERY BY MUSLIMS
In Nigeria, in America, in Europe, in the world at large, kidnap of girls, toddler – babies and ladies for sex and sex slavery by muslims is the headache of this world. Mr. President, let us briefly itemize some most recent kidnappings which are on papers. Refer to Daily Sun Wednesday, March 16, 2016, pages 14-15.
1. Charity Uzoechina
This 25 year old lady and daughter of Pastor Raymond Uzoechina, in February 2013 was kidnapped, severally sexually abused, forcefully converted to islam and forcefully married out to one muslim barrister Tijani at Bida Niger State. Tijani with his cohorts kidnapped Charity Uzoechna and kept her in the islamic custody of the then Governor of Niger State, Babangida Aliyu under the tacit connivance of etsu Nupe-Yahaya Abubakar. Charity was studying Business Administration at Federal Polytechnic Bida. All the islamic cage and satanic sharia court interpreters swung in hellish action to frustrate the release of Charity Uzoechina through the court systems. Today, Babangida Aliyu, Yahaya Abubakar and Tijani as muslims of satanic call, have "succeeded" in caging Charity Uzoechina and forcefully converting her to islam and marrying her against her natural will and parents. Mr. President, why is islam not satanic? Mr. President, islam is satan and satan is islam. Time has come to call a National Religious Conference to fashion a way out for Nigeria. islam as a lawless religion is the problem.
2. ESE ORURU
This 14 year old girl was kidnapped by a muslim Yunusa (Yellow) and taken to Kano, covered by emir of kano initially, but the emir Sanusi Lamido Sanusi made a u-turn for the girl's release when it became a public issue. islam is satan and satan is islam. Ese Oruru is now 6-months pregnant now and her school jeopardized.
3. IFEOMA NDUBUISI
Abdullahi lured and took Ifeoma Ndubuisi, a 14 year old girl away from her parents to another islamic agent of hellfire called mallam Khalil. Mallam Khalil is said to be working at Ahmadu Bello University Zaria and claimed to have married Ifeoma according to islamic rites against her natural wish and that of her parents. islam, through charm, manipulates the captured ladies to "renounce their families in preference for islam".
4. LUCY EJEH
This 14 year old girl was kidnapped by muslims in Zamfara, severally sexually abused, forcefully converted to islam and married out to a muslim without her natural consent and wish of her parents.
5. RITA CHINEDU IKEJE
This 15 year old school girl was kidnapped at Damagaji area of Zaria. The agents of satan as muslims, kidnapped this girl and gave her in marriage to one Usman being helped in the crime by one muslim worker at Zaria Local Government Area. Very many other girls being kidnapped on daily basis by muslims in Northern Nigeria.
Dear Mr. President Buhari, to be making divisive and naked lies, that "islam is peace" is to draw the evil day of God's visitation against muslims. If islam is peace, then satan is GOD. Mr. President, time is now to look islam to the face and remove, 100%, any trace of sharia from the Constitution and stamp your feet on ground to make Nigeria, 100%, a Secular State.
CHARACTER OF MOHAMMED, THE PROPHET OF ISLAM AS CONCERNS KIDNAP AND SEXUAL ABUSE OF WOMEN
Mohammed, the prophet of islam was anything but holy. Infact, the problem of islam is that muslims call holy what is an eyesore to holiness. Mohammed, the prophet of islam was:
100%, an eyesore to holiness
100%, a rapist of women
100%, a sex-slave merchant
100%, a sex maniac
100%, a pedophile
100%, a zoophilist
100%, a necrophiliac
In 616AD, Mohammed who was born in 570 AD, at the age of 46 years defiled, raped, sexually abused and claimed to have married a 6 year old girl he renamed Aisha. To make it "more acceptable" muslims claim he had sex with her at 9 years. What is the difference between 6 years and 9 years, Mr. President? Mohammed, "a prophet of God", opened his trouser or agbada, brought out his pennis, and inserted it into the vagina of a 6-year old or 9 year old girl and still say "I am holy prophet of God".
Mr. President this is the man, the person, the Personality muslims call "Holy Prophet of GOD"!!! A Nigerian proverb says "whatever snake delivers must be long and must be snake". Mr. President, do you now see why the kidnap of girls of all ages by muslims? Do you now see why muslims are sex-maniacs and why islam is sex-centered? The first notorious sex maniac and rapist was Mohammed "the holy prophet" of islam. Sorry for islam as a religion!!!
Mohammed in 627AD, put his pennis into the vagina of his dead aunt – the sister to her mother (Amina) called Fatima. Today in 2014, Egyptian Parliament passed into law "Necrophilia Law – 2014" making it necessary for husbands to sex the corpses of their dead wives at most 6 hours after death. Mr. President, do you now see the character called Mohammed "The Holy Prophet" of Islam?
Mr. President, Mohammed carried out 40 wars on earth personally between 622-632 AD and directed 27 others making it 67 wars (battles) of death waged by this "holy prophet". Mohammed killed more than 5 million people on earth in his life time. I said: not 5 million, BUT more than 5 million. Was Mohammed "holy"?
TAKKIYA AS A DECEIT STRATEGY IN ISLAM
islam in koran means surrender. koran says "unto allah, we have surrendered". In no where in koran is it stated that islam means peace. islam is "a conquest ideology" which is what "surrender" means in real sense. But muslims use Takiya which is an Arabic word meaning "concealment" or "hiding" to deceive non-muslims that terrorism is not islamic and that terrorists are not muslims. To this end, the deceit racket goes on and on and on, adinfinitum to say that:
bokoharam is not islamic,
isis is not islamic,
isil is not islamic,
aquida is not islamic,
taliban is not islamic,
hamas is not islamic,
hezbola is not islamic,
alshabab is not islamic,
muslim brotherhood is not islamic,
aquida in islamic mayheb is not islamic,
ansaru is not islamic,
alsunna is not islamic,
al nuzra is not islamic,
But, each of these bodies seeks, 100%, to establish full islamic state. But every muslim is against Jews and Christians. Takiya is a dangerous islamic masterstroke that muslims use to deceive non muslims in the West that islam is peace and peaceful when really it is warfare or conquest ideology, a zeal the terrorists are religiously pursuing.
Mr. President, the tone of this letter to you may not be comfortable to you as a muslim, but we do not care a blooper because you are the President of Nigeria not President of muslims. The problem of Nigeria is islam, simply put, Mr. President. The problem of this world is islam, simply put. To explain this, we want to let you know that islam from foundation is lawless because Mohammed was lawless. Takiya as a racket of deceit is optimally utilized by muslims to deceive none muslims. To open the cage of deceit, the following questions must be addressed.
What is the age of marriage in islam?
Can islam do without sharia?
Have muslim leaders right to give a captured Christian lady out in marriage to a muslim without the consent of the parents?
Mr. President, as learned persons in islamic theology, we have raised these three questions to bring out the real nature of islam:
islam has no age barrier in marriage and that is why they catch and rape even a 6 – month old toddler girl. islam can marry a 4 year, 5-year, 6-year to 17 year old. Mohammed defiled and married a 6-year old girl which has become a canon fodder for all muslims on earth to kidnap and marry and girl or lady of any age. This is why the muslims kidnap and marry any girl at any age. Mohammed did it, and so, muslims now do it boldly.
FIGHTING BOKOHARAM
islam is the force behind bokoharam or isis or any other terrorist group any where in the world. The mistake non muslims do which they allow muslims deceive them is that islam is not bokoharam, that islam does not support bokoharam. But Mr. President, if you say that bokoharam is not islamic, then what is jihad and how do you carry it out? Ability to answer this question directly successfully exposes the racket of deceit called islam. bokoharm is, 100%, islamic and islam is bokoharm.
This Letter to you may be too unpalatable, but the truth has to be told for us to learn and change. So, to be fighting bokoharam is foolishness but to be fighting islam is wisdom because islam is the reason for bokohram. The solution is to call for a Religious Conference for an Open Frank Talk to make Nigeria, 100%, a Secular State.
OPEN FRANK TALK CONFERENCE ON RELIGIOUS HARMONY IN NIGERIA
WE, THEREFORE, FORMULATE AN OPEN FRANK TALK CONFERENCE AND SUGGEST THAT YOU APPROVE IT TO SAVE NIGERIA.
CONFERENCE MISSION
The Mission of the Conference is to make Nigeria, 100%, a Secular State, and remove every trace of sharia in the Constitution which is a dangerous, murderous legal coverage for muslemic atrocities. islam is a complete code of life, parallel to secularity. Sharia is the reason for islamism or terrorism. All terrorist groups look for muslim Ummah, which is a society ruled by sharia. Mr. President, sharia is the reason for bokoharam. islam is anti Secularity of State. islam is sharia and sharia is islam.
SEGISMUND'S SOLUTION
Mr. President, we started this treatise by telling you of Segismund in Roman Catholic order. We know you are a muslim, love islam, love Mohammed, love koran, love sharia, love jihad, love muslim ummah, and love islamic violence. Mr. President, you appear to love bokoharam so much so that you said sometime in Jonathan's Regime that "fighting bokoharam is fighting the North".
Mr. President, like Segismund in 1529 AD in the Diet at Worms in defense of Martin Luther, though you do not like Secularity of State, though you do not like human freedom as a muslim, though you like sharia separate from Secular Freedom, BUT for the fact that generality of Nigerians, especially Christians would like to be carried along without any thing to do with islam, and for the fact that islam is not tolerant of other religions, we implore you to commit class suicide from islamic heights, by agreeing to this Religious Conference to solve Nigerian's problem. Be the Segismund to save Nigeria from collapse. Discountenance islam and sharia and redeem Nigeria. Do not be islam-controlled in your governance of Nigeria. Do not be islam- conscious in your governance of Nigeria. Elevate Nigeria above islam. Elevate Nigeria above religion. Elevate Nigeria above Christian religion. Separate Nigeria from islam. Separate Nigeria from Christian religion. Separate Nigeria from personal chauvinism. Separate Nigeria from personal ego. Separate Nigeria from sharia. Separate Nigeria from muslim ummah. Place Nigeria above sharia. Place Nigeria above islam. Place Nigeria above religion. Place Nigeria above jihad. Redeem Nigeria from islam. Redeem Nigeria sharia. Redeem Nigeria Christian religion. Redeem Nigeria from jihad.
Like Segismund, though you do not like Secularity of State as a muslim, though koran commands you to kill and cut off the heads of non mulsims in jihad, though personally you would like to make the whole of Africa, not only Nigeria, a sharia zone;
GO AGAINST islam and make Nigeria, 100%, Secular State.
GO AGAINST islam and release all kidnapped Christian ladies by muslims in Northern Nigeria to their parents.
GO AGAINST islam and remove sharia from Nigerian Constitution.
BIAFRAN ISSUE
Igbos fought a war to survive as a race. It ended in favour of survival. Today Biafra has resurfaced. Today, we hear Yorubas demanding for Oduduwa Nation. Today we hear Northern Christians demand for Plateaus Republic to be free from the islamic hegemony of the far North. Today we hear of Niger Delta Republic of the South-South Zone.
Mr. President, Nigeria is better one, but that oneness must not be taken for granted. Let there be a Round Table Open Frank Talk in this Religious Conference to openly and frankly discuss the way forward.
Mr. President, you are human and can die at any time as Odumegwu Ojukwu died. But an idea never dies. Do not ignore the fact that Igbos can get Biafra even if you do not like it, Oduduwa Republic can come even if you do not like it, Plateau Republic can come though you may not like it and Niger Delta Republic can come even if you do not like it. Do everything to hold Nigeria together, but not to disrespect people's right to demand for freedom. But Re-organize Nigeria in such a way that Igbos will see reason to abandon the quest for Biafra for a better Nigeria; Yourubas leave Oduduwa Republic for a better Nigeria, Northern Christians to drop Plateau Republic and love one Nigeria, South-South reject Niger Delta Republic for one Nigeria. You cannot subvert a man in his course. Nigeria as presently constituted cannot sustain true one Nigeria until sharia and its implementation is, 100%, taken out of Nigerian Constitution. The problem of Nigeria is sharia in the Constitution and its implementation which is jihad, and not corruption.
FULANI HERDSMEN IN NIGERIA AND REFUGEE STATUS IN USA, CANADA AND EUROPE
The killing, raping, maiming, slaughtering, and forceful conversion to islam by Fulani herdsmen in Nigeria is only but jihad and islamization as prescribed by Mohammed in koran who himself was a herdsman. Fulani herdsmen are, 100%, right in their nefarious and satanic activities according to islamic injunction in koran. That is the only reason you have not condemned it as a Fulani man even though you are the President of Nigeria. Mr. President, we are christain Missionaries in muslim-majority lands of Nigeria, Niger, Chad and Cameroon, and as such, we know islam inside out and outside in. You as a muslim cannot condemn the menace of Fulani herdsmen in Nigeria, no matter how many people they kill. It is in koran. You can only use diplomacy called Takiya to buy time. We know islam as Missionaries. Fulani herdsmen killed more than 300 people in Agatu in Benue State, but you have not said and cannot say anything because you are a muslim. It is explicit in koran.
In USA, Canada and Europe, there is a system of islamization called muslim refugee status. They flock America, Canada and Europe to obtain residence permit, to live and multiply, rape and introduce jihad and conquer for islam in the name of refugees. The world sees them as refugees, but what they do is islamic injunction of jihad called islamization to rule the world. We cannot continue like this Mr. President.
We are writing this frank Letter to you because, we want Nigeria to survive above Biafra, Niger Delta Republic, Oduduwa Republic and Plateau Republic But this survival must be planned for and implemented. Do not take Nigerians for granted. Time has come to tell islam the truth as a conquest ideology. islam as founded by Mohammed, cannot be practiced in modern times without friction, Mr. President. Time is now to tame islam as a murderous tendency.
Commit class suicide, come out of islamic
cocoon and condemn islam as the
cause of bokoharam.
A WORD IS ENOUGH FOR THE WISE!!!
SIGNED:
1. Comrade J.K.O. (Innocent Jonah Kindness O.)
National Coordinator
080-3666-2901 & 080-9595-7698
2. Comrade Lizzy Barimah
Secretary
3. Comrade Tunji Adewale
South-West Co-odinator
4. Comrade Abraham Halilu (Esq.)
North-East Co-ordinator and Legal Adviser
5. Comrade Gift Ejeka (Esq.)
North-Central Co-ordinator
6. Comrade Ferdinand Achielekwa
North-West Co-ordinator.
Cc:
sultan of Sokoto, emir of Kano,
emir of Kwadu, emir of Illorin,
emir of Dutse, emir of Daura,
emir of Katsina, emir of Fika,
shehu of Bornu, Lamido Adamawa,
etsu Nupe, emir of Zaria,
Wife of the President,
Speaker House of Representatives,
Senate President,
Chairman House Committee on Human Rights,
Ohanaeze Ndigbo,
Arewa Consultative Forum,
Afenifere, Mkpamwa Ibibio,
Supreme Council for islamic affairs.
Russian Ambassador to Nigeria
Israeli Ambassador to Nigeria
American Ambassador to Nigeria
British High Commissioner to Nigeria
Chinese Ambassador to Nigeria
French Ambassador to Nigeria
Italian Ambassador to Nigeria
Donald Trump, Republican Party Presidential Candidate, USA.
Disclaimer:

"The views/contents expressed in this article are the sole responsibility of the author(s) and do not necessarily reflect those of The Nigerian Voice. The Nigerian Voice will not be responsible or liable for any inaccurate or incorrect statements contained in this article."
Articles by Kindness Innocent Jonah