Human Rights Report: On Igbo's Next Door Neighbours And Support Of Goodluck Jonathan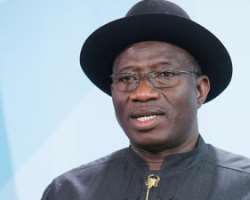 It is very clear to Igbo's next door neighbors – the South – South Region that Igbo's are not their problem as erroneously adduced. Infact, one of the major reasons why this Zone joined Arabic Hausa-Fulani to fight Igbos in the jihad war called Biafran war, was that Igbo's were enslaving them. They ran to Hausa-Fulani who collected their oil, devastated their territory and gave them the real enslavement for four (4) decades after the war.
Jonathan was given, 100%, support by Igbo's but, Jonathan never did anything for Igbo's for the 6 years he ruled Nigeria, except the Federal University he opened at Abakaliki, Ebonyi State. Yet, Igbos gave him bloc vote.
The question is: why do some South-South people still habour animosity against the Igbos until now? When will this end? Are Igbos still their problem?
More than 80% of the oil wells and blocs in Nigeria are owned by Northerners, majorly Hausas – Fulanis. None is owned, was given to any Igbo man. Goodluck ruled for 6 years, BUT could not muster courage to CANCEL the oil wells and blocs scrupulously owned and hijacked by Hausa – Fulanis.
Instead Goodluck Jonathan built several almajiri schools and universities for muslims supposing to please them to return him the second time. Can God please satan?
Yorubas backstabbed Jonathan, but Igbos stood by him. Hausas backstabbed Jonathan, but Igbos stood by him. Fulanis backstabbed Jonathan, but Igbos stood by him. Even Tivs, Beroms, Afizeres, Anagutas, Zangos, Katafas and many other Christian dominated areas of the North left Jonathan's PDP for APC, but Igbos stood by him. Recently in Bayelsa State, strong members of PDP decamped to APC, but none of such in Igbo land.
COMRADE KINDNESS JONAH
AN ASTUTE HUMAN RIGHTS ACTIVIST
080-3666-2901 & 080-9595-7698
HUMAN RIGHTS REPORT:
ON HAUSAS-FULANIS AS MUSLIMS AND OTHER NORTHERN NIGERIAN TRIBES AS CHRISTIANS
Disclaimer:

"The views/contents expressed in this article are the sole responsibility of the author(s) and do not necessarily reflect those of The Nigerian Voice. The Nigerian Voice will not be responsible or liable for any inaccurate or incorrect statements contained in this article."
Articles by Kindness Innocent Jonah