Rape, Rape Everywhere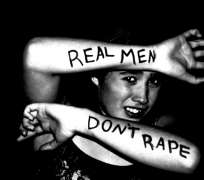 A young lady was recently raped to an unconscious state by four men in Warri, Delta State. The lady, who is still in her twenties, boarded a taxi cab to her residence but was diverted to another street by the driver with other four 'passengers', who threatened to stab her if she resisted. They took her to an uncompleted building and took turns to rape her until she became unconscious. The suspects have since been arrested by the police and the Black Berry phone they used in recording the rape action has also been recovered.
Last December, in Delhi - India, another 23-year-old medical science student was thrown out of a moving vehicle after being raped by six men. The Indian women have been in a nation-wide protest since that incident, calling on the government to do more to protect them and also death penalty for the six people involved in that particular case. The suspects have been taken to court. Rape is a national problem in India. But before these, we had the more shocking and much publicized case of Ms Cynthia Osokogu; a 25-year-old postgraduate student of Nassarawa state university who was drugged, chained, rapped, robbed and strangled to death in a hotel at the Festac Town, Lagos by some 'friends' she met through the social media. She is the only daughter of General Osokogu. The suspects are also currently standing trial in a Magistrate Courtin Lagos. I will always advocate for maximum penalty for rapists.
Rape is forcefully having carnal knowledge of an opposite sex. It is having sexual intercourse with the opposite sex without her (his) consent. Having sexual intercourse with minors is also a form of rape because it is assumed that they are too young to give an informed consent to such relationships. Rape is a heinous crime against humanity and against God. And the worse is that some of these rapes (and other sexual activities) are for demonic rituals. Look at the case in Zimbabwe recently, where three women were put on trial for allegedly kidnapping and drugging men and then forcing them to have sex in order to collect their semen in condoms for use in rituals that claimed to make people wealthy. God! Before now, we actually thought that only men perform this kind of satanic rituals. Yes, people can cause so much spiritual harm to others through sexual contacts. True! Destinies, families, careers, health, etc, can effectively be damaged or totally destroyed through sexual intercourse. We have even seen case where victims die mysteriously after such activities, even with the people they trusted. Please, let's go back to our subject.
All over the world, thousands of rape cases are reported daily. And they are just less than 10 percent of all the rapes that actually occur. In America, averages of 232 rapes are reported to the police every day. Even in the prison, it is estimated that 70,000 American male prisoners are raped each year by fellow men. In South, four out of ten women say their first sexual experience was rape. And so it is in other places. There is an escalation of incidences of rape all over the world.
The effects of this on the victims and the society are enormous. They include psychological trauma, physical injuries, transmission of STDs, and HIV, unwanted pregnancy that could eventually lead to abortions, other complications and even interruption of life dreams and careers. The victims are also sometimes murdered in the process or they commit suicide after going such experience. We saw how Cynthia and the other lady lost their lives. Rap and murder: making it more complicated for the rapists. And hundreds of our defenseless girls (women) die this way every year. There are rapes, sexual perversion, child abuses, spiritual sexual manipulations, etc, going on daily in our offices, homes, hotels, clubs, schools and most of them are not and will never be reported. True!
But, what is responsible for this escalation? What are the implications? What should be done to check it? There have always been rapes, but the current increase in the crime can be located within the immoral, lascivious and seductive activities of the present generation; indecent dressing, communication, dances, parades, information, pornography, etc. You cannot listen to those filthy words and music, watch those half-naked women, pictures, films, pageants, dances or keep those ungodly associations without being filled with immoral thoughts; which will be hijacked by sex demons that will ultimately lead to sexual misbehaviour. And the devil is behind all these. Yes, he is!
Today, not just our youths but parents, corporate bodies, governments compete to sponsor these events that encourage sexual perversion in our society. Or don't you see them sponsoring, enjoying and watching these half-naked women parade and dance? Please, after all these, with the high level of unemployment (idleness), drug abuse, and other frustrating economic and social condition, tell me how rape and other crimes will not be on the increase in our society?
But rapists are cursed not just by their victims and the law but also by God. The result of rape in the bible has always been a DEATH sentence. In the scriptures, when Amnon raped his half-sister Tamar he was later murdered. When Shechem raped Dinah; Jacob's daughter, himself, his father and all his kinsmen paid with their lives. Also, when the pervasive men of Sodomattempted to rape Lot's visitors, they were blinded and later destroyed by fire and burning sulphur. Are you involved in rape, sexual perversion, child abuse, homosexuality, lesbianism, bestiality, fornication, adultery and other forms of sexual immorality, know that the judgment of God is already hanging on your neck and your next generations unless you repent immediately after reading this write-up? Till next week, God bless!
Rev. Agbo is the author of the book Power of Midnight Prayer and a minister with the Assemblies of God Nigeria. Tel: 08037113283 E-mail: [email protected]
Disclaimer:

"The views/contents expressed in this article are the sole responsibility of

Gabriel Agbo

and do not necessarily reflect those of The Nigerian Voice. The Nigerian Voice will not be responsible or liable for any inaccurate or incorrect statements contained in this article."
Articles by Gabriel Agbo