Isaac Idahosa: A Man Of God With Enviable Legacies In Ministry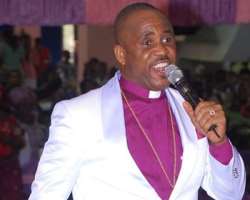 Having watched Bishop Isaac Idahosa, the General Overseer and Presiding Bishop of God First Ministries International, aka Illumination Assembly preaching on SBI of Kelvin Moses, the second popular Nigerian Christian Television channel on TVC, LTV and others, I discovered that Bishop Isaac Idahosa is a real called servant of God with extra-ordinary legacies in ministry.
In late 2012, I picked interest to see this indefatigable God's General but no avail because I had no direct contact to him until one day, the church was having a very well-packaged programme and Bishop Isaac Idahosa displayed his direct number on the screen which I immediately copied to contact him on Mindset Media Limited recently. Bishop Isaac Idahosa is gifted with the undiluted word of God without qualms.
Bishop Isaac Idahosa was born on February 8th in 1965 at the City of Minna in Niger State, the home town of the former Military President, Ibrahim Badamosi Babangida. He grew up in Minna with his parents and did his education there unlike now when Boko Haram insurgents have taken over the peace of the Northern region for political selfish interest. His prophetic messages on the media are well-inspired, impactful and educated.
He is one of the creative and influential young Bishops whose calling is tallied with His presence. Having written 7 inspired books on' The evidence is true but the story is false, they shall pay for it, the value of an enemy and others'. He still remains one of the sought after God's Generals in Nigeria with spiritual pedigree. Bishop Isaac Idahosa is an indigene of Edo State and sees late Archbishop Benson Idahosa as a father of faith. Though Isaac Idahosa is not related to Archbishop Benson Idahosa but came from the same state.
Bishop Isaac Idahosa is popularly called by his church admirers and friends as 'Bishop I while ministerial fans called him as 'Prophet Talk na do'. Any genuine believer under the ministration of Bishop Isaac Idahosa, who will not receive instant miracle in his or her, unless God did not call Bishop Isaac Idahosa. He was consecrated as a Bishop three years ago and started Illumination Assembly 25 years ago with few members at the City of Minna in Niger State. He got married 22years ago to Pastor Christy Idahosa, a great singer of repute and blessed with two lovely children, Christabel and Apostle.
Despite some ungodly publications against the anointed servant of God in recent past years, Bishop Isaac Idahosa is still waxing stronger in God's vineyard and still believes that enemy makes someone to increase in faith and not to let them die. He is a gifted preacher to the core. He has passed through excruciating poverty in his life before getting to his life destination. My full interest on Bishop Isaac Idahosa when he came to preach at Liberation Word Evangelical Ministries International of Bishop Dr.Matthew Omodiagbe, Gospel Church of Christ, Bishop Oterai and Apostle Joseph Ovedhe.
His messages blessed the congregation that graced the following programmes of God's Generals in Nigeria. He is the African Representative of Global Impact Ministries International and has bagged several awards including Pan African Liberation International Human Right Award, Life Time Achievement Award by Amnesty International, Executive Chaplain Award by Mission for Africa Chaplaincy and several others. He has one of the fast-growing churches with various branches all over Nigeria and abroad.
His life-transforming messages have not only inspired but challenged many to take steps (make decisions) that have elevated them to higher levels. His words' I don't motivate people but I give them light to their flight. He is a skillful and revelational preacher and teacher with commission to raise a people of integrity, character and excellence. Hence, transporting light and transforming lives.
Bishop Isaac Idahosa is a multi-talented minister of God whose prophetic fire is unquenchable in the kingdom of darkness. He does not parade himself with security operatives unlike some well-fed Nigerian pastors using security operatives to intimidate their visitors and members. He is one of the Nigerian pastors that appreciate servitude of the gospel in his church. He has invested greatly on his youths, not just give those fish but teach them how to fish. He believes that every youth needs to be educated that Obi cannot remain a boy forever, one day, Obi must be a man. Today, Bishop Isaac Idahosa is a renowned international conference and seminar speaker using the experiences and challenges of his daily living to empower others.
He also organizes first class ministers' conference to teach both old and young ministers of God on how to run effective ministry. Bishop Isaac Idahosa is one of the humblest bishops in Nigeria you can see in his office without protocol. His books and tapes are sold all over the world with great testimonies and miracles. He has travelled far and wide and granted several print and electronic media on his personal life and ministry. His wife, Pastor Christy Idahosa has become a blessing to his ministry without hesitation.
He has a special calling on media industry which other ministers of God does not have in Nigeria. Pastor Ayo Oritsejafor remains his mentorial father to the core. He has associated himself with highflying ministers of God in Nigeria and abroad like Dr.Ron Kennoly, Evang. Benny Hinn, Pastor Enoch Adeboye, Archbishop Joseph Ojo,Bishop Mike Okonkwo and just mention but a few. He is a great singer with vision and one of the highly respected young bishops that Nigeria has ever produced.
Finally, Bishop Isaac Idahosa is the bishop of bishops, writer of writers, singer of singers, pastor of pastors, leader of leaders, preacher of preachers, inspirational speaker of speakers and others.
Godday Odidi.08058124798
Lagos Mindset Media limited
Disclaimer:

"The views/contents expressed in this article are the sole responsibility of the author(s) and do not necessarily reflect those of The Nigerian Voice. The Nigerian Voice will not be responsible or liable for any inaccurate or incorrect statements contained in this article."
Articles by Godday Odidi