I  Have A Unique Ministry Says Rev. Iro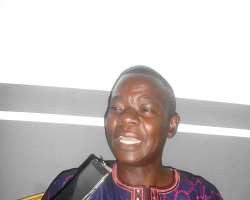 Rev. Emmanuel Iro is the General Overseer of Kings International Revival Church and a firebrand minister of God with integrity, whose beloved wife, a renowned Ajegunle Singles and Married Consultant, Pastor Peace Emmanuel has not only joined hands to make the church move to the next level but also making ordinary men and women from nobody to somebody.
Over the years, Pastor Iro has given his wife a free hand to operate on her singles and married programmes of making perfect homes with God's direction. Kings International Revival Church not only redefining goals in Ajegunle city but also creating a platform for both young and old people to know the true love of marriage.
Pastor Emmanuel Iro is well-travelled minister of God whose spiritual integrity cannot be questioned. In this brief interview with Mindset Media Limited, he spoke on why Kings International Revival Church remains unique in Ajegunle city and other issues in ministry.
Excerpts:
Let's meet you sir?
I am Rev.Emmanuel Iro,the General Overseer of Kings International Revival Church. Our ministry vision is to raise men and women from nobody to somebody. Many came into our ministry as nobody but God has used us mightily to make many homes realised their goals in life. Kings International Revival Church is a ministry of hope in Ajegunle.
Sir, are you moved by ministry competition or intimidation in Ajegunle by fellow pastors?
Well, we are met to complement each other not competition. If you are really called to the service of God, you are not threatened by anybody in ministry. My joy to see my members making significant progresses in life through God's principles. God has used me to restore marriages through the fruit of the womb and others. It is the grace of God that has been helping us not man. Only the truth would prevail in ministry. We are not moved by ministerial intimidation from any quarters but our core value to see Christians making heaven and flee from sin.
How would you describe your wife's calling?
My wife is running one of the arms of the Kings International Revival Church which is Singles and Married ministry where God has greatly used her to impact on both young and old couples in Ajegunle and beyond. Many felt my wife is popular than me in ministry but she has to do her passionate calling and I am happy not intimidated. She is an estimable woman with authority from God. Ministry is step by step, so there is always a process in ministry. I learn from everybody.
Ministry is not 100 metres dash but a relay. I have used cars not bought by me but God used people to bless me. Even when I dedicated nine cars for fellow pastors and sons in the lord, I was not moved. When God calls you, He shows you the end not the process. Every top ministers of God has a process in ministry. My advice is that pastors should work according to their unique callings in ministry.
Disclaimer:

"The views/contents expressed in this article are the sole responsibility of the author(s) and do not necessarily reflect those of The Nigerian Voice. The Nigerian Voice will not be responsible or liable for any inaccurate or incorrect statements contained in this article."
Articles by Godday Odidi