Leonard Umunna:A Minister of God with the heart of Grassroots Sports in Nigeria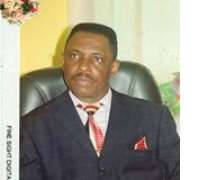 Bishop(Prof.) Leonard Umunna is the General Overseer and Presiding Bishop of the Bible Life Church Cathedral(BLCC) International and one of the fast-growing Pentecostal pastors in Nigeria. He recently delved into grassroots sports in Ajegunle to spot out young talents for future sports in Nigeria. One thing that distinguishes Bishop Umunna from other ministers of God in Nigeria is that his magnanimous attitude towards nurturing young minds into sporting careers. As a well-read and articulated minister of God with prodigious flare for books, singing, producing films and writing skills and still intend to nurture young Ajegunle sports talents in Nigeria.
Every February 14 of each year, Bishop Umunna has singled it out for annual sports and cultural festival under his veritable foundation called Professor Leonard Umunna.It is only this February 14, 2015 when INEC ought to conduct it elections and postponed to March that Bishop Umunna decided to shift his grassroots sports activities till 2016.He is an experimental minister of God who wants to see that young minds get brighter future in spite of the gloomy economy in country. Since February 14, 2013 when he kicked off the annual sports and cultural festival in Ajegunle,most African cultures have been restored in the sense that most African cultures have been swept under the carpet due to Western culture. Bishop Umunna believes that culture and religion must be protected even as we embrace western education into our culture in Nigeria. Most young minds today believe that culture is antiquated origin that needed to be discarded in this 21st century of
knowledge. He also believes that celebrating St.Valentine day on every February 14 of each year is mere ceremonial waste of funds and high profile immoralities in the land.Bishop Leonard Umunna has discovered that Ajegunle that used to be the home of football talents where the likes of Taribo West, Samson Siasia, John Udeze and others were discovered can no longer boast of one national team footballer let alone a local prominent league player in Nigeria or abroad. Bishop Leonard Umunna believes that catching them young in sports in Ajegunle could help in a long way of curbing youth unemployment and social vices. He does not collect any money from any school or pupil to participate rather using his personal resources to alleviate poverty in Ajegunle.Ajegunle is a home of young talented people but unable to be discovered by those that claimed to be successful that once lived in Ajegunle.Bishop Leonard Umunna is one minister of God in Nigeria that thinks
about the future of young Ajegunle dwellers and ready to extend his humanitarian services at any given time. He believes that grassroots sports could help to create jobs for leaders of tomorrow in Ajegunle and beyond. Bishop Umunna is just two years in sports but has discovered over 50 future talented pupils in different sports activities and culture drives.
Sports is one of the united activities in Nigeria that still keeps the existence of the country in one.Today,the drive for international sports activities among Nigerian sports lovers is an indication of failure on the part of government to improve on sports activities and players over the years. Bishop Umunna as a minister of God with many parts still believes that if adequate funds are channelled into sports, more talents will be discovered and hope of young Nigerians participating in full time sports activities will be assured.Ajegunle is blessed with raw talents in sports which I have discovered in recent times. Culture is the way of life and how people live with it but in Nigeria we have jettisoned some of our cultures to Western civilization which I intend to revive it from the grassroots and young people could see the reason of respecting our indigenous culture in Nigeria. Bishop Umunna believes that as far he continues to live on this planet
earth, grassroots sports in Ajegunle will be one of his assignments to see that Ajegunle talented pupils are discovered. Some wealthy people that came from the streets of Ajegunle always traced their history from the ghetto city that is now a jolly city but not interested to invest on grassroots sports but God that called me to Ajegunle know the reason and that is why I am here to fulfil God's promises in the lives of young creative and talented future sports participants. He remains the iconic ambassador of grassroots sports in Ajegunle.
Godday Odidi
Media Consultant to Bishop Leonard Umunna
08058124798
Lagos
Disclaimer:

"The views/contents expressed in this article are the sole responsibility of

Godday Odidi

and do not necessarily reflect those of The Nigerian Voice. The Nigerian Voice will not be responsible or liable for any inaccurate or incorrect statements contained in this article."
Articles by Godday Odidi