Obi' Preferred Instrument Of War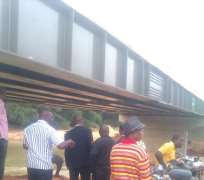 Majority of the wars that man has fought in the world were caused by either overstretched anger or politics. Whether it's cold war, conventional war, protest war, gorilla war, just name them. Anambra State has come under the barrel of one of the wars in the hands of critics without any linear view of it stopping in the near future. Critics of Governor Peter Obi have made a ruckus of Anambra, claiming that even though that the state is being ruled by him, it still remains rudderless. But in earnest, these people are showing or having lack of reverence for the inventiveness of Obi.
As an advocate journalist, I took a two day tour of the state on 19th – 20thof December 2011, to enable me form an opinion that has not been in circulation about the Obi-led government. I found out that things are not obfuscate in this state as we have been meant to believe by nymphomaniac spectators. However, there are areas that erosions are refusing us to see the resourcefulness of Obi, but the government armour of development is visiting parts of these areas. There is the fact that Anambra is developing, but has not developed overnight. This is as we have villages in the different states of the federation that are also developing.
Extremely surprising, my journey has shown that Obi is totally committed to engineer a positive transformation to make Anambra become a much bigger player in the South-East, and by extension, Nigeria. I observed that he is not lining a long-queue of projects just as Governor Chibuike Amaechi of Rivers State is doing that would be later abandoned for any successive government. The mentality of queuing projects in Rivers State has flawed Rivers State, because the treasury has been squeezed, according to a report. Obi's idea to work is 'one project before another', and it is welcoming. By this, he is not doing disservice to his exalted office as a governor. Obi's gesture has given Anambra a new lease of life, unlike in most states where 'abandoned projects' have become a scope in the wheel of development of those states. Obi is thinking before going to work, unlike most governors who go to work before thinking. He is exhibiting a leader/ship with manners, clad in unrelenting visions, refusing to mount the high horse of sycophants, which roughly leads to penury and perjury.
My visit to the Ezu Bridge is an eye opener. Obi has reclaimed a larger part of the Amansi and Ebenebe River and is building a state-of-the-art bridge that would give the two neighbouring towns a new lease for interrelational and interacting purposes. The bridge was said to have been started after the make-belief one that served the people collapsed in 2008. With the fast work on the bridge, some of the villagers I interviewed were not slow to say: "God must surely bless and protect Obi for this act of his, in building a bridge on this 'difficult river'."
An idea that forms the reasonable line of argument at the Ezu Bridge is that one could mistake every business by the natives as happening in Rivers or Bayelsa States. Ezu Bridge is a pluralist economic environment. Commercial motorcyclists ferry people to the bank of the river that are then voyaged in canoe across to Amansi or Ebenebe, depending on which side a villager wants to go to, pending when the bridge was going to be completed. Local fishermen are not out of sight, though not in blossom. Hardly is any villager frowning. They are happy that with the bridge Obi is building, reprieve has come their way.
Obi's pattern of developing the communities in Anambra could be called plutonium against the primordial towns and villages in his domain. The roads I saw are well tarred. Though, along Onitsha/Enugu Express Roads, police checkpoints outnumber the number of cops that mounted them, with dirty hollow marks dotting each of the checkpoints.
Anambra State is a homogenous state, but I have a perception that the existence of many different groups, different political and religious beliefs, Obi is not finding it easy. The issue of why he handed the schools in the state to the church has been irking many of the people. But Obi's reason to the decision his-led government took was to restore integrity and honesty in the schools, because overlords nearly ruined the schools when the state manned them. This does not mean that the state has optimally washed its hand out of the school; it does still pay the teachers salary. The pluralism in the state has made some critics of the government not to tell us about the great site at Ezu where Obi has given the people hope and reinvigorate the ancient towns of Amansi and Ebenebe. The site has become a Mecca of sort to even journalists across the country. White people are not excluded. The verdure of the river is welcoming, oozing a breeze of a world, yet to be dislocated from the entire nature.
My journey to the Anambra State University Teaching Hospital, Awka, the state capital, which is often mistaken for the Nnamdi Azikiwe University Teaching Hospital, Nnewi, has shown that Obi-led government of Anambra State is generous with developmental war, as against the pluralistic tendencies of a few persons. This expansive landscape of amazing beautiful edifices, house a total number of 17 tall and very large buildings, without any significant downstairs in sight. My investigation reveals that Obi, like in every other project he has embarked upon in the state, is not relenting with the effort to completing every form of work at the 'medical estate'. "Work goes on here day and night," a worker at the site who fielded me with this information on condition of anonymity said. Any unbiased person would agree with this humble worker because of the opalescent nature of the arena.
Onwards, large portions of the Obi's projects are ongoing at the Igberia Campus of the Anambra State University, which has its mother campus at Uli; yet he has not related any word or expressed in loud terms of these projects to attract praise or sympathy to himself and his government. The administrative and senate block of the campus, which nobody can complete a journey of it by foot in 4 days, has shown that Obi is a man thinking for the future of the state beyond fifty years in the future. Only the fence of the school is about 7 kilometers.
In an interactive session with Governor Obi from 11pm on the 19th December to 2am of 20th December 2011, reveals a man with a positive thinking knack – socially, politically and economically. His sense of humour is overwhelmingly. He portrays the features of a social democrat, who believe in brain-war inlure of bluffing-war. He loves everything about the late General Chukwuemeka Odumegwu OJukwu, Ikemba Nnewi. I saw a man whom his dispositions didn't hide his great passion for Ndigbo and who preaches against any form of corruption. People might see his government as being tightfisted, but I guess Obi's intelligence could be the reason he has held the position of the Chairman of the South-East Governors Forum for about four years, a position that was billed to be rotational every six months.
Odimegwu Onwumereis a Media Consultant based in Rivers State. Mobile: +2348032552822. email: [email protected]
Disclaimer:

"The views/contents expressed in this article are the sole responsibility of

Odimegwu Onwumere

and do not necessarily reflect those of The Nigerian Voice. The Nigerian Voice will not be responsible or liable for any inaccurate or incorrect statements contained in this article."
Articles by Odimegwu Onwumere