Pope Benedict XVI is resigning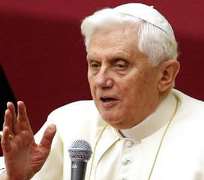 I am deeply saddened that Pope Benedict XVI is resigning.
The Holy Father was an inspiration and a model witness to the life of Christ; a shepherd of truth constantly guarding his flock so that Christ might find faith on earth when He returns. Immersed in profound humility and immense love for both God and man he has always been a source of strength, encouragement, confidence, optimism and enlightenment not only to Catholics but to all men of good will.
A champion of the poor and ardent exponent of Christian unity, the German Pontiff was, in many and such capacities as teaching, governing and sanctifying, both a beacon of light and salt of the earth. He has never ceased to offer fresh hope for defeating the forces of tyranny, cynicism and moral relativism hovering like a dark cloud on the horizon.
Successor of Peter and Vicar of Christ, he was the world's most influential and uncompromising defender of the dignity of human life. His tenacious pleas for the development of a "culture of life" and parallel denunciations of the "culture of death" have been instrumental in rallying opposition to the immorality of war, terrorism, abortion, euthanasia, divorce, contraception, homosexuality and embryonic-tissue research.
May the Lord of all graces and giver of every gift bless Pope Benedict XVI.
Disclaimer:

"The views/contents expressed in this article are the sole responsibility of

Paul Kokoski

and do not necessarily reflect those of The Nigerian Voice. The Nigerian Voice will not be responsible or liable for any inaccurate or incorrect statements contained in this article."
Articles by Paul Kokoski