Help for homosexuals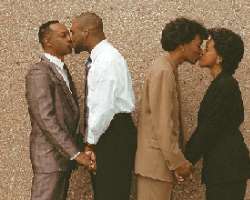 Homosexuals can try and twist the facts about the homosexual disorder and usher despicable disdain and hatred against religion all they like but that will not change the truth. Sexuality has an intrinsic meaning and direction which is not homosexual. The meaning and direction of sexuality is to bring about the union of man and woman, and in this way give humanity posterity, children, future. This is the determination internal to the essence of sexuality. Everything else is against sexuality's intrinsic meaning and direction. This is a point we need to hold firm, even if it is not pleasing to our age. Youth have the right to be provided informed consent about the serious medical and psychiatric illnesses, and risks, of the homosexual lifestyle. Pediatricians, mental health professionals, physicians, nurses and school counselors have a clear legal responsibility to do so, and parents, family members, educators, and clergy a grave moral responsibility.
There has been a monumental shift in the secular world's attitude towards homosexuality over the past few decades. In particular over the past fifteen years there has been a major public campaign to gain acceptance for homosexuality. Legalizing same-sex marriage has become the end goal of the campaign to equate homosexuality with heterosexuality.
A propaganda blitz has been sweeping the world by a small minority of influential lobby groups using political tactics and money to persuade the public about the legitimacy of homosexuality. The media is rife with negative labels implying that one is "hateful" or "homophobic" if they do not accept the homosexual lifestyle as legitimate. This political coercion has silenced many into acquiescence. Thus attitude has seeped into the week-minded of society and many have become confused or have accepted the media's portrayal of this issue.
Homosexuality is not an acceptable lifestyle or a genuine identity. Indeed, same-sex attractions can be modified and healed as has been proven in numerous situations. It is simply naive, stubborn and selfish to reject the notion that a homosexually inclined person cannot overcome his or her inclination and desire. Behaviors are changeable no matter what anyone may say or tell you. Abandoning people to lifelong loneliness and despair by denying all hope of overcoming and healing their same-sex attraction is heartlessly cruel. I would never wish such a thing on a homosexual. What homosexuals need is love and the right therapy that consists of reinforcing the natural gender-identity of the individual by helping him or her understand and repair the emotional wounds that led to its disorientation and weakening, thus enabling the resumption and completion of the individual's emotional development.
Homosexuals are not beyond repair despite their hardened stubbornness. Having rejected the scientific facts, what they need is a self-motivated process of turning away from any transgression or sin and returning to God and one's spiritual essence. This includes refining and reintegrating one's personality and allowing it to grow in a healthy and wholesome manner.
These processes are typically facilitated and coordinated with the help of a specially trained counselor or therapist working in conjunction with a qualified spiritual teacher or guide. There is no other practical solution for this issue. It requires tremendous bravery and fortitude for a person to confront and deal with same-sex attraction. For example a sixteen-year-old who is struggling with this issue may be confused and afraid and not know whom to speak to or what steps to take. We must create an atmosphere where this teenager (or anyone) can speak freely to a parent, priest, or mentor and be treated with love and compassion. Authority figures can then guide same-sex strugglers towards a path of healing and overcoming their inclinations. The key point to remember is that these individuals are primarily innocent victims of childhood emotional wounds. They deserve our full love, support and encouragement in their striving towards healing. Struggling individuals who seek health and wellness should not be confused with the homosexual movement and their agenda. This distinction is crucial. It reflects the difference between what God asks from all of us and what He unambiguously prohibits.
We need to do everything in our power to lovingly uplift struggling individuals towards a full and healthy life that is filled with love, joy and the wisdom of God.
Disclaimer:

"The views expressed on this site are those of the contributors or columnists, and do not necessarily reflect TheNigerianVoice's position. TheNigerianVoice will not be responsible or liable for any inaccurate or incorrect statements in the contributions or columns here."
Articles by Paul Kokoski