Dora Akunyili's Wild Tantrums Against Soludo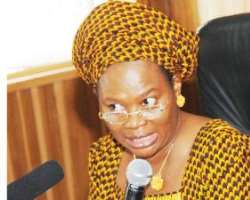 The incoherent, flimsy, and completely laughable, all be it libellous response of Dora Akunyili to the earlier response of Prof. Soludo's media Assistant, Bonaventure Melah smacks of a desperate attempt to divert attention from the issues and reduce them to the mundane level of unsubstantiated and unsubstantiable personal attacks. That is an old trick that won't work in this case. On one count, it seems useless wasting time in response to Dora Akunyili, a failed minister of Information, but who is known as a cantankerous woman of vain character and easy virtue! As a dishonourable woman, she does not mind fighting in the market place. Dora's illogical response is akin to a person accused of murder and he responds by accusing your mother of wearing dirty clothes! Thank God, Soludo has so far not personally responded to her. We understand that Prof. Soludo is abroad and his media assistant, Bonaventure Melah has been doing a great job in responding to the salient aspects of Dora's tantrums. Two persons cannot be mad at the same time, but you don't allow a mad man in a village market to go on damaging people's wares unchallenged!
1. First, Dora shamelessly lied by denying that she lobbied to be the Anambra PDP candidate in the last election. This is laughable as it is public knowledge among Anambra people that she desperately lobbied for the position. Turai Yar'Adua is alive. The former ADC to the President is also alive. Most people in Aso Villa experienced Dora's unrelenting pressures. This is one case with many witnesses. The truth is that she wanted to be the PDP candidate through the back door--- without obtaining the forms (however cheap) and facing the people through the nomination process. Of course, Dora is known to publicly deny her known notorious lobbying habits. When the late Adedibu cried out that Dora was fighting her because he refused her pressures to lobby for ministerial appointment for her, she denied. Many people know the curses and abuses she heaped on President Obasanjo for failing to make her Minister. One day, she would also deny that she desperately lobbied to be the INEC Chairman, and lots of people know what she now says about President Jonathan (privately) since she lost out to Prof. Jega. Since Akunyili lost out to Prof. Soludo, the bitterness against both Soludo and the Yar'Aduas has been palpable. This is vintage Dora! Anytime she wants anything and fails, some people must bear the wrath! Has she also tried to explain why she quarrels with every member of her family, to the extent that she was not on talking terms with her late sister for several years? Her sister was sick for 6 months and Dora did not know. Once the sister died, she sent text messages and letters all over the country soliciting sympathy and condolences, and even made tonnes of money using her late sister's name. Once her sister died, she became Dora's "beloved" sister!
2. Then Dora Akunyili leaves the issues to descend to personal attacks on Soludo: First, she raises issues about banking sector consolidation. This is the joke of the moment. Everywhere in the world, Soludo is still being celebrated for his uncommon courage and vision. Most people acknowledge that without the successful banking sector consolidation, there would have been no bank in Nigeria following the global financial crisis. The truth remains that despite the crisis, two banks in Nigeria today are, each, bigger than the previous 89 banks put together. The Nigerian banks remain Nigeria's only multinational corporations. Aside from seizing and burning the drugs of opponents, and using surrogates to collect bribes from traders whose drugs were likely to be seized, it is difficult to see what Dora Akunyili accomplished in tens years at NAFDAC. Oh, except the media hype and the crocodile tears, with fake and adulterated drugs still the norm in our streets after 10 years of Dora's hype, and paying every non-governmental individual (NGI) to give her awards. We also know how she lobbied and literally bought the title of 'Professor' even while she was serving in Government. How many pharmaceutical firms were built, and how many new jobs were created under Dora's tenure? It is funny for Dora who has been a monumental failure as a Minister of Information and Communication to open her mouth and criticise the most successful public policy that has changed the face of private sector in Nigeria—accomplished within just five years by the world acclaimed Soludo.
3. It is laughable that Dora Akunyili, with a personal life that is a textbook case of a horror movie, to start speculating on someone's personal attributes. According to her, Soludo is 'arrogant'. Of course, Dora Akunyili is evidently intimidated by Soludo's intellectual superiority. Both attended the same University, and Soludo made a first class honours. Dora obtained a Ph.D and was a lecturer before Soludo obtained his Masters and Ph.D, but Soludo became a Professor 8 years before Dora in the same University. We can understand where the inferiority complex and envy stem from. Dora is certainly not in the same pedestal as Soludo. We will leave out Akunyili's personal life for another day, but certainly this is a cantankerous woman of vain character and easy virtue. The details of how she 'lobbied' for every public position, starting from the PTF are known. This is a woman who has done literally 'everything' to get ahead and remain there. Dora Akunyili should name one individual whom she used while she was in need and with whom she still maintains cordial relationship after she got there! What a character! Nigerians are beginning to know the true Dora Akunyili.
4. Dora Akunyili goes ahead to make unsubstantiated and unsubstantiable allegations about Soludo, alleging that he has a house off Kilburn High road, London and several places around the world. She also alleges that Soludo gave money to PDP officials to make him the governorship candidate. Dora Akunyili, will in the fullness of time be required to produce evidence to substantiate these wild and childish allegations. Of course, anyone could easily concoct any allegations. That is the easy part, and tells volumes about Dora's evil mind. That is her known tactic in fighting any battle. Once she loses on substance, she either cries to attract sympathy or goes on a wild goose chase through personal attacks. When she fought a battle with Engr. Ndukwe (which she lost) she had to allege financial fraud and even invited EFCC to question Ndukwe. Her game plan was to intimidate Ndukwe to submit to her evil intention. Everyone knew that her whole quarrel was because she did not 'participate' in the sale of licenses, and thus was not 'carried along'. Many Nigerians know that Dora Akunyili is one of the most corrupt Nigerians alive. The full details will soon be unveiled. Sometime in February 2009, a newspaper in Nigeria had put out the photograph of the rented house where Soludo's family stays in London. At least the newspaper was honest enough to state the name of the company and owner of the house. In Dora's evil mind, and believing that everyone must be like her, once Soludo's family stays there, he must be the owner of the house. Incredible for a country's Information minister! If Dora had any allegations against Soludo, why did she wait until the death of her sister and the newspapers reported her attempts to disrupt the funeral before her wild nagging and tantrums? We believe that in the fullness of time, Soludo should seek legal redress!
5. In Anambra State, Soludo remains the man to beat any day there is a free and fair election. Akunyili knows that Soludo would beat her even in her immediate family. By the way, is Dora Akunyili married? This is not a trite question especially as the public knows the name of her "husband"! The real Akunyili will soon be unmasked!
Disclaimer:

"The views/contents expressed in this article are the sole responsibility of the author(s) and do not necessarily reflect those of The Nigerian Voice. The Nigerian Voice will not be responsible or liable for any inaccurate or incorrect statements contained in this article."
|
Article source
Articles by ukpakareports.com