The Plot To Impeach Imo Deputy Governor: A Critique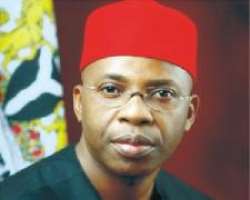 The recent demonstration and protest by a group of women in Imo State against the Deputy Governor,Dr Ada Okwuonu, on the grounds that she did not facilitate the success of the women in the PDP secret primaries for the August 7 local government elections has made it necessary to amplify the fact that in Nigeria, a deputy governor as well as a Vice President is a spare tyre. It is trite that a spare tyre is the most useless accessory in a car as long as the main tyres are functioning efficiently and effectively. However, there is a need to cite a few instances to validate the fact that deputy governors/vice presidents are mere spare tyres/rubber stamps. Since charity begins at home, let's take off from Imo State.
In the 1999 – 2007 periods, the Deputy Governor was Engineer Ebere Udeagu. Perhaps, unknown to many people, the relationship between the then Governor, Chief Achike Udenwa, and his Deputy was not as smooth as many people were wont to believe. It will be recalled that Chief Achike Udenwa was accused of looting the fund of Imo State within the first 100 days of his tenure. This allegation was made by a legislator, Hon. Jasper Ndubuaku, a kinsman of the then Deputy Governor, Engineer Ebere Udeagu.Chief Udenwa who made a brief tour of some foreign countries was confronted with the allegation of buying a 100 million Naira house in U.S with money which he laundered during his overseas tour. Hon. Noel Agwuocha, the then Speaker of Imo State of Assembly, set up a panel to investigate the veracity of the allegation. The panel was headed by the leader of the minority parties, Hon. Emeka Ukaegbu. That was when Imo State had an effective Legislature. Achike Udenwa was summoned to appear before the panel. He did and even pledged to resign, if found guilty. But the Hon. Member, Chief Jasper Ndubuaku, who accused him, could not summon the courage to appear before the panel. He ran to Chief Achike Udenwa where he pleaded for forgiveness. The rumour doing the rounds was that what Hon Jasper Ndubuaku said was a deliberate fabrication,a set up, which purpose was to impeach Chief Udenwa in order that his kinsman, Engineer Ebere Udeagu, would become Governor. He could not appear before the investigative panel because he knew that his allegation could not stand the test of judicial scrutiny. It is unfortunate that these are the sort of politicians that belong to Governor Ohakim's inner caucus of today.
Although the scenario painted above was picked from the grapevine, most people accept it as an incontrovertible fact. It is also on record that on several occasions, Hon. Kennedy Nwagwu, the then Speaker of Imo House of Assembly (IMHA), would act for Governor Udenwa whenever he travelled out of the country. In order to deceive the unwary, the Deputy Governor, Chief Ebere Udeagu, would be sent on an official duty outside Imo State. Did any body observe this abnormality? Analysts should take keen interest in observing events instead of merely looking at events. The uneasy relationship between the then governor and his deputy crumbled in the twilight of that regime when Engineer Ebere Udeagu eventually defected to Democratic People Party (DPP) where he was the Vice Presidential Candidate. This defection was a conspicuous evidence that there was no love lost between Chief Achike Udenwa and his deputy. Furthermore, Chief Udenwa did not consider him suitable to take over the government at the end of his tenure. He preferred an outsider, Hon. Ike Ibe, a resourceful politician who also hails from Okigwe Zone.Of course, the street fight between President Obasanjo and the Vice President, Alhaji Atiku, is so well known that a rehash is unnecessary. In Anambra State, when Governor Peter Obi was illegally impeached on 2nd Nov, 2006, the then Deputy Governor, Dame Virgy Etiaba,was sworn in as governor on 3rd Nov,2006.Within the brief period she served as Governor, she was allegedly very unfaithful, disloyal, and indifferent to the travails of Governor Peter Obi. She was alleged to have engaged in profligate and prodigal spending of funds.
It was on account of this that Governor Obi dropped her as his deputy in the FEB 6 election. The current Deputy Governor of Anambra State is DR Emeka Sibeudu. In Akwa Ibom State, the then governor, Chief Atta, could not work in harmony with his deputy, Engineer Obong Chris Ekpenyong.The Deputy was impeached and later asked to resign after the Wadata House (National Head Office of PDP) intervened on his behalf. In Lagos State, Governor Bola Tinubu and his deputy, Madam Bucknor Akerele, could not work in harmony. In the twilight of their tenure, Bucknor Akerele resigned when it became clear that she might be impeached. . In Abia State in 1999-2007, Governor Orji Uzor Kalu was not able to work in harmony with his Deputy, Dr. Enyinnaya Abaribe. He later resigned from the government. Chief Nwafor who replaced him had more problems with the governor. He was later impeached by the State Legislature. Above all, the man later died, perhaps, on account of shock. Even now in Abia State, Governor Theodore Orji and his deputy, Comrade Chris Akomas, are in a do or die battle for the Abia Government House in 2011.The heat is on and it promises to be a titanic battle for the Abia Government House in 2011.
In Bayelsa State, the Deputy Governor, Peremobowei Ebebi, has just been impeached. This is the culmination of a fierce battle between him and the State Governor,Timipre Sylva. In Anambra State in 1999, the relationship between Governor Chinwoke Mbadinuju and his Deputy, Chief Emeka, was like the IRAQ / U.S relationship. On one occasion, a policeman attached to the Deputy Governor was shot and killed during an exchange of gunfire between the factions. Both the governor and his deputy fumbled and wobbled until they were sacked at the end of their tenure in 2003. Dr Mbadinuju failed to secure a second ticket for the governorship race.

This brief profile shows that Deputy Governors in Nigeria have never worked in harmony with their Governors. It therefore becomes necessary for every governor to be vigilant and take proactive steps to checkmate the vaulting ambition of the Deputy Governors. Furthermore, it shows that if Lady Ada Okwuonu had refused to sign the "vote of confidence" document by the State Executive Committee that would have been enough to impeach her, more so, since what we have in Imo State now is a Legislature that simply carries out the biddings of the State Governor. if Lady Ada Okwuonu had declined to sign the document of vote of confidence on her boss, that would have been enough reason to commence impeachment proceedings on her, albeit on trumped up charges. The Imo House of Assembly of today is a rubber stamp House that is ever willing to do the bidding of the State Governor. Today, Imo does not have a Legislature that is serving the people. The last time Imo State had a vibrant legislator was in 1999 when the Speaker Emeritus, Barrister Noel Agwuocha, was in charge. Under Speaker Agwuocha and his team, Imo State had a Hallowed House as against the Hollow HOUSE of today. So, it's unfair to castigate Lady Ada Okwuonu for signing a document that did not have any significance; a document that did not pose any threat to the public good.
There is need to state that in a presidential democracy, a vote of no confidence is inconsequential because it is of nuisance effect. Even if a vote of no confidence is passed on a Governor, it is of nuisance value since he cannot be removed from office on that basis. However, in a parliamentary system, 'a vote of no confidence' means much because it can be used to effect a change of government by calling for a fresh election. There is no such thing in a presidential system of government. Impeachment is the only legitimate way of effecting a change of leadership in a presidential system of government.

Those who derided Lady Okwuonu for signing that document were only brandishing their ignorance of the nitty-gritty of a presidential system of government. We are unable to know why so much fuss should be made over a document that did not subject the state to any financial loss. At a time when she is surrounded by sharks, she must act with caution in order to cover the crevices through which her enemies may use to launch an assault on her office. This elegant woman should be allowed to be. Those who feel marginalized in political appointments in this administration should take their grievances to Governor Ohakim who on one occasion said:"I hold the knife and the yam". Is DR Ada Okwuonu the reason that women do not have 35 per cent in the State Executive Council, Heads of ministries Agencies and Parastatals. Why has Lady Oluchi NNANA Okoro turned a blind eye to such glaring display of dichotomy, male chauvinism, and discrimination meted out to the womenfolk? By the way, Barrister Oluchi should be reminded that this 30 per cent has since been raised to 35 per cent. Now that we have seen through the veneer of her subterfuge, it behooves her to step aside from the quicksand of a perilous idea and present a vote of confidence on the Deputy Governor. As a young, well educated and smart lawyer, her time will eventually come.
The malaise of deputies being treated as spare tyres is not restricted to Nigeria. It's a global phenomenon. The decision of George Bush (Snr) to choose Dan Quayle as his running mate in the presidential election of November 1988 did not go down well with a cross section of U.S. electorate especially the members of the Fourth Estate (i.e. the press). They said that in choosing Quayle, President Bush had disobeyed the 11th commandment of Presidential politics: "Never pick someone who could hurt the ticket". This admonition should be a food for thought for all governorship candidates. Unlike her peers in the scenario adumbrated above, Lady Ada Okwuonu has not manifested any undue radicalism that is capable of jeopardizing the office of Governor Ikedi Ohakim. With Lady Okwuonu, Governor Ohakim can sleep with both eyes closed. It is my opinion that whoever emerges as the Governorship candidate of PDP should see her as a good material for a running mate. However, in view of the hostile disposition of her brethren in the Mbaise clan coupled with the unfolding sabotage from Owerri clan, I wish to suggest that, in case of any eventuality, the office of the Deputy Governor should be moved to Orlu zone.This will defuse the ongoing tension and even enable Governor Ohakim to weaken his opponents in Orlu Zone.
In spite of everything, Lady Okwuonu has been a good ambassador of Mbaise clan. She has never exhibited the fabled primordial serpentine proclivities of the Mbaise.She has acted with caution, foresight and moderation. She is an asset to Nigerian women in politics.
If actually Barrister Oluchi Nnanna Okoro was an effective leader, she would have intervened in the travails of Hon. Ukachi Amaechi who was forced to resign as the majority leader of Imo State House of Assembly. Was Barrister Oluchi Nnanna not on Planet Earth when Hon. Ukachi Amaechi stepped aside "as a result of the mood of the House"? She would have asked why Lady Catherine Okpalaeke was humiliated when she was demoted from the status of Commissioner of Finance to Commissioner of Special Duties. What were her offences? The demotion of Lady Catherine Okpalaeke from a Commissioner of Finance to that of Special Duties diminishes us all, especially those who still have conscience. She was the former National President of the prestigious Institute of Chartered Accountants of Nigeria (ICAN). Although she was a very effective and prudent Commissioner, she was frustrated out of the Government because, as a hardcore technocrat, she refused to keep the Imo State treasury ajar to all manner of unprofessional transactions. Furthermore, the leader of the PDP women in Nwangele LGA, Ezinne Eunice (Lolo) was assaulted, harassed, and even physically assaulted by a prominent politician in Nwangele Local Government Area during the Democracy Day Celebration. Her offence was that she was insisting on the 30 per cent share for the women in the so-called secret primaries of the PDP for the much hyped Local Government 'election' scheduled for August 7, 2010. This assault was reported to Barrister Oluchi Okoro and there is no record of her intervention. Since the leader of the PDP women in Nwangele was hospitalized as a result of the beating she received, did Lady Oluchi Nnanna Okoro pay a get-well visit to the woman? What efforts did she make to get a waiver for the women in regard to the exorbitant fee for registration as an aspirant? Although the fee for the councillorship ticket was N65,000, impeccable sources revealed that the forms were actually being bought in the parallel (black) market at between N75,000 to N80,000. How many women have the financial capacity to pay N65, 000 or N100, 000 fees for councilors and chairmen respectively? Can Barrister Oluchi Nnanna Okoro say, in conscience, that the purported Local Government primaries can stand the test of judicial scrutiny, more so, taking cognizance of the cacophony from the political parties and the subsisting court injunctions? Pease, we can no longer wait to hear from our IRON LADY,Barrister Ugochi Nnana Okoro, the Margaret Thatcher of Igbo land. Once again I ask:" How many women in Imo State can raise this amount (N65,000 to over N100,000) for a Local government election, more so when the exercise appears to be of doubtful integrity?"
The protest by the rented crowd of women against the Deputy Governor is beyond depravity. It's a betrayal, blackmail, and sabotage which cannot stand. Those who still doubt that Deputy Governors are spare tyres should ascertain why only one out of the 36 Deputy Governors eventually emerged as Governor in the 2007 elections. That deputy governor, Alhadji Sani Ahmed, is now the Governor of Zamfara State. Even now his relationship with his former boss, Senator Yarima, the pedophile senator, is under intense stress. Those who aspire to become Deputy Governors should do so in a formal manner. We cannot accept any stratagem which intent is to capture the Deputy Governor's Office by ambush, intrigue or perfidy. This "Pull Her Down" (PHD) syndrome, even from the womenfolk, is an ill wind that blows no one any good and the imperatives of nipping it in the bud cannot be overstressed. It's a cheap blackmail which will crumble like a house of cards. Irrespective of the zone that produces the Governor as well as the Deputy Governor, both offices belong to us all. We cannot turn a blind eye while a few overzealous political demagogues and desperados make frantic overtures to diminish the integrity of the offices, more so, when there are no genuine and convincing reasons for such dangerous incursions. It was Dee Sam Mbakwe (PhD) who said: "Oke anagh eri ihe onye mu anya" (the rat does not eat what belongs to a man that is awake.
Disclaimer:

"The views/contents expressed in this article are the sole responsibility of the author(s) and do not necessarily reflect those of The Nigerian Voice. The Nigerian Voice will not be responsible or liable for any inaccurate or incorrect statements contained in this article."
Articles by ukpakareports.com