Diezani Alison-Madueke's Desperations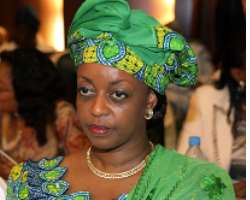 Few people illustrate the transient nature of positional power like the erstwhile Minister of Petroleum Resources, Mrs Diezani Alison-Madueke. The hitherto untouchable "super woman" has suddenly become like a frightened toddler seeking sympathy from the same people she despised while in power.
We all remember how she reportedly contrived her flight booking to coincide with President Muhammadu Buhari's and ran with abandon after him to seek his attention at the airport, only to be politely ignored by the latter. The question is, why did she suddenly become so terrified as soon as it became clear that she was no longer in power?
After being arrested in the UK where she fled for cover, the new narrative is that she is battling cancer and asking Nigerians to pray for her. Have Nigerians suddenly become important to her now that she is in trouble? Why didn't she respond to the cries of the populace when everyone was crying out about the opaque manner in which she ran the nation's oil sector – our primary source of revenue? Now, she wants us to believe that she was working in our best interest all the while when in fact, she was only enriching herself at the expense of the nation. Too bad!
Madam Diezani's futile attempts to rewrite history would not have warranted my attention if not for her ill-advised decision to soil the names of well-meaning Nigerians in her bid to garner public sympathy. Have you observed how she has started to mention the likes of former Governor of the Central Bank of Nigeria, Lamido Sanusi, and the former Minister of Finance, Dr Ngozi Okonjo-Iweala?
The erstwhile CBN Governor, now Emir of Kano, made rather damning revelations that shook the whole world when he disclosed that the NNPC under the watch of madam Alison-Madueke did not remit $20billion (later reconciled to $10.8billion) to the federation account and that marked the travails of Sanusi as he was immediately suspended from office and had his AfDB presidential nomination withdrawn by the Nigerian government on the recommendation of the super petroleum minister, Sanusi has been open in his challenge to Diezani to render account of her stewardship to Nigerians. But, all we hear from her so far are insults, counter-accusations and health news.
In her latest ranting, she "revealed" how she prevented the former President from approving a sum of $2billion which the former Minister of Finance requested to pay contractors. Now, of what consequence is that "revelation"? Is the government not supposed to pay contractors who have duly fulfilled their obligations? And is the finance minister not supposed to ensure that such contractors receive their payments? She went on to talk about kickbacks as if that would absolve her of culpability.
Can Madam Diezani Alison-Madueke honestly say that she did not receive kickbacks from anyone all through her tenure in office? Well, the answer is very clear. Otherwise, she wouldn't be running from her own shadow. The Goodluck Jonathan administration had outstanding bills and it is only right and responsible to clear such bills rather than hand them over to the incoming government.
Why would anyone be proud of blocking statutory payments all in a bid to curry favour and perhaps make a name for herself? Diezani would have been better off if she had kept quiet. Her attempts to vindicate herself have only gone to reveal the morally reprehensible attitude with which she handled our resources. It is generally believed that Nigerians have short memory; but it is not so short as to easily forget the havoc wreaked by the once powerful, now jittery Diezani.
Her advisers and sympathisers should tell her the truth. Nigerians have no sympathy for her. No amount of PR and blackmail can rewrite the evil that she has done. She should rather face the allegations that are being levelled against her. If she is indeed innocent as she claims, why is she hiding and using all tricks in the book to seek public sympathy? Nigerians are too discerning to attach any importance to her words now.
Authoritative sources have it that the recent visits of former President Goodluck Jonathan to President Buhari were because of madam Diezani, so that she could be granted a soft landing in the anti-corruption drive of the present administration. But all the overtures of the former president have been met with stiff resistance by Buhari who was as shocked as everyone else by the monumental damage the petroleum minister had done to our national coffers. It is even reported that the recent visit of Mr Dele Momodu followed by the sickly pictures of Diezani that have gone viral are the latest PR spins from her advisers to whip up public sentiment. We wait to see how effective that will be.
Diezani had hitherto acted as though Nigerians mean nothing to her. Now, does she expect her words to mean anything to Nigerians? If they mean anything at all, they are simply the woeful wailings of a drowning woman. She should face her issues head on and accept responsibility for her actions. That is the only way she can avoid making herself a national nuisance.
Olusola Daniel is a political observer and advocate for community development. He writes from Lagos, Nigeria.
Disclaimer:

"The views expressed on this site are those of the contributors or columnists, and do not necessarily reflect TheNigerianVoice's position. TheNigerianVoice will not be responsible or liable for any inaccurate or incorrect statements in the contributions or columns here."
Articles by Olusola Daniel