If I Were to do it Again, I Will Vote Buhari!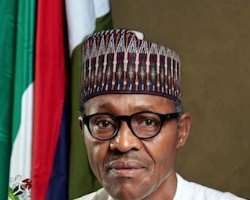 I am aware some people may not be comfortable with my title, but I need to share my perspectives nonetheless. Hear me and hear me well: If I were to do it again, I will vote Buhari. I have few regrets in my life, one of them is not voting for Muhammadu buhari in 2011.
Why? I was beclouded by ethnic ambitions to vote a shoeless person who expects me to get him shoes by voting him!
The reason I voted Buhari was simple: I do not want to vote Goodluck Jonathan a second time. Mark you; I don't regret voting for him in 2011. He was the best candidate. But in 2015, the demands and skills required are different. I have to be realistic and I am sure I took my decisions based on every assumptions of rationality!
Voting Jonathan on March 28, 2015 would mean I am deliberately promoting him beyond his level of existing competency, a reversal of the management theory known as Peter's Principle where managers stop being promoted when they have risen to their level of incompetence. Jonathan was just at that point. This is why I have always maintained that last year's presidential election more than just a rejection of Jonathan but of saving our country from the brink of total collapse.
For those wondering how I arrived at the conclusion that Jonathan is incompetent, check his records in the fight against insurgency. Our army became so demoralized that a ragtag team of 18 Boko Haram members arriving on seven motorcycles had our soldiers fleeing, ahead of civilians, as it happened in Mubi before the town fell to the sect. I can't even talk about Baga and the sadness of the massacre coupled with the presidential silence on the matter, especially when he couldn't wait to express 'grief' at 17 people killed in France. Chibok girls were kidnapped and he has no clue as to the direction of whom to believe. My goodness!
Need I ask: How many fuel subsidy thieves have been prosecuted since the scam was revealed in 2012? If my memory serves me right, how does Jonathan rank in managing the economy? What was the exchange rate of the Naira when he came to power? What was it before he left? What was the pump price of petrol when he came to power? What was it before his uncelebrated end? What has become of our external reserves? The Nigeria became the biggest economy in Africa thanks to "Goodluck" Jonathan, not because of Ebele Jonathan!
Enter General Buhari. Since he was elected President, Buhari's professional critics have settled into their new roles as opposition. Not wanting to be classified as "failures" after their "hero" last the presidential election, President Muhammadu Buhari's opponents or better still critics appear to be cruising off with an early lead. They "regret" for those of us who voted and supported Buhari in the last election.
They are now in the "Didn't I Tell You?" mode. They appear to cry more than the rest of us these days on social media. At the comfort of their mansions built from syphoned public money, they give crumbs to some spin doctors to write on why the economy (they crumbled) is now crumbling. Some of them, having no shame, will even go as far as China to manifest symptoms of madness. Good enough we tolerate these madness at home, but what happens when this goes as far as the market place?
Watching from a far, I have come to realize that Buhari's critics can fall under any of the following categories: First, are the career Jonathanians or Wailing Wailers (apologies to Femi Adesina) as they are now popularly known. Leading this pack is our dear Femi Aribisala. In fact one of these people had openly written that he will not accept Buhari as his President. These people were so sure that their boss or hero will win no matter the costs. They "prophesized" that Buhari will never "smell" Aso Rock. In fact, Aribisala once wrote under the title: How To LosePresidential Election Four Times in one of his columns stating his reasons why Buhari would lose the fourth time. If wishes were horses, they say, men will ride. How time flies. Anyways, they are foremost among Buhari's critics!
Not all Buhari's critics are pro-Jonathan as many may think though it is very difficult to vouch for this distinction. We can have a second group as those having issues either personally with Buhari himself or his party the All Progressives Congress (APC). This group accommodates people like a former Governor of old Kaduna state Alhaji Abdulkadir Balarabe Musa and a renowned writer Okey Ndibe.
One really cannot explain Balarabe Musa's issues with Buhari considering the fact that they are from the same state, Katsina. He was noted to have criticized President Jonathan vociferously at some points and I am not aware he has rescinded on his opinion about Jonathan. His criticisms of President Buhari is what one finds hard to explain, other than the fact that he may probably know something about Buhari (both of whom come from the same state) that is not to public knowledge. On the other hand, Okey Ndibe's case can be because he had issues at some point with the way the APC was been run. I am not sure Ndibe will be your first choice of a Jonathanian or GEJite. Either way they constitute a pack of their own.
The third group is perhaps the most reckless. They are nothing but tribal pirates, ethnic buccaneers and religious Vikings. In this group, we boldly include Biafran agitators and their sponsors. They are myopic in views; tactless in approach and reckless in criticisms. On the one hand they urged their "people" not to vote in the election on the other hand they want Jonathan to win in an election they forced their people not to vote. I find it difficult to reconcile these contrasting objectives. More confused was I when I knew that former President Jonathan is Ijaw, a tribe that proudly supported the Federal Army during the Nigerian Civil War. It was only Radio Biafra (a source of dissemination of slanderous messages and propaganda) that broadcast the news that President Buhari authorized the bombarding of "Biafran territories", by which they mean Cross Rivers and Akwa Ibom. While they told their viewers that "Igbos are not Nigerians", one is left to wonder at what point did the Efiks, Ibibios, Orons, etc., (which they also claim as part of "Biafran territories") became Igbos.
Apart from this pirate radio which, I later knew, broadcasts from London, no other credible news medium reported the "bombardment"!
The fourth group can be neglected as mere "professional" critics, wanting no more than mere attention or patronage. Some of them may have good intentions you never can tell!
Now that we have analyzed Buhari's critics and their intentions, I guess the time has come for us to give them a direct replies to the issues they raised.
We voted Buhari, not to magically solve the problems created for more than 16 years of misrule, but to help us keep the goats far away from the yams. If he is doing this job (as we all agree he is doing), I wish to disappoint again that I will vote Buhari again if I have to!
Olusola Daniel writes from Lagos.

Disclaimer:

"The views expressed on this site are those of the contributors or columnists, and do not necessarily reflect TheNigerianVoice's position. TheNigerianVoice will not be responsible or liable for any inaccurate or incorrect statements in the contributions or columns here."
Articles by Olusola Daniel