What Is Ikpeazu Doing About The Roads In Abia?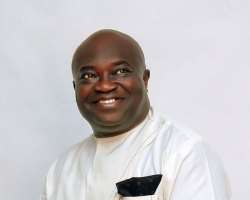 It was the Chief Press Secretary to the Governor of Abia State, Mr. Godwin Adindu, who made it known: That the Abia State Governor, Dr. Okezie Ikpeazu had directed that any illegal structure in Aba, the much touted commercial city across the Niger, would be demolished.
Ikpeazu's determination towards the decision was hinged as part of the
government efforts to earnestly give the Enyimba City, a facelift it
so deserves. Apart from that! What has solemnly endeared the governor
to the people since then is that he gave property owners in the Aba
conurbation and the general public a notice in that respect, and did
not take the people unaware.
Ikpeazu's worry and resolve to rebuild Aba, has born Aba Urban Renewal
Office. This may be part of compute to fight dishonesty in the Aba
area, which is the enemy of development and of good governance not
only in the state, but across the country. It could be seen that the
governor wants to get sleaze rid of, anywhere it exists. This is his
administration's objective; and the people can be seen coming together
to help the governor achieve his vision for the state.
In Adindu's press briefing, "The property to be demolished include but
not limited to buildings on service lanes, illegal shops, illegal
fences and such other structures that constitute a blockade to the
free flow of traffic and drainage."
It is obvious that the people have started to enjoy the government of
Ikpeazu, no matter who has taken the election that declared him
governor to the tribunal, no matter who is making assassination claims
in order to rubbish the reputation of the governor.
One observation is that Ikpeazu and his team are very bold, yet
humble, in the state ambitions. It's perceivable that Ikpeazu is on a
mission to win the fight against poverty in Abia State and progress on
moral standards in government and society, hence to develop a
formidable foundation for good governance.
One area that the governor has launched himself to the public no
matter who is crying otherwise is that Ikpeazu has a penchant for
character change in the politics of Abia State in order to give a
fertile ground for reforms. Abia people and Ndigbo at large are known
for their abstemiousness against radiant rubbish. They have also
wisdom to balance a sensible thinking. And this is perceived to be
what Ikpeazu is showcasing in Abia State within his few days in
office, not minding the agents of distraction.
Those that followed Ikpeazu and his speeches during his electioneering
campaign would attest to the fact that he has started rebuilding Aba,
as he had promised. With his move, there may be good governance in his
administration. Ikpeazu is without doubt pursuing governance in the
state with eager feet, hands, head and most importantly, unrepentant
squad for change.
Knowing that road is a progress, ever on and on, Ikpeazu has started
showing that Abia wants progress and, it is progressing. He is in a
bid to get nearer to the place where Abia people want to be. His body
language suggests he knows that going forward will get the people
nearer to their destination: The right road.
As part of his vows, from Over-rail in Aba to Abiriba in Ohafia Local
Government Area of the State, Ikpeazu's name resonates loud. A recent
visit to Omuma axis of Aba, the testimony among the Keke NAPEP
occupants was that Ikpeazu would do better.
It is conspicuous that with his years as a scholar, Ikpeazu has
acquired enlightenment in the long road of difficulty. He had promised
to commission the Abiriba ring road in Ohafia, within his first 100
days in office with street lights and adequate drainage, and the
people of Abriba are testifying to that.
It calls for celebration that within Ikpeazu's first week in office,
he is showcasing about five agendas that include trade and commerce,
agriculture, manufacturing, infrastructure and environment. But his
first 100 days in office was orchestrated towards road construction
and rehabilitation.
Governor Okezie Ikpeazu is showing to the world that development and
good governance are not actually based on a state that has the best
economic growth, but wider views and committed spirit of the pilot to
work. With the governor's liking for freedom of communication, hence
the works he has started doing in Abia State that Nigerians can see.
Of a truth, Abia people should give the governor the maximum support
that he needs to pilot the affairs of the state. They should not be
like an investor who doesn't have hope that the government he
(investor) is investing in will pay back its debt.
Abia State should eschew a crisis of confidence, no matter who is
citing Ikpeazu against the people. Abia people should not have
negligible patience in Ikpeazu. He needs the people's overwhelming
ideas to rebuild his energy, just as he is putting enough energy to
rebuild a place like Aba.
Odimegwu Onwumere is a Poet/Writer; he writes from Rivers State.
Tel: +2348057778358
Email: [email protected]
http://www.odimegwuonwumere.wordpress.com
Disclaimer:

"The views/contents expressed in this article are the sole responsibility of the author(s) and do not necessarily reflect those of The Nigerian Voice. The Nigerian Voice will not be responsible or liable for any inaccurate or incorrect statements contained in this article."
Articles by Odimegwu Onwumere