IKIMI'S FLIGHT OF FANCY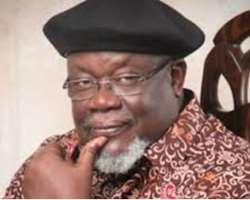 "It is easier to cope with a bad conscience than with a bad reputation." – Friedrich Nietzsche (1844-1900)
Do you know that the French word exposé, first used in 1803 from past participle of exposer, according to the Merriam-Webster dictionary, perhaps America's best dictionary, and meaning "to reveal (something hidden, dishonest, etc.)", can be said to best describe former minister of foreign affairs, Odua of Igueben, Akinrogun of Ife and a Chairmanship aspirant in the 13th June, 2014 Convention of the All Progressives Congress (APC), the flamboyant and charismatic Chief Tom Omoghegbe Ikimi's recent unmasking of political corruption in the country's main opposition party, the APC, and as it concerned its political strategos and self-acclaimed national leader, the Jagaban Borgu, Asiwaju Bola Ahmed Tinubu, whom he accused of hijacking the Party?
It must be said right away that it augurs well for the polity of any nation to find its harmful actions, conditions, or influences, however long they have been kept secret, suppressed or subdued- to become visible or open to public view, as well as offered and exhibited for public examination and determination. Although the present revelation may appear gratuitously offensive, we must nevertheless thank the former Chairman of the now defunct National Republican Convention (NRC) for it all the same. Notwithstanding the realisation that in considering our reputation, so much premium should be placed on what we hide, conceal, fail to disclose, or kept secret more than what we divulge, reveal, expose, tell, disclose or betray. As the renowned and sometimes controversial American artist and author, Andy Warhol (1928-1987), once told a friend, "I learned that you actually have more power when you shut up."
Interestingly, it is the same Chief Ikimi, whom Tinubu has now labelled a mole and a sell-out, as Chairman of the Action Congress of Nigeria's Merger Committee, who announced the APC merger, at the session held in Lagos by the 'four' parties on Tuesday, 6th February, 2013, as he read from a one-page statement signed by chairmen of the merger committees of the 'four' political parties namely: ACN, ANPP, CPC, and a faction of APGA. Now, for resigning from the APC, and calling it "a party of rule breakers and power mongers," and exposing the behemoth moneybag Tinubu as "having positioned himself as perceived leader in the most lucrative income sources of the party" and "recipient and dispenser of bags and bags of party funds" in his letter of Tuesday, 26th August 2014 entitled "My Reflections", where he cited non-adherence to the party's constitution as well as APC's deep-seated anti-nationalistic and discriminatory tendencies as reasons for his decision, Ikimi who languished in the party for weeks before finally bidding it goodbye, is today suffering strong vengeful anger, indignation and name-calling by his former colleagues in the Progressive clan for this his perceived 'courage' or 'crime'. Yet, many members like the cantankerous and disgruntled Ikimi, who "frowned at the skewed leadership image of the party that blatantly ignored national sensitivities" remain in the party for fear of retribution, and are still enduring the party leaders' desperation to capture power at the centre at all cost. But, which serious minded people or party will, in the first place, give such an onerous task to a 'distrusted' man or member, even if he is an accomplished architect and builder like Ikimi, only to turn around and deny him its Chairmanship at the first sign of his rocking the boat? Only the APC, of course.
Recognising the urgency of radical change in Nigeria more than ever before, and offering Nigerians "a recipe for prosperity", the usually exuberant and vibrant Ikimi, father of four, who divorced his lawyer wife, Theresa Omawumi Ikimi, whom he married in November 1977 after a messy legal battle in the English Court of Appeal in the case Ikimi v Ikimi [2001] EWCA Civ 873, had on this fateful day, led other signatories such as former Governor Ibrahim Shekarau for ANPP; Senator Annie Okonkwo said to have represented APGA, and ex-deputy-governor Garba Mohammed Gadi for CPC, to declare with a certain effervescence and jazziness that:
"At no time in our national life has radical change become more urgent. And to meet the challenge of that change, we, the following progressive political parties, namely ACN, ANPP APGA and CPC, have resolved to merge forthwith and become the ALL PROGRESSIVE CONGRESS and offer to our beleaguered people a recipe for prosperity."
No sooner has the merger come through than the high command of the once snazzy, dazzling and gaudy APC become afflicted by a myriads of defection. With characteristic intensity, aggressiveness and assertiveness, Chief Ikimi would later announce that he was also dumping the party du jour, APC- and hinted that he would most likely reunite with his Conservative "friends" in the Peoples Democratic Party (PDP), which came to pass on Friday, 29th August 2014, when he met the party's leadership led by its national chairman, Adamu Mu'azu, in Abuja and expressed his readiness to join the ruling party. His resignation from APC had been preceded by the defections of Ibrahim Shekarau, Attahiru Bafarawu, Dele Belgore, Femi Fani-Kayode, Buba Marwa, Ali Modu Sheriff, Nuhu Ribadu, etc. to the PDP. While these defections gave the ruling party political regeneration, it clearly destroyed the mystique of the opposition APC. But then, what else does one expect from a hurriedly coalesced political synthesis of strange bed-fellows hinged on wresting power from a common foe, other than schism, discordance, disunity, friction and infighting. It ran contrary to Ikimi's boastful prediction at the onset:
"As you can see, our position is very clear, that this is a meeting of all the progressive parties. And there are other parties that have indicated their willingness to participate, like the Movement for Democracy and Justice (MDJ). They have written to us that they want to join. But I believe that these four parties have made the take-off now. And I believe that many parties, including Labour Party if they so desire, will join us."
To this day, although Ikimi, a member of the Constituent Assembly (1988-1989), had wished his vitality spread to everyone around him, it has yet not happened. Until he departed the APC late August, wrapping around him whatever was left of his 'integrity', his wish for the APC remained what it has always been- a pipe dream and the future of the party continues to darken.
Chief Ikimi, no doubt, has ambitions of greatness as a politician, and he has had his feel in the past. In 2006, at the slightest provocation, the fox- Ikimi, disowned his Conservative party, the PDP, describing it as "incompetent", and with a sheepskin on his back, he managed to pass right into the Progressive camp. As did Otto von Bismarck successfully for year, he must have been fully convinced that he had left behind his own "ideas and values" and ready to wear the mask he thought was most appropriate for the group in which he now found himself. An assinity that lasted for eight years, because at the twilight of his political career, the Inneh of Igueben, would be finally spied out as a latter-day 'turncoat', a 'mole' and a 'sell-out' by his so-called fellow 'Progressive', Tinubu, who refused to swallow the bait simply because Ikimi claimed to now share his ideas; and immediately had him placed on a watch list. What a sad commentary; not a few felt that the Tinubu-Sheriff bluster had been carried too far. They reminded everyone that while Tinubu supported John Odige-Oyegun for the position of party chairman following his failure to get in "his kinsman, Bisi Akande," Ali Modu Sheriff, his sworn enemy, had backed the 'courageous' Tom Ikimi. Suddenly, the Akinrogun's reputation, according to the sanctimonious Jagaban, has over the years attracted an indelible stain to itself that even if soaked in a harsh solution of bleach will be impossible to obliterate, and as such he cannot be trusted with the sensitive position of party chairman given his antecedents. The powerful Lion of Bourdillon could have been quoting our Lord Jesus Christ: "Do not give to dogs what is holy; and do not throw your pearls before swine, lest they trample them under foot and turn to attack you." (Matthew 7:6)
(Ọ̀gẹ̀dẹ̀ wo kòkó yè tán, ó dohun àrìrí fólóko/ A pure case of outliving one's usefulness). Just imagine the cocky boldness; what insolence! Ikimi must have thought. For a party that prides itself as committed "to the principles of internal democracy" as well as providing a level playing field for all Nigerians to canvass and pursue their aspirations within the ambit of the overall national interest, Nigerians in their millions seem truly baffled and hopelessly bemused by the devilish knaveries and shenanigans of the so-called 'Progressives', who continue to frustrate, disappoint, let down, fail and confuse the electorate, whose votes they hope will get them into power at the centre. Their slogan of 'CHANGE' promises no real changes- It's all just smoke and mirrors. Columnist Theophilus Ilevbare recently knocked these political pettifoggers and shysters for what they truly are:
"…politicians do not have any genuine intention to serve the people. They seek personal elevation and gains to quench their insatiable greed for power."
The moment these aggrieved politicians failed to get what they had hoped the APC would provide them (i.e. "opportunity for positions or platforms to contest election"), they quickly returned to the trenches, and threatened to dump the party, even as some of them, like former vice president Atiku Abubakara, have sworn that the party remained their last bus stop. In a recent interview with Chidi Obineche and published in The Sun newspaper of Sunday, 21st September 2014, Senator Joy Emordi, former presidential adviser on National Assembly, captured it thus:
"Unfortunately, the same APC that has been criticising the PDP has been desperately going to the PDP to gather members. If the PDP were to be such a bad party, why would APC be looking for new members from the PDP? A pot calling the kettle black has never brought solution to the system. APC is currently embroiled in serious controversies over national positions and Presidential candidates for 2015 elections. A lot of members have gone back to the PDP and a lot more are threatening to leave."
In 2006, when he dumped the ruling PDP for the ACN, Chief Ikimi must have stubbornly underplayed the criticality of reputation. He must have seen the error of that now because in the present circumstance, it has proved his undoing. Ikimi appeared to have so insolently and arrogantly brushed aside the evergreen advice of Italian courtier, diplomat, soldier and author, Baldassare Castiglione (1478-1529),that a person who sojourns to a place where he is a complete stranger ought to have a good reputation preceding him. Wrote Castiglione:
"Therefore I should wish our courtier to bolster up his inherent worth with skill and cunning, and ensure that whenever he has to go where he is a stranger, he is preceded by a good reputation.…For the fame which appears to rest on the opinions of many fosters a certain unshakable belief in a man's worth which is then easily strengthened in minds already thus disposed and prepared."
As Ikimi particularly failed to take to heart how his new 'friends' in the APC perceive him, he unwittingly and conveniently allowed Tinubu to fill-in the gap for him. Said Ikimi agonisingly:
"Those of us who had worked so hard towards the successful merger and creation of the APC were manipulated out of the scheme of things. In this bizarre struggle to seize control of the party, we were even openly accused by the self-proclaimed owners of the party, of wanting to steal 'their' party."
Once again in his political career since Tuesday, 21st February, 2006, when he helped co-found the Action Congress (AC), Ikimi found himself clearly at a crossroads. Some Ikimi critics have been less than charitable. They have made the former minister the target of lampoons in the press and have even pasquinaded and ridiculed him for being a "bad loser", "mere grumbler", "serial decamper", etc, who stalled rocking the APC boat until after he has fallen out of favour with those who wielded the party's jugular vein. Others, still, questioned his motives for joining APC in the first place, and wondered whether the winner of the international competition for the OAU office and conference centre project in Addis Ababa, Ethiopia, would have left the party if he had been made its National Chairman. But the man Ikimi seems almost impervious to the criticisms from all sides, having planned in detail before writing the party's national Chairman, Chief Odige-Oyegun, whom he called a "puppet" and "a Tinubu plan B project". Once he realised that his ambition to become APC Chairman had been rendered an ignis fatuus or a will-o'-the-wisp, he cleverly withdrew into his shell like a turtle and from then on snubbed all the party's activities. Even as the APC promptly despatched General Muhammadu Buhari, Alhaji Atiku Abubakar, Governor Adams Oshiomhole and co to plead with him over the emergence of the 'highly principled' yet 'pocketed' Odige-Oyegun as National Chairman of the party, Ikimi's plan to dump and bad-mouth the APC already remained within him, inexorable. No one, least of all the party's leaders, whom he accused of cowardice for failing to oppose the domineering Asiwaju, suspected that his interest as a Progressive, like the interest of some of those sent by the party to beg him on this occasion, may have been a passing fancy. The greedier they all become, the more easily Tinubu, who has mastered the art of making others come to him, even long after he has stopped trying, having made them to believe that their political ascendancy rested with him, gets to lead them around, and by the nose, too. Chief Ikimi aggravated further:
"They usually congregate at Tinubu's private parlor in his Asokoro Abuja residence. Those who wanted to belong had to find or force their way into that parlor. Once initiated, your independence or capacity to challenge the plots that emerged from that cult venue became seriously curtailed. Rather than freely open up critical issues to free debate at the interim Executive Council for democratic decisions to emerge, positions plotted at the notorious Asokoro parlor were being desperately foisted on the party for execution."
The Akinrogun must still be wondering how the emeritus governor of Lagos State, Tinubu, who had had kind words to describe him as he officiated the cutting of his 70th birthday cake in Igueben only months before, could now turn around and dub him a sell-out. Na so life be? No, no, it must be a kind of mock ritual meant to scoff at his loyal pretensions to the APC. How come he missed that glint of mockery in Tinubu's eyes? As Voltaire (1694-1778) wrote of Nicolas Fouquet (1615-1680), Superintendent of Finances (1653-1661) to King Louis XIV of France (1638-1715), "the longest of any monarch of a major country in European history", Chief Ikimi failed to understand that the man "at the top of the world" "when the evening began" could also be the one "at the bottom" by "the time it had ended'.
Since the most skilful hoodwinkers necessarily do everything to cloak their caitiff nature or calibre, Tinubu, a master player of the game of power, diverted attention from himself and constituted Ikimi into a dubious and dodgy cynosure in his "Reply to Chief Tom Ikimi", wherein the facts were few and the mendacities many. He attempted to come clean in one field to shield his taradiddles and fabrications in others. It would have been better if he had not bothered to reply the former minister, for he dismally came close to paraphrasing General Ts'ao Ts'ao (c. A.D. 155-220), the most popular hero in Chinese folklore, whose genius as a general and statesman saved North China from chaos when the Han dynasty crumbled at the end of the 2nd century A.D.: "I would rather betray Ikimi than let Ikimi betray me." Dig Tinubu's fulmination and billingsgate against his prey: (Ìkímì forí jálé agbọ́n):
"Regarding Ikimi's bid for the chairmanship of the party; it was clear to practically everyone who had the interest of the party at heart that we simply could not have a man of Tom Ikimi's antecedents as the chairman of the party. As the chairman of the National Republican Convention (NRC), one of the two parties in the country under the military transition programme, Tom Ikimi not only connived with the then military regime to annul the elections, terminate the democratic process and sell off his party, he became Abacha's foreign minister, convincing the world that heinous state murders as the hanging of Ken Saro Wiwa, were just acts."
Truly, "Education is lacking in most of those who pontificate" (Nobel Laureate Wole Soyinka). How can Tinubu be foaming such balderdash? (Àtẹ̀hìn rọ́gbọ́n agétí ológbò…/ medicine after death) Didn't he know this before Ikimi was made Chairman of the ACN Merger Committee? Didn't he and others go to Minna, Niger State to lobby General Ibrahim Babangida, the self-styled military president, who annulled the June 12, 1993 election, to join them in their desperation to win next year's election? Then going by the above, one can safely wager that the ex-military head of state, General Muhammadu Buhari, who overthrew a democratically elected government on Saturday, 31st December 1983, and led a brutal regime with draconian decrees for twenty months until Saturday, 27th August, 1985, committed all kinds of human rights abuses, as well as shunned the Oputa panel, will also not be fielded as the party's presidential flag bearer in the 2015 presidential election. Abi, what's good for the goose should also be good for the gander. We wait to see. The presumptuous bearing that a person's behaviour will felicitously meet its prior designs terrified Tinubu silly. His fear that with Ikimi as APC Chairman, party members "would have to sleep with both eyes open lest its chairman sells off the party before day breaks" would not be enough to change it.
Wrote Soren Kierkegaard (1813-1855), "The world wants to be deceived." And just before the now increasingly wary Nigerian people, who have grown tired and suspicious, having caught on to his tricks, begin to cogitate or ruminate his overbearing godfatherism and despotism or even his possible incompetence, the "politically-exposed" Jagaban, like the excellent natural actor and first Roman emperor to be assassinated, Caligula (AD 12-AD 41), who had his favourite horse, Incitatus, elected a consul and appointed a priest, remorselessly decided to thump his chest in this way:
"No matter what anyone may say about me, it is unlikely that I can be accused of supporting incompetent or morally light-weight individuals for important political positions. My philosophy is to put the best forward, men and women of competence and integrity, who can stand up to us politicians to challenge us and say no when necessary."
Haba, what subterfuge, deception, and chicanery? What gamesmanship, hanky-panky, and jiggery-pokery? What jugglery, legerdemain, and skulduggery? What trickery, wile, and gambit? When the going was good, the same Chief Tom Ikimi, who these same "Progressives" congratulated, celebrated and saluted to the high heavens at his birthday dinner recently for his service to humanity, and described as a bundle of energy, intellect, and as an internationally respected architect, has so soon become a "turncoat"! (Ìjà déé orin dòwe). Who is fooling who? The same man, whom Adams Oshiomhole, while formally welcoming guests to Ikimi's 70th birthday bash in April, 2014, described as a worthy son of Edo soil and a quintessential Nigerian, a political gentleman and an astute architect of change, whose life is full of sterling accomplishments and significant imprints, who made outstanding contributions to the growth of Nigeria in the last two and a half decades, is today a "mole"! No thanks to Bola Tinubu. Without a doubt, unhappy endings among the country's politicians do seem more common these days.
However, an Ethiopian proverb says: "When the good Lord passes, the wise peasant bows deeply and silently farts." So it is with Tom Ikimi, who may have finally learned his place before Tinubu, a ruthless and implacable foe, i.e. out of the party. "Let there be one Lord, one King."- [Caligula] Some victory there; but then didn't Napoleon Bonaparte (1769-1821) warn that: "The greatest danger occurs at the moment of victory"? The "bold and creative" Lion of Bourdillon seriously needs Toyotomi Hideyoshi (1536-1598), Japan's sixteen century great general and later emperor, who once masterminded a jaw-dropping victory over the battalion of the fearsome General Yoshimoto, to remind him of the old saying of his Oriental folks, "When you have won a victory, tighten the strings of your helmet." Asiwaju also needs to remember that even Pericles (c. 495-429 B.C.E.), the Athenian general and statesman, while leading a series of naval campaigns around the Black Sea in 436 B.C., cautioned of "the perils of hubris."
As for the latter, Tinubu, he needs to also reflect like the former, Ikimi, and acknowledge that a problem does indeed exist. He should ask himself why his so–called parties have, for a fact, not participated in more than one general election before becoming despoiled, comatose, or moribund. Hence, their being scorned at, and likened to the phenomenon- "one-chance-bus" syndrome. Time is important a consideration as any other, and it is running out for the accountant-turned politician. "Space we can recover, time never" [Bonaparte]. Our darling Asiwaju needs to descend "from the fictitious throne" and cease the time now to work to prevent the "monumental disaster", which Ikimi said "looms large in the selection of the APC's presidential and vice presidential flag bearers later in the year", or become its case-hardened, slash-and-burn victim. He needs to find his own answers before it is too late, or as usual, he will soon be presiding over the carcass of his present creation. If that happens, many will be reluctant to join him in 2019 to establish yet another contraption, by whatever name so called, and on whatever "strong principles and ideologies" it is built. Greek historian, Herodotus (c. 484 BC-c. 425 BC.), was right after all:
"Look to the end, no matter what it is you are considering often enough. God gives a man a glimpse of happiness, and then utterly ruins him."
The argy-bargy or dustup between Ikimi and Tinubu reminds one of the story of an American showman, businessman and politician, Phineas Taylor Barnum (1810-1891), who decamped from the Democratic Party (1824-1854) for the Republican (1854-1891), with a personal aim "to put money in his own coffers." In 1941, Barnum looked to establish a reputation for himself as America's premier showman and decided he was going to buy the $15,000 Manhattan-based American Museum that had just been offered for sale. He thought he had a payment understanding with the institution's owners but was ditched at the last minute, for the museum and its collections were thereafter sold to Pearle's Museum, founded by an American painter, soldier and naturalist, Charles Wilson Pearle (1741-1827), but now run by his son Rembrandt Pearle (1778-1860). The well reputed senior Pearle had done the portraits of scores of historic figures like Benjamin Franklin (1706-1790); Thomas Jefferson (1743-1826); James Varnum (1748-1789); Alexander Hamilton (1755-1804); as well as John Hancock (1757-1793), with those of George Washington (1732-1799), as probably the best known. The younger Pearle simply rode on the reputation of his late father to clinch the deal ahead of Barnum.
In his apoplectic rage, Barnum, who would later be elected in 1875 as Mayor of Bridgeport, Connecticut, learned that his lack of a reputation, unlike Pearle's whose had then achieved mythic proportions, had largely contributed to his failure. So, he told himself: rather than wallow in self-pity for not having a reputation of his own, he would destroy whatever reputation Pearle had going for him. Thus, he set in motion a connected series of media blitz describing the owners as a "bunch of broken-down bank directors", who were so clueless that they lacked a definite plan of action, crucial and integral to running a museum or entertaining its patrons. He argued that since the museum was literally handed to Pearl on a plate due to his father's reputation, the Pearle's Museum must have bitten more than it can chew as the latest acquisition was bound to spread its resources thin. Like cobbler's wax, the doubt message, which Barnum had hoped to achieve instantly stuck with the buying public. As a result, demand for Pearle's stock dropped suddenly and sharply; and as confidence correspondingly took flight in the company's "track record and reputation", the museum's management revoked the deal and sold the American Museum to Barnum, which he renamed "P.T. Barnum's Grand Travelling Museum, Menagerie, Caravan & Hippodrome". Needless to add, recovery for Pearle's was surprisingly not quick- little Barnum had taught them a lifetime lesson.
Like Barnum, Chief Ikimi, the victim of a cruel hoax, may have just done the same to Tinubu and his APC. By his flight of fancy on 26th August, coupled with other defectors' missiles hauled earlier and repeatedly at the same party, the hitherto faddish and voguish APC may have deeply fallen under, never again capable of heaping its hypocritical holiness, deceitfulness, cozenage, dissimulation and deception on the voting public like before. Our man, Tinubu, appears to be in need of Nietzsche's imaginary tutor:
"With all great deceivers there is a noteworthy occurrence to which they owe their power. In the actual art of deception they are overcome by belief in themselves: it is this which then speaks so miraculously and compellingly to those around them."
A politician, who has always held his cards close to his chest, cannot now be asking others to show theirs. In his rise to power, Bola Tinubu, "an easily forgettable character in the 1990s when" Chief Ikimi was already Chairman of NRC, encountered all manner of adversaries: soft touch, gull, sucker, chump, mug, pigeon, pushover, sap, dupe, tool- name them, he met them all. He was able to tell "the wolves from the lambs, the foxes from the hares, the hawks from the vultures." This probably helped him to do the trick and deliver the goods with little need to coerce anyone. As publicly as possible, he made his treacherous, faithless and off base sincerity a potent weapon in disguising his goal and ambition, having discovered early that deception always proves the best strategy. So, he hides his aims and aspirations behind "the comfortable and familiar", those he referred to as "men and women of competence and integrity". This is called "sneaking across the ocean in broad daylight." Prolific author and translator of Buddhist, Taoist, Confucian and Muslim classics, Dr. Thomas Cleary (b. 1949), in his 1991 book, "The Thirty-six Strategies", quoted in the Japanese Art of War, likened it to creating "a front that eventually becomes imbued with an atmosphere or impression of familiarity, with which, the strategist may manoeuvre unseen while all eyes are trained to see obvious familiarities."
A 'godfather', as pertinacious, shrewd, dogged, self-willed, and some posit ruthless, as Asiwaju Bola Ahmed Tinubu, even while on his sick bed recuperating in a foreign hospital, made everyone in APC nervous and apprehensive (no one else in the party can claim such a boon or appanage). But he needs to shun rousing mind-boggling and inessential opposition within his own party by resisting being "hostile and emotional" if and "when people challenge his power", especially now that Chief Ikimi is no longer his problem, except for the fact that Tom's touchy pride has made him an hazardous customer, threatening vengeance with hardboiled, thick-skinned fervour and force. Again, the posing of the self-acclaimed custodian "of all South-West votes" as being better than other people is really uncalled for, as people are bound to think that he is looking down upon them and will find a way to hurt him for either making them feel inferior or keeping them as a laughing stock. It is not only jeopardizing and perilous, it is also grievous and venturesome for him to carry on as if he lacks harmful vices and defects of his own.
Whatever the malice, spleen or malevolence, no one can deny the fact that the Edo politician, Ikimi, is gifted with an amazing power to charm his listeners anywhere, anytime, any day (an 'asset' to any party- ala "Obasanjo, Obasanjo, Obasanjo…and Obasanjo!") and for solid eight years (2006-2014), has, while in their company, managed to ingratiate himself with the highest echelon of the Progressive persuasion in Nigerian politics while in their company. A hard worker, who may have wrongly fantasised that he was destined to wear the APC Chairmanship crown for his trouble in ensuring "the successful merger and creation of the APC", Chief Ikimi projected an adequate sense of confidence, commitment and conviction that seemed even out of proportion for someone with his 'antecedents', and his colleagues in the party really felt an instant kinship with him while it lasted.
Lastly, as a matter of deliberate policy, Asiwaju Bola Ahmed Tinubu, "the overwhelming financier" of the APC, should try Nuhu Ribadu's thoughts for size that- "there is no party that is exclusively for the good people or for the bad people." It is high time he went beyond the shibboleth that democratic throes had since deterred, and begin to make a show of sacrificing some of "his absolute power over the party", rise above his inability to see beyond the moment, and above how he deludes himself. As guardians of liberty, who steadfastly oppugn absolutism, whether from the Right or the Left, there is no better moment than now for guile, trickery, discrimination, haughtiness, arrogance, self-importance and toploftiness to be confronted and removed completely from our body politic, even if it is only to signal our preparedness to embrace or permit political fidelity and harmony.
Disclaimer:

"The views/contents expressed in this article are the sole responsibility of the author(s) and do not necessarily reflect those of The Nigerian Voice. The Nigerian Voice will not be responsible or liable for any inaccurate or incorrect statements contained in this article."
Articles by Ajiroba Yemi Kotun