Caught Napping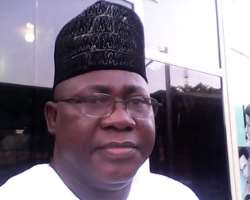 "Autumn has caught us in our summer wear…"
- Philip Larkin (1922-1985)
Did you know that to try to stop the fighting and violence which had taken complete control of the whole of Western Nigeria in general and "the non-Oyo speaking areas of Egba, Ijebu and Ondo provinces" in particular (see Brewing Crisis of 07/07/15 by this writer), the Federal Government of Sir Abubakar Tafawa Balewa (1912-1966), a trained teacher and international statesman, nicknamed the Golden Voice of Africa because of his oratory, and who "was in the Nigerian Parliament between 1946 and January 1966, during which he served as Minister of works (1952) and as Minister of Transport in 1954," and by virtue of belonging to the biggest Party in the federal parliament, emerged the first Prime Minister of Nigeria on 2nd September 1957, had to implement either of the following two options?
First option, the Balewa government needed to withdraw its tacit backing of, and distanced itself from, the government of Samuel Ladoke Akintola (1910-1966) by ordering for a credible, free and fair election in Western Nigeria. Whereas this option found favour in the eyes of the Prime Minister, Sir Abubakar, it was, on political grounds, completely unacceptable to the Premier of Northern Nigeria (1954-1966) and Sardauna of Sokoto (1938-1966), Sir Ahmadu Bello, KBE (1910-1966), who had become a willing tool in the hands of Chief Akintola, in his tough but nefarious struggle to wield the political big-stick in the Western Region. First Premier of Western Nigeria (1954-1959) and Leader of the Opposition in Nigeria's central legislature (1959-1963), Chief Obafemi Awolowo, GCFR, SAN (1909-1987) had volunteered before Parliament on 29th May, 1962:
"…it is the NPC dominated Federal Government that now wants to impose its rule on the people of Western Nigeria, simply because there was what the prime minister called the uproar in the chamber of the Western House of Assembly - not an uproar in Ibadan as a whole; not an uproar even in Ogbomosho the home of Chief Akintola who is involved in this matter, not an uproar in Ijebu-Remo; not an uproar in Ikorodu; not an uproar anywhere in the Western Region. The prime minister thinks that this very far-reaching provision of the constitution should be invoked merely to save a friend!"
After describing the state of emergency measure as discriminatory, Awolowo asked if a state of emergency can be placed on the Western Region, why it was not placed on the Northern Region or the Eastern Region. He further expressed his conviction about the advisability of impartiality and tolerance of opposition politics on the part of Sir Abubakar (ibid):
"I want the prime minister not only to project the image of being a statesman in his dealings with the East and the North, I also want him to project the image of an impartial arbiter and statesman in his dealings with the region which is not of his own origin, that is the Western Region, and a region in which a party opposed to his party is in power, a region in which a party, the Action Group, has its base and from where it operates."
Second option, the Balewa government had to be amenable to accepting the intense military occupation of the Western Region. Its feasibility had been assured the Sardauna, whose portrait adorns Nigeria's Two Hundred Naira note today, by the commander of the crack 1st Division in Kaduna, Brigadier Samuel Adesujo Ademulegun. Unfortunately, this did not appeal to Prime Minister Balewa himself, since it was doubtful whether the Nigerian Army, which was already busy quelling the Tiv's violent armed insurgency up North, could also possibly put out the fire in the West successfully.
So, Balewa, whose portrait today adorns Nigeria's Five Naira note, therefore, decided (like Nero who fiddled while Rome burned), to tarry a while and hope that the Yoruba would become dead-beat from their Operation Wetie, for peace to reign once again. He was ready to stand down on his promise on Independence Day not to "fall for want of determination" having "come to this task better-equipped than many." His government, therefore, chose to hide the troubles plaguing the nation behind a façade of our supposed diverse unity and togetherness. Ademoyega observes:
"Meanwhile the political situation was getting worse throughout the country. Riots raged especially in the West, but also in Lagos and in the Benue province of the North. The Balewa Government was inefficient. It failed completely to find solutions to the problems of the nation… Political opponents were killed and their houses burnt, but Balewa pretended that all was normal and under control throughout the country…riots, arson and looting claimed people's lives and property, even inside Lagos metropolis."
From his own standpoint and contact with Bornu officers in the army like Brigadier Zakariya Maimalari, the Governor of Northern Nigeria (1962-1966) and Waziri of Bornu (1956-1990), Sir Kashim Ibrahim, KBE (1910-1990), claimed that he had received Intel about six months before the coup d'état took place that something like that was in the offing. Brigade Commander Maimalari, a protégé of Sir Kashim, whom Ibrahim Imam (1916-1980), patron of the Bornu Youth Improvement Movement (BYIM), had plucked from obscurity and persuaded in 1950 to join the army, had while on an inspection tour of military formations in Kano a few days before the January coup, visited the Governor (to whom he owed his education) and had tried to keep him abreast of goings-on in the army. Maimalari had told the Governor:
"Sir, this country is not alright. We have lots of things to tell you and the Premier, but we don't have the chance to do so because we can't be admitted into Government House anytime we want to come to you. Unless you find a way whereby we can meet you and discuss important things with you, one day all of you and us soldiers will be killed…"
Overwhelmed, Sir Kashim promptly passed the information to the Sardauna, the Prime Minister and the Minister of Defence, Alhaji Inuwa Wada, who was recently kidnapped and released by unknown armed men in Maiduguri, Bornu State in Nigeria. If there were occasions when enthusiasm ebbed, this was certainly one; but they were still facetious and their arguments did not withstand the most superficial scrutiny. According to Akinjide Osuntokun:
"Ahmadu Bello was too shocked and wondered why Maimalari felt the northern political leadership was avoiding the senior army officers from the North. Whatever the problems in gaining access to him as Premier surely Maimalari could have seen other ministers or even a permanent secretary."
In fact, the Defence Minister, Alhaji Wada, an obdurate defender of the status quo, took a cavalier attitude to the Coup Intel and was actually reported to have scoffed at it as impossibility. He said it was particularly cynical to even begin its contemplation in Nigeria. To Wada, whoever called the looming danger urgent must be exaggerating. Even the misjudgement of the situation by the Sardauna, whose natural ebullience had begun to return, was to have far reaching consequences. Further dismissing it as mere speculation, Alhaji Wada informed them that he had cancelled a scheduled general posting of Northern army officers to the South, and vice versa, as well as the recruitment of professionals such as engineers and doctors largely from the South into the officer corps of the army. Both the Premier and Governor in return ordered Wada to end a planned retirement of "seasoned soldiers of Cameroun, Chad and Niger origin" serving in the Nigerian Army, since the North could easily count on their support if crisis broke out in the country. They also registered their worry over the rate at which British Officers were being retired in the Nigerian Police and got Wada to promise that they will not be replaced by officers of Igbo origin:
"Sir Kashim and the Premier also told Inuwa Wada that he must put a stop to a plan to retire seasoned soldiers of Cameroun, Chad, and Niger origin who were serving with the Nigerian Army, since these could be relied upon to take sides with Northerners in the event of crisis in Nigeria. The two Northern leaders also told Inuwa Wada that they were worried about the rate of retirement of British Officers in the Nigerian police and impressed on the federal ministers that they did not want their places taken by young Ibo officers."
The country's leadership had obviously underestimated the depth of the crisis and had made elaborate efforts to conceal, instead of address, it. The period coincided with the northern Premier's preparation for the umrah (lesser hajj) to Mecca and the Prime Minister had flown to Kaduna to bid him farewell in the presence of Governor Kashim Ibrahim. Ademoyega affirms:
"The dates did not click because the leaders in the North were flying to Mecca for the Umra Hadj, in the opening days of the New Year..."
But when the coup matter came up, Sir Abubakar was said to have replied with equanimity:
"Well, Ranki dade, we are all surrounded by Ibo officers. If anything happens, they are going to kill us…Perhaps, upon your return from Saudi Arabia, the three of us should meet to take necessary precautions against a coup targeted against the North."
The scale of the situation must have been so horrifying, for the Sardauna, whose earthly sojourn soothsayers had predicted would not exceed 56 years (Othman dan Fodio, his grandfather's age), and who always knew how to use his power to bring the prime minister to heel, quickly responded with a certain mood of fatalism:
"Ahuzubillahi, I hope they do not descend to such methods."
Although Dr. Maitama Sule claimed in an interview published in the Sunday Vanguard of Monday, 3rd October, 2010, that the Prime Minister had planned to declare a state of emergency as well as appoint a sole administrator, it did not require a great deal of perception to realise that Balewa was obviously at the end of his tether and could not proffer any tangible solution to deal with the difficult situation while it lasted. Even at a time when escalating violence had enveloped the country and meddlesome university students were out on the streets shouting out an invitation to the military to sack the inept, quarrelsome, and spineless politicians and save the country from plunging into anarchy. Balewa's spine-chilling lamentation, therefore, represented an exposé which clearly underscored a missing trust on which to build a viable Nigeria. Several years later, Ikemba Odumegwu-Ojukwu attempted an identification of the problem of leadership and tribalism in Nigeria, when he wrote:
"…, the hurdles on Nigeria's path to unity have always been placed by the few with vested interest, selfish and inordinate ambition for power and wealth, men who fear losing their position and privileges, men who care more for self than for nation and the common good…Tribalism is perhaps the one single factor that has nullified all our efforts at evolving a national leadership capable of fulfilling our national aspirations."
Awolowo agreed with Ojukwu and identified the following three reasons as responsible for the failure of democracy in Nigeria, viz: "ethnic hegemony", "extreme intolerance" and "absence of ideological direction". The late Sage added:
"In the absence of definite goals, and bedevilled by the other two causes [ethnic hegemony and extreme intolerance], it was not at all surprising that our ship of state has drifted wildly since 1960 and suffered a colossal wreck in 1966."
At the Nigeria Council Debate held in Lagos in 1920, Sir Hugh Clifford (1866-1941), Nigeria's second Governor-General from 1919 to 1931, who as a "youth had intended to follow his father, a distinguished colonial General, into the British Army, but later decided to join the civil service in Straits Settlements, with the assistance of his relative Sir Frederick Weld (1823-1891), the then Governor of the Straits Settlements and also the British High Commissioner in Malaya," had described the country as:
"A collection of independent Native States separated from one another by great distances, by differences of history and traditions and by ethnological, racial, tribal, political, social and religious barriers."
Four decades later, in a familiar surrounding and circumstance as painted above by Sir Hugh, the weak-kneed prime minister would, in effect, along tribal loyalties, confess his feeling of hopelessness and helplessness about the future of Nigeria to his two close confidants (Sir Ahmadu and Alhaji Wada), warning of an impending doom. But, what could the senior military officers, particularly the two Brigade Commanders, Ademulegun and Maimalari, be thinking? What could have hindered their mobility and alacrity towards carrying out a military putsch? Osuntokun expresses it accurately:
"In retrospect, one wonders why Maimalari and Ademulegun, who were very popular officers, did not simply move in, get rid of the failed political leadership and restore confidence in the country?"
Afterwards, to the possible suggestion of military action, Sir Abubakar, in whose entire actions the hand of the Sardauna can be seen ordinarily, simply submitted:
"I think we have the situation in hand now, because we had a meeting with all the leaders of the West, including their soldiers and businessmen. When we discussed the situation there, they all agreed that the people, including Awolowo in Calabar prison, have agreed to settle the problem. In sha Allah, in a few days, the situation in the West would be contained."
Even the prime minister was conscious of the fact that Chief Awolowo was very core to the solving of the problem in the West at the time. Here, he appeared to have grown apart from the Sardauna by clearly opposing him, but he still did not have the courage of his conviction to affect Awo's release on his own. On the contrary, Ademoyega maintained that Balewa had a most dastardly plan up his sleeve and in fact, took steps to use loyal troops for what he described as the "walloping of the West" in an operation slated for the third week of January 1966 and designated to be carried out by the 4th Battalion in Ibadan which Lieutenant-Colonel Largema commanded, as well as the Ikeja based 2nd Battalion commanded, in the interim, by Major Igboba. The timing was meant to ensure that Ahmadu Bello would by then have returned from Mecca, Saudi Arabia, and Lieutenant-Colonel Yakubu Gowon would also have fully replaced Igboba, at the Ikeja Battalion:
"In preparation for this horrible move by the Federal Government, the high echelons of the Army and the Police were being reshuffled. Major-General Ironsi was ordered to proceed on leave from mid-January. He was to be relieved by Brigadier Maimalari, over the head of Brigadier Ademulegun. Lieutenant-Colonel Njoku was to permanently command 2nd Brigade HQ at Apapa. In the Police Force, Inspector-General Edet was sent on leave from December 20, 1965. The officer closest to him was retired and the third officer, Alhaji Kam Salem was brought in as the new Inspector-General. The stage was thus set for the proper walloping of the UPGA "rioters" of the West."
Also, it remained a matter of guesswork whether or not Balewa planned to pardon Chief Awolowo on certain terms and reconcile him with Chief Akintola, who had also "started a new government newspaper, Daily Sketch, in Ibadan to sing his praises" as well as counter Chief Awolowo's Nigerian Tribune and Irohin Yoruba newspapers, which he later banned, and their premises sealed off, and occupied by armed policemen. Ogunsanwo states, ibid (pg. 118):
"In January 1964, the federal government blazed a new trail in the country by sponsoring legislation termed the Newspapers' Amendment Act, which made the publication of any news or commentary in any journal which "might bring any minister to ridicule" an offence punishable in law. Akintola followed suit by the outright ban of the circulation of his rival's newspapers, notably Nigerian Tribune and Irohin Yoruba, in his domain…In addition, he banned the public presentation of an opera, Yoruba ronu (Yoruba think!), by dramatist Hubert Ogunde and I.K. Dairo's thought-provoking music recording in praise of Awolowo."
Indeed, the Newspaper Amendment Act of 1964, a law under which any journalist could be sent to jail, ostensibly forbade the publication of false report. According to Newswatch magazine of Monday, 14th September, 1987:
"It could be wrong, for instance, to report that the president would arrive at five o'clock if he actually arrived at 5.30 p.m."
The "incisive and witty" columnist, Alade Odunewu, aka Allah De (1928-2013), who was editor and later editor-in-chief of the Daily Times, recalled at an interview with Newswatch magazine concerning the Act which has remained in our laws till today:
"Fortunately for those of us at the time, none of us had to taste the consequence of the new law because those who enacted it to cover their misdeeds were swept away by the 1966 coup."
Meanwhile, the coup plotters of 15th January, 1966, claimed to have accommodated Chief Awolowo's freedom in their own plan:
"Yet there was one arrangement that we had left till the date was fixed. It was the arrangement for the release of political prisoners, particularly Chief Awolowo. Now that our own date had been tentatively fixed for mid-January, it became necessary to gear up that arrangement."
In actual fact, the Oloye Aare-Ona-Kakanfo XIII of the Yoruba and Premier of Western Nigeria, Chief S.L.A Akintola and the Deputy Premier of Western Nigeria (1963-1966) and Minister of Local Government Affairs (1963-1966), Chief Remilekun Fan-Kayode (nicknamed "Fani Power"), QC, SAN, CON (1921-1995), who had both previously refused all admonitions for a settlement capable of bringing peace and stability to the Region, now began to speak with élan concerning the way forward, which they claimed was unity among Yoruba people. They, therefore, vociferously supported the call for Chief Awolowo's release by the Federal Government, fully aware that such a gesture would ease the tension in the West, provided Awolowo was prepared to treat the North tolerably well. But before all this could materialize, they were caught napping by the coup plotters of 15th January, 1966, whose single-minded aim "was to knock off the existing governments and immediately split the country into smaller units, with a more powerful government in the centre." Ogunsanwo captures the moment thus:
"And the curtain fell. Before the coup that swept the civilians out of power occurred, Akintola got wind of it and tried to forewarn his friend, the Sardauna, in Kaduna but it was too late as he lost his life in the morning of January 15, 1966 when he returned to Ibadan from the fateful trip. He had made a strong case to the Sardauna on the eve of the coup that they should escape to nearby Niger Republic to rally loyal troops to fight the coup makers but his host was fatalistic."
The military putsch happened in the wee hours of 15th January, 1966 as mentioned earlier. The then Minister of Works and Survey and Turakin Sakkwato, Alhaji Shehu Aliyu Shagari, GCFR, (b. 1925), who thirteen years later would become the first executive President of Nigeria (1979-1983), claimed in his biography, President and Power in Nigeria: The life of Shehu Shagari by David Williams, occurred during the month of Ramadan. The putsch was popular among the generality of Nigerians as they trooped out in their thousands, celebrating joyously:
"Everybody, everywhere in the Federation, rejoiced at the overthrow of the Balewa Government and toasted the revolutionaries. University students throughout the Federation hailed Nzeogwu and the revolutionaries. These were proofs that the revolution was popular."
Chief Akinjide, another member of that first cabinet, narrates the following:
"I woke up in the morning in my official house in Ikoyi to discover that my telephone was not working, I had never experienced coup before nor did I know that it was a coup, thinking it was just a telephone fault; until a colleague of mine in the cabinet Chief Abiodun Akerele, came in and told me there had been a military coup. So I had the fortune or the misfortune of being a victim of the first coup ever in this country.
Many people may not know that I spent 18 months in Balewa's detention in prisons across the country. I've spent the time in Kirikiri prison, Ilesha prison, Ibadan prison, and the Abeokuta prison. Two of us, who were in Balewa's government, emerged when the military handed over to civilians in 1979 as part of the civilian Government. In Balewa's government, Alhaji Shehu Shagari was the Minister of Works while I was the Minister of Education. When the military handed over to us after about 14 years, Shagari emerged as the President, while I became the Attorney-General and Minister of Justice. Again, Shagari's government was overthrown just a few months after I left the cabinet. Of course, we suspected it was coming."
Sir Kashim, in his own biography, claimed that he was woken up by the sound of bomb shells at about 2 a.m. Later, upon being brought to Brigade Headquarters in Kaduna, he encountered Major Chukwuma Nzeogwu (1937-1967), who saluted him as if times were normal and then reeled out a hit list of some sort:
"We're very sorry, sir, we didn't mean to embarrass you. You're not among the people we're taking out of action. We want Azikiwe, Ahmadu Bello, Akintola, Orizu, Okotie-Eboh and Okpara."
Ademoyega corroborates the fact that the Governor of Northern Nigeria was well treated by the coupists on arrival at Brigade Headquarters:
"Soon, Major Onwatuegwu reported to the HQ with the arrested Governor, Sir K. Ibrahim, who had conducted himself most gently and had been treated courteously. He was detained at the HQ for some hours but was later allowed to go home."
The Governor of Northern Nigeria, Sir Kashim Ibrahim, who bore his predicament with great courage but modest vindication, spoke with warmth when he recollected that Major Kaduna Nzeogwu had deliberately or accidentally left out Prime Minister Balewa's name. The Governor, an avid opponent of northern interference in the troubled waters of Western Nigeria, recollected his unheeded advice to Sirs Ahmadu and Abubakar, to resist the exaggerated temptation of political gains which such courses promised.
Nzeogwu heaped blame on Ahmadu Bello for being the brain behind the political crisis and tongue-lashed Nigerian leaders and rulers, stating that the hope Nigerians placed in them were excellent, but that their performance was disappointing. Nzeogwu further launched into a tirade against all the politicians that had ruined the country, concluding that their elections had raised hopes that remained unfulfilled. As the Sandhurst-trained Major declared martial law over the northern provinces of the country, he said angrily among others:
"...Our enemies are the political profiteers, the swindlers, the men in high and low places that seek bribes and demand 10 per cent; those that seek to keep the country divided permanently so that they can remain in office as ministers or VIPs at least, the tribalists, the nepotists, those that make the country look big for nothing before international circles, those that have corrupted our society and put the Nigerian political calendar back by their words and deeds..."
It was not until Sir Kashim reached Maiduguri that he learned that the prime minister and his minister of finance were missing, and that the premier of Western Nigeria, Chief Ladoke Akintola and the premier of Northern Nigeria, Sir Ahmadu Bello, had been assassinated in Ibadan and Kaduna respectively. In Ibadan, where the coup plotters had gone to capture Chief Akintola after leaving the home of Fani-Power, who was still in their custody, we learn that:
"Later, they were at the Premier's Lodge…to arrest Chief Akintola. The latter gave them a fight and opened gunfire on them wounding the unit commander, Captain Nwobosi, and his second in command. In the melee that followed, Chief Akintola was shot."
Also, in Kaduna, where the plotters had made to arrest the Sardauna:
"The Nzeogwu group made for the Premier's Lodge…During the firing of the Carl Gustav, the front part of the lodge caught fire. In spite of that, the Premier resisted arrest and sought to escape from the building. In the scuffle that ensued he was shot."
Alyssa Franz of the University of Washington contributes the following in Bello, Alhaji (Sir) Ahmadu (1910-1966) about the Sardauna, who saw the protection of northern interests as his primary mission as opposed to other Nigerian political leaders, who envisioned a single, united country. Yet, nobody accused Bello, who always referred to the Prime Minister, Alhaji Tafawa Balewa, as "our ambassador in the south," of being a 'tribalist.' Franz writes about Nzeogwu's belief regarding Bello:
"But his belief that the Sardauna of Sokoto was the most powerful politician in the nation even more powerful than the prime minister, led a group of army officers headed by Major Chukwuma Nzeogwu to attack Bello's residence in Kaduna in a coup d'état. Sir Ahmadu Bello was brutally murdered during that attack on January 15, 1966."
Only a day before the military coup, (precisely 14th January, 1966), the two men (Akintola and Bello) met and conferred in Kaduna to review and reassess the entire security situation in the Western Region. Ademoyega informs in his book, ibid, pg.98 (also see Major Alexandra Madiebo's book, The Nigerian Revolution and the Biafran War, (pg. 28), that:
"Late on the 14th, news reached us that the Sardauna had been having a meeting in Kaduna on that day with Chief Akintola of the West, and that both Brigadier Ademulegun and Lieutenant-Colonel Largema were in attendance. It was obvious to us that they might be putting final touches to their planned "walloping of the West". But we felt confident that we were already one step ahead."
In line with the coupists' orders to do everything to preserve the peace and that only protective measures were necessary for those who surrendered themselves, a cooperating Chief Fani-Kayode, the Deputy-Premier of Western Nigeria, who had surrendered earlier in his house "without a fight", was arrested under funny circumstances, even as he managed to stifle the spasmodic sobs of panic that had risen in his throat. He was later driven away in a Land Rover:
"As in all other cases, the soldiers had orders not to kill anybody who surrendered. So they took him [Fani-Power] away under arrest."
Interestingly enough, not everyone remembers that the first indigenous law firm in Nigeria was set up in 1948 (along with Chief Frederick Rotimi Williams (1920-2005) and Chief Bode Thomas (1918-1953), by Chief Victor Babaremilekun Adetokunbo Fani-Kayode popularly called "Fani-Power," a leading Nigerian politician, lawyer, aristocrat, statesman and Balogun of Ife. Fani-Power played a major role in Nigeria's legal and political history from the late 1940s up to the 1990s. His devotion to his mother had compelled him to attach the prefix of her maiden name (Fani from Fanimokun) to his own surname (Kayode) to produce the family's compound-name: "Fani-Kayode." He surrendered himself to the soldiers without resisting arrest:
"At H-Hour, they were at the house of Chief Fani-Kayode. Having gained entry into the house, they summoned the Deputy Premier who surrendered to them without a fight. Fani-Kayode came towards the soldiers with both hands up and shouting, "I surrender! Don't kill me o! I beg! Don't kill me o." The soldiers started to ask themselves if that was really the man called "Fani-power". Those who knew him confirmed that he was."
Former President Shagari also provides in Beckoned to Serve:
"Chief Fani-Kayode said he had been fetched from Ibadan early that morning by rebels and locked up at the Federal Guard Officers Mess in Dodan Barracks, where the mutineers initially made their headquarters. Disguised in army uniform, loyal troops handed him over to Alhaji Galadima, who had called in at the barracks, which was a stone's throw of his residence…"
In his book Ahmadu Bella, Sardauna of Sokoto: Values and Leadership in Nigeria (London: Hodder and Stoughton, 1986), Robinson Professor of International Studies, Dr. John N. Paden, who was formerly Dean, Faculty of Social and Management Sciences, Bayero University, Kano, Nigeria and author of Post-Election Conflict Management in Nigeria: The Challenge of National Unity (2012), describes Fani-power in his book thus:
"Chief Remi Fani-Kayode, deputy premier, who became very arrogant with power, ran away in the aftermath of the 1966 coup and tried to get elected into the Constituent Assembly in April 1977, but was defeated by a little known attorney, Mr. Chris Ogunleye. The electorate punished the Akintola crowd eleven years later and sent them into extinction in the 1979 presidential and legislative polls. Fani-Kayode never regained prominence."
Meanwhile, Lieutenant Oguchi, with "a small body of troops" suffered a setback upon arriving the Premier's Lodge in Enugu. He found his target Dr. Michael Okpara, Premier of Eastern Region, playing host to the visiting first President of Cyprus (1960-1974), Archbishop Makarios III, born Michail Christodolou Mouskos (1913-1977). Makarios had come to Enugu from Lagos where he attended an extraordinary meeting of Commonwealth Prime Ministers (the only one held outside London) from 10th-14th January 1966, to coordinate policies towards Rhodesia, concerning its Unilateral Declaration of Independence (UDI) on 11th November, 1965.
Earlier on 5th November, the Prime Minister of Southern Rhodesia (1965-1979), Ian Smith, GCLM, ID (1919-2007), had written to British Prime Minister (1964-1970) and (1974-1976), Harold Wilson, KG, OBE, FRS, RSS, PC (1916-1995), who left Rhodesia on 30th October 1965 after visiting the country, rejecting British conditions which he claimed amounted to a "vote of no confidence":
"The impression you left with us of a determined effort to resolve our constitutional problem has been utterly dissipated. It would seem that you have now finally closed the door which you publicly claimed to have opened."
This unilateral break from the United Kingdom by one of its colonies was second only to the United States Declaration of Independence on 4th July, 1776. To deal with the illegal declaration, Britain, the Commonwealth and the United Nations slammed economic sanctions against breakaway Rhodesia, the first of its kind in the UN's history. In favour of the demand of a military response by Commonwealth members, Ghana and Tanzania proceeded to suspend diplomatic relations with the United Kingdom as a reaction to the UK's refusal to use military force to oust Smith, who got assistance from only South Africa and Portugal amidst international isolation. Smith had replaced The Honourable Winston Field, MBE (1904-1969) as the country's "Prime Minister in April 1964, and immediately pledged to challenge Britain on the independence issue." Interestingly, Wilson, who had promised at the commencement of the meeting that Commonwealth imposed sanctions would cripple the Smith government and end the crisis "within a matter of weeks, not months," however, broke into a new song on 14th January, that military intervention could not be ruled out.
Before effecting the arrest of Dr. Okpara, who had allied himself with NCNC chieftains like Chief Fani-Kayode and Chief Akinjide who wanted Balewa to intervene more forcefully in the Western Region crisis and liquidate their rival- the Action Group, Oguchi at once resorted to playing a waiting game and hung on until the departure of Makarios, who was later toppled as President of Cyprus in a coup d'état by Greek officers and was replaced by the journalist and puppet President, Nikos Sampson (1935-2001), on 7th December, 1974. Ademoyega provides, ibid (pg. 116):
"With such a man of international repute present, Lieutenant Oguchi could do no more than bide his time. A couple of hours later when the Archbishop had departed, he placed Dr. Okpara under house arrest, deploying his troops to guard the Lodge. He himself went to the ENBS and made a tentative announcement that the Army had taken over power..."
The duo of Wilson, the most recent British PM to have served non-consecutive terms, and Arthur Bottomley, OBE, PC (1907-1995), a British Labour politician, Member of Parliament, and Secretary of State for Commonwealth Relations (1964-1966), were nearly caught up in the Nigerian coup saga, even as they departed the country hurriedly a little earlier. There were those who wondered why the British failed to abort the emergency meeting in Nigeria given their "undoubted influence." Former Federal Minister of Labour (1954), High Commissioner to the UK (1955-1959), Nigeria's Representative to Washington DC. (1966), and Minister of External Affairs (1993), Chief Matthew Tawo Mbu (1929-2012), recently sparked off a controversy that Alhaji Tafawa Balewa died of asthma, debunking a widely held belief that he was shot by coupists. But in, Balewa's Death Controversy: As an eye witness, the body I saw was fresh – Osoba, a 26th September 2010 interview with Wale Akinola of Sunday Vanguard newspaper, Aremo of Egbaland and Governor of Ogun State (1992-1993) and (1999-2003), Chief Olusegun Osoba (b. 1941), said it was a sad indictment of Britain that its security services were clearly not in the loop of the 15th January 1966 coup:
"The British intelligence that was in charge of Nigeria's security then fell flat at the critical time and had no clue whatsoever on the situation in Nigeria. Their intelligence situation was totally flawed."
Chief Osoba wonders why it took Mbu and those now talking of their own story 44 years to do so. He explains further, ibid:
"I could not imagine, even as a young reporter, that a well grounded and well informed security network would allow world leaders to assemble in Nigeria for the Commonwealth conference few hours to a major political upheaval and a military intervention, the first in the history of the country, would be in the offing and they didn't know. We had heads of government of Canada, Australia, New Zealand, Britain and others from all over the Commonwealth gathered in Nigeria, yet the British intelligence didn't know. It shows you that any reference to the British archives on this issue, especially by those who claimed that Balewa had been shot by the coup plotters, would be a fruitless exercise.
"No, because the then prime minister of Britain himself, Harold Wilson, was still in this country 24hours to the coup. I was at the airport at about 11 p.m., on Friday, 14th of January 1966 when Tafawa Balewa saw off Harold Wilson on his journey back to the UK. That was just 24 hours to the time the coup took place. Would any serious government have risked the head of their government in a country where the military was about to strike? Supposing he was trapped in the crossfire just like the then head of government of Cyprus was caught up in the coup because he was in Enugu on a tour of the country and a guest of Michael Okpara when the coup took place?"
Aremo Osoba further remarks, ibid:
"How Tafawa Balewa died is not something I want to talk about. M.T. Mbu didn't say he was the source of the manner of Tafawa Balewa's death; he said he was told by Okigbo who was told by Ifeajuna. His own story is for empathy. He didn't make a claim of it. He just made a statement as a minister that the man died of asthma based on what he was told. The death of Tafawa Balewa may have been influenced by elements in government who wanted to cover certain things up and now had to put his body on the same spot with Okotie-Eboh so that the story would be that the coupists put the two bodies there. I have reason to believe that there are some games played by some people in government who had a hand in it."
Lagos based writer and historian Henry Chukwuemeka Onyema also queries repeatedly in The Shot that Shook the Nation: Reflections on the January 15, 1966 Coup of Saturday, 15th January, 2011:
"Did they lack diplomatic and intelligence sources that would intimate them about the crises in their ex-colony? What if Wilson's safety had been threatened as that of Makarios, the Cyprus leader's came close to being imperiled by being caught up in the coup when he visited Enugu just after the conference? The plotters were infuriated by the conference. By hosting it Balewa, in their eyes, became Nero who fiddled while Rome burned. It was an ample opportunity to perfect their designs. Even when General Welby-Everard, the last British GOC in command of the army was in the saddle, what did he do about the palpable discontent and politicization of his officers? Did the British pass on actionable intelligence to the Nigerian government on the radical component of the military? Such information existed. eg. Nzeogwu's outbursts were known to the military authorities."
When he later learned of the military coup, Wilson immediately condemned it, fuming and complaining angrily that he neither found funny nor cherished the prospect of such a misadventure. But almost twenty-four hours later (16th January, 1966), Dr. Azikiwe, the ousted President of Nigeria, still fell short of a clear cut condemnation in his reaction to the coup released to the British press:
"Violence has never been an instrument used by us, as founding fathers of the Nigerian Republic, to solve political problems. In the British tradition, we talked the Colonial Office into accepting our challenges for a tete-A-tete, the demerits of our case for self-government.
"After six constitutional conferences in 1953, 1954, 1957, 1958, 1959, and 1960, Great Britain conceded to us the right to assert our political independence as from October 1, 1960. None of the Nigerian political parties ever adopted violent means to gain our political freedom and we are happy to claim that not a drop of British or Nigerian blood was shed in course of our national struggle for the place in the sun. This historical fact enabled me to state publicly in Nigeria that Her Majesty's Government has presented to us on a platter of gold. Of course, my contemporaries scorned at me, but the facts of history are irrefutable. I consider it most unfortunate that our 'Young Turks' decided to introduce the element of violent revolution into Nigerian politics. No matter how they and our general public might have been provoked by obstinate and perhaps grasping politicians, it is an unwise policy.
"I have contacted General Aguiyi-Ironsi, General Officer Commanding the Nigerian Armed Forces, who I understand, has now assumed the reins of the Federal Government. I offered my services for any peace overtures to stop further bloodshed, to placate the mutinous officers, and to restore law and order. As far as I am concerned, I regard the killings of our political and military leaders as a national calamity."
General Ironsi did not see any need for Azikiwe's services and so did not bother to invite him home, but like many stories about the deposed president, the above statement smacked of fluent hypocrisy and doublespeak. In OPERATION 'AURE': The Northern Military Counter-Rebellion of July 1966, Nowa Omoigui reveals this interesting extract at http://www.gamji.com/nowa11.htm :
"The substantive President, Nnamdi Azikiwe, also of eastern origin, had left the country in late 1965 first for Europe, then on a health cruise to the Caribbean, after allegedly being tipped off by his cousin, Major Ifeajuna, one of the masterminds of the coup and, some say, overall leader.
"Interestingly, Azikiwe did not notify his alliance partner, the Prime Minister, Alhaji Tafawa Balewa, with whom he had clashed over control of the armed forces during the Constitutional crisis of January 1965, following the controversial December 1964 federal elections.
"In fact President Azikiwe's personal physician, Dr. Humphrey Idemudia Idehen, abandoned him abroad when he got tired of the "health trip", having run out of his personal estacode allowance, unaware that there may have been a good reason why Azikiwe did not want to return to Nigeria, after their original planned return date in December 1965 passed. Not even the Commonwealth Leaders' Conference hosted for the first time by the country in early January was incentive enough for the President to return, for obvious reasons of protocol."
With hindsight, it is perhaps right to assume that Tafawa Balewa himself received disguised warnings and coded references to a measure of precise impact and danger in the imminent military putsch. If only he had been gripped by such dramatic, indirect tip-offs, he probably would have reacted or done things differently. For instance, in an interview with Emmanuel Onyeche published in Sunday Punch of 3rd October 2010, Pa Victor Adetunji Haffner (b. 1919), former Managing Director of defunct Nigeria External Telecommunications (NET), who at his advanced age of 91 years at the time of the said interview, remained "agile, thoroughly educated and articulate, with an amazing memory that" recalled "events accurately," reveals that Harold Wilson invited Prime Minister Balewa (before the coup that later claimed his life) to accompany him to Rhodesia to jaw-jaw with Ian Smith over the UDI brouhaha, but that Balewa did not feel well disposed toward it:
"I will not forget what was heard from the grapevine that the late Harold Wilson who was then the Prime Minister of Britain, who perhaps knew something was going to happen in Nigeria, tried to persuade Sir Abubakar Tafawa Balewa to go with him to Rhodesia (present day Zimbabwe) to speak to Ian Smith who, at the time, had declared the independence of Rhodesia. Unfortunately, Balewa declined."
Likewise, another thinly-veiled warning by the British High Commissioner in Lagos, inviting Balewa to his residence on the eve of the military takeover was equally turned down by the Nigerian Prime Minister, who apparently, like everyone else at the time, did not understand or realize that the British had seemed anxious to get him out of harm's way. Said Haffner:
"Also, we learnt that on the night of January 14, 1966, the British High Commissioner, who was living very close to the Prime Minister's home, invited him to his residence for reasons best known to him. Again, Balewa declined the invitation. "
Also, Olufemi Ogunsanwo writes to confirm that the British prime minister, indeed, made clumsy yet endearing overtures to save Alhaji Balewa's life, ibid (pg. 77):
"At the close of the conference on 14th January, the British prime minister, Harold Wilson, tried to warn him that his country's intelligence had picked up a secret plot for a coup in Nigeria but Balewa, unconcerned, discountenanced it and waved off the offer of an asylum on a British frigate anchored nearby. He was tragically wrong as the stage had been set for military intervention the next day– the first real thing in Nigeria's history."
By now, the military coup had ended in such a disappointing manner in Lagos where "Operation New Wash" was botched by Ironsi and troops loyal to him. But not until the leader, Major Emmanuel Ifeajuna (d. 1967), who, at 19, scaled a height of 6 feet 8 inches in high jump at the 1954 Commonwealth Games in Kingston, Jamaica, to give Nigeria her first ever gold medal at any sports event, and his lieutenants had killed Brigade Commander Zakariya Maimalari and the Finance Minister Festus Okotie-Eboh and, of course the Prime Minister, a man of moderate background, moderate education and moderate taste, whose body could not at first be accounted for. The article Between Balewa and Jonathan, published in the Tribune of Tuesday, 12th March, 2013, provides a testimonial to the late Prime Minister's character of simplicity, humility and moderate dispositions. It is indeed gladdening to see a leader so uncorrupted by the desire of money and power. The article states:
"At the time he was murdered in the January 1966 coup, he [Balewa] did not leave behind a sprawling mansion in Lagos or Kaduna. He had only a moderate house in Bauchi and a small country house in Tafawa Balewa village, after being in the Parliament for 20 years."
The Sunday Times of 23rd January, 1966 had reported the discovery of Balewa's corpse thus:
"Balewa is dead Found by roadside Buried in Bauchi"
Chief Osoba, then a passionate, go-getting, indefatigable reporter at the Sunday Times, who had a sharp nose for news, and the luck of being at the right place at the right time, and who broke big stories in his time, had written:
"About 220 yards from Mile 27 on the Lagos-Abeokuta road, I saw the dead body of the former Prime Minister Alhaji Abubakar Tafawa Balewa and what appeared to me to be the body of Chief Festus Okotie Eboh on Friday evening."
Even the new Head of State, Major General J.T.U. Aguiyi Ironsi (1924-1966), had replied while answering a question on the whereabouts of Sir Abubakar:
"Every attempt is being made to locate his whereabouts. At the moment, I have no information."
According to veteran journalist, former Governor of Lagos State (1979-1983) and Babakekere of Lagos, Alhaji Lateef Kayode Jakande (b. 1929), locating the Prime Minister Sir Abubakar was the biggest scoop of the day in the 1966 coup saga because nobody knew for sure who was dead or still alive:
"One very outstanding scoop that Segun was noted for was the discovery of the body of the late Prime Minister, Alhaji Abubakar Tafawa Balewa, who was shot and dumped in the jungle by coupists. That was the biggest scoop of the day in the 1966 coup, because after the coup, nobody knew for sure who was dead or still alive. After the coup, many wondered whether the prime minister was dead or had merely been kidnapped and held somewhere. Segun put paid to that speculation. Breaking the news took a lot of courage. It was a very dangerous period in the nation's history and for a newspaperman to be able to go to the various spots until he found the body of the assassinated prime minister was an act of great courage. Segun's adventurism could have cost him his life because soldiers could easily have shot him."
This was corroborated by distinguished Nigerian author and newspaper icon, Peter Osajele Enahoro a.k.a. Peter Pan, who became editor of the Sunday Times at the age of 23, which made him the second youngest Nigerian to edit a national newspaper after Chief Anthony Enahoro, who edited Dr. Nnamdi Azikiwe's newspaper, the Southern Nigerian Defender, Ibadan, in 1944 at the age of 21:
"I remember on the day of the coup that claimed Prime Minister Tafawa Balewa's life, a naval officer and some others were gathered in my house and Segun came. It was from him that it was confirmed to me that Balewa was dead. He told me that Balewa had been killed and that he knew where his body was. And I said, "Alright, go and get Peter Obe and two of you, go to the spot and take a photograph…That was the morning of the coup when we were all listening to Radio Ghana because Radio Nigeria was out of the air…"
Chief Segun Osoba, who published the event in the Daily Times of 23th January 1966, narrates the providential act of how he got the information that led him to the spot where he found the bodies of Balewa and Okotie-Eboh on 21st January, 1966:
"At that time, there was no SSS. What you had was called E-Branch of the Nigeria Police Intelligence Department. What you had was E- Branch and SCID. E- Branch was like today's SSS. And someone from there phoned me and for a reporter like me who had phone, my colleagues were making jest of me that it was elitist and a luxury. It was already 6 p.m. that day when I heard of the news and my immediate reaction was to get there before dark; so the question of looking for a photographer didn't arise and, as Chief E. A. Oshunneye, another eye witness, his wife is still around, she can easily corroborate what I am saying, her husband would have recounted the story to her; he was coming from Abeokuta and he told me that somewhere after leaving Abeokuta, on their way to Ifo, that he stopped and that they were all peeping from the window of their vehicle to look at the place where the bodies were kept. And so that was how I took my Vespa which was like having a car then. There was no traffic because there were fewer vehicles on the road and I raced there to see the body. I spoke with a lot of the villagers on the story. If people are enterprising enough, I think they should go to Ilogbo or Iyana Ilogbo, they would find people who saw the bodies."
After identifying the singular act of inviting (even if the invitation remained not absolute) the most senior military officer in the person of General Ironsi as the basis of the first incursion of the military into the politics of the country, Ikemba Ojukwu stated in his book, Because I am Involved (pp. 31 & 32), that it basically exonerated the military:
"The invitation in January 1966 to General Ironsi to form a government by the rump of Tafawa Balewa's government under the then Acting President of the Federal Republic of Nigeria, Dr. Nwafor Orizu, was perhaps the last legitimate, free sovereign act between a government of Nigeria and her armed forces.…this singular act of invitation absolved the military and its constituted leadership of blame for the tragic happenings of 15th January, 1966."
But, in Beckoned to Serve, the Turakin Sakkwato disagrees with the Ikemba, and hints that the nationwide broadcast by Senate President Dr. Nwafor Orizu (1915-1999), which announced the purported voluntary decision of the transfer of power from the politicians to the soldiers, was not exactly voluntary as claimed. Alhaji Shagari narrates the following:
"…I was about to break the Ramadan fast on Sunday 16th January, when all ministers were asked to report to the Cabinet Office at 6.30 pm. The whole premises were surrounded by soldiers in battle order that some of us initially hesitated to enter. In the Cabinet chamber were Major General Ironsi, Bukar Dipcharima and Ibrahim Tanko Galadima. There were no officials present.
"Major General Ironsi admitted to us that he had been unable to suppress the rebellion, which he said was getting out of hand. He stated that the mutineers were in control of Kaduna, Kano and Ibadan, and had killed two regional premiers, Sir Ahmadu Bello and Chief Akintola. They had also murdered a number of his best officers, including Brigadiers Maimalari and Samuel Adesujo Ademulegun, the Commander 1st Brigade Headquarters in Kaduna. Ironsi was full of emotion and even shed some tears. When we asked him about the whereabouts of Sir Abubakar and Chief Okotie-Eboh, he said he still did not know but averred efforts were being made to locate them. At this stage Mbadiwe broke down and kept crying: "Please where is the Prime Minister?"
"When we reminded Major-General Ironsi if he needed to avail himself of the British pledge of assistance, he replied it was too late as the army was pressing him to assume power. Indeed, he confessed his personal reluctance to take over because of his ignorance of government; but insisted the boys were adamant and anxiously waiting outside. He advised it would be in our interest, and that of the country, to temporarily cede power to him to avert disaster. Accordingly, we acceded to his request since we had no better alternative. Ironsi then insisted that the understanding be written.
"Surprisingly, there was no stationery to write the agreement; and all the offices were locked while no official was around. Alhaji AGF Abdulrazaq the Minister of State for the Railways (former NPC legal adviser), managed to secure a scrap paper on which he drafted a statement, which we endorsed. That was the so called voluntary hand-over of power by the Balewa Government to Major General Ironsi! It was agreed that the statement would be typed and Dipcharima would sign it on our behalf. We were then advised to return home and await further instructions. I only got to break my Ramadan fast around 9:30 pm."
Shagari's above statements may just have been a tip of the iceberg considering the corroborative testimony of Chief Richard Akinjide at a public book launch in July of 2000. Calling a spade a spade, Akinjide opens up a whole new can of worms as he narrates a suspenseful and sinister tale:
"Talking on the first coup, when Balewa got missing, we knew Okotie-Eboh had been held, we knew Akintola had been killed. We, the members of the Balewa cabinet started meeting. But how can you have a cabinet meeting without the Prime Minister acting or Prime Minister presiding. So, unanimously, we nominated acting Prime Minister amongst us. Then we continued holding our meetings. Then we got a message that we should all assemble at the Cabinet office. All the Ministers were requested by the G.O.C. of the Nigerian Army, General Ironsi to assemble. What was amazing at that time was that Ironsi was going all over Lagos unarmed. We assembled there. Having nominated Zana Dipcharima as our acting Prime Minister in the absence of the Prime Minister, whose whereabouts we didn't know, we approached the acting President, Nwafor Orizu to swear him in because he cannot legitimately act as the Prime Minister except he is sworn- in. Nwafor Orizu refused. He said he needed to contact Zik who was then in West Indies.
Under the law, that is, the Interpretation Act, as acting President, Nwafor Orizu had all the powers of the President. The GOC said he wanted to see all the cabinet ministers. And so we assembled at the cabinet office. Well, I have read in many books saying that we handed over to the military. We did not hand-over.
Ironsi told us that "you either hand over as gentlemen or you hand-over by force". Those were his words. Is that voluntary hand-over? So we did not hand-over. We wanted an Acting Prime Minister to be in place but Ironsi forced us, and I use the word force advisedly, to handover to him. He was controlling the soldiers.
The acting President, Nwafor Orizu, who did not cooperate with us, cooperated with the GOC. Dr. Orizu and the GOC prepared speeches which Nwafor Orizu broadcast handing over the government of the country to the army. I here state again categorically as a member of that cabinet that we did not hand-over voluntarily. It was a coup. "
Continued in Dogs Eat Dogs...

Disclaimer:

"The views/contents expressed in this article are the sole responsibility of the author(s) and do not necessarily reflect those of The Nigerian Voice. The Nigerian Voice will not be responsible or liable for any inaccurate or incorrect statements contained in this article."
Articles by Ajiroba Yemi Kotun