Goodluck Jonathan And his Government That talks too much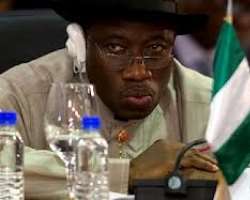 Nigeria has been in the spotlight every now and then recently, either going through serious scrutiny from foreign media houses or under severe attack by dissatisfied citizens.
Never has Nigeria found herself in such a precarious position since the 1967-1970 civil war. Today, Nigerians live in fear as a result of the growing security challenges. As much as many of us will try to keep hopes alive, we sometimes wonder if the Nigerian ship is sailing towards a Bermuda Triangle.
The average Nigerian knows that the fear of the 2015 general elections is not just the beginning of wisdom but the whole of wisdom in itself. No thanks to the consistent vituperations of the political powers in this country threatening fire and brimstone.
Many consider the President Jonathan's administration as one of the worse in recent democratic dispensations. Some wouldn't even spare it a bit of puffery. In their judgement, to score him is to rate him a total failure. Although, not knowing if they would have fared better in his stead, I still will not blame them. After all, this administration has done nothing other than lie needlessly again and again to the people.
Knowing that a Nigerian politician cannot be totally trusted, this administration has gone a bit further by saying one thing today and coming out to deny that same statement the very next day. In fact, a new record was broken recently on the #chibok girls issues.
One would think that for a job at that high pedestal, only the best of hands will ever make a date(interview) to be recruited but alas, the opposite is the case. The likes of Doyin Okupe, Reno Omokri and Reuben Abati in charge show that we have school boys running the PR of this nation.
No administration has been this unsure of its actions like what we have witnessed in recent times. The spokesperson of the Nigerian military Major General Chris Olukolade has joined the vanguard of giving Nigerians wrong information like in the case of the story of the released #Chibok girls which was later denied. This administration has been about image laundring and those in charge even after paying so much to a foreign company, have failed to deliver giving the likes of Asari Dokubo and Femi Fani Kayode part-time PR jobs for Aso Rock.
As GEJ focuses on his campaign for re-election though he is yet to publicly make an open declaration, he should realize that what the average Nigerian wants is jobs, security, constant power supply and basic infrastructures; not some phoney statistics of how millions of Nigerians were employed without proof, light improved and our economy the strongest in Africa. These statistics could only fool those who decide to live in the dark and not the Nigerians who face the everyday harsh reality of being Nigerians.
He should tell his social media vampires to confirm every bit of information before running to twitter and Facebook. For even if they delete their earlier posts, the people will still refresh it in their minds.
A government that says one thing today and turns around to deny it the very next cannot be trusted. Nigerians need a credible, visionary, bold and pragmatic leader, NOT a government that talks too much for nothing.
Onyeka 'Kerous' Ibeanusi is a Nigerian musician, motivational/entertainment writer and a social commentator. He is the founder of Hype9ja.com, a contributor to Businessday and Deltaforteng.com. He has a degree in Mechanical Engineering from the University Of Benin. You can follow him on twitter @onyeckerous
Disclaimer:

"The views expressed on this site are those of the contributors or columnists, and do not necessarily reflect TheNigerianVoice's position. TheNigerianVoice will not be responsible or liable for any inaccurate or incorrect statements in the contributions or columns here."
Articles by Onyeka Ibeanusi