Ebola Must Not Infect Our Human And Inhuman Character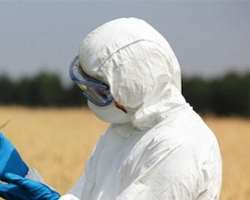 Africans do not need foreign loans to declare war on Ebola, only need people of goodwill and scientific cooperation. Nobody wants to die or see a loved one die. We wail for Ebola patients while violating laid down health procedures exposing health workers. Doctors and nurses are aware of taking risks. Our people in Guinea, Sierra Leone and Liberia restrained to keep away before becoming infected took it hard, as they watched relatives succumb to the deadly virus.
An African proverb asked us to keep our eyes open when crying. It was so sad to hear how wives have to take care of their husbands and how husbands have to care for their sick wives. When cleaners, aides, nurses and doctors see family members coming in to help with the care of their loved ones, it boosts their morale that they are not the only ones in the trenches. As long as proper precautions are taken, families must help, not just cry, hinder or attack workers.
Each time a disease breaks out and become a pandemic, we develop rational and irrational fears. It is not only amongst the poor and uneducated, some well informed and spiritual leaders blamed it on sins and vengeance from God. Even a President said those with AIDS deserve what they got for abnormal behavior. Since we got informed, AIDS has been relatively contained.
Frustration and superstition can damage goodwill of foreigners from Europe and United States working amongst us. It is unbelievable how health education in form of public announcement can demystified and eliminate hostility to those trying to help, those answering the call of duty as if they are going to war or those who believe they are created to serve mankind. Africans are not hostile, if anything, we welcome foreigners in our midst.
Unfortunately, those who perpetrate economic injustice belong to a different school of thought from those that are willing to lay down their lives to serve mankind anywhere. The same anger, ignorance and frustration that make us hurt ourselves sometimes extend to those in proximity to our situation. Some countries started withdrawing their health workers because they were overwhelmed and others face physical attack in some isolated areas out of frustration.
So far, Nigeria has been able to contain Ebola, especially in Lagos. We must pray that these health workers performing tasks their counterparts in the rest of the world are praising them for, will not lose sight of the enormous problems they face at home and their responsibilities to other African countries. They must repeat their treatment management and success outside home. World Health Organization is built on experts from all countries including Africans.
Do not wait on WHO or UN, Nigerian Government need to mobilized our doctors, pharmacists, nurses and social workers to African countries in need. Two of the earliest professions Nigeria is known for are medicine and law, apart from teachers. Lawyers, teachers, nurses and doctors were asked for and gladly accepted in other African countries in the past.
While we thank Allah for the number of recoveries, they must heed doctors' advice to abstain from sex for a while until it clears from their sperms. The antibodies of those that recovered are very important for research and development of vaccine. The fast track that one type of vaccine testing is put on, does not mean others cannot make better vaccine, especially in Nigeria. We cannot sit on our hands and wait for others to do what we should do for ourselves.
Ebola and Nigeria demonstration of competence has lately put us on the world map again for noble deeds we never realized for some time. Nigeria must rise up to that task as others from different countries outside of Africa. Of course the fear is there that Nigerian politicians may turn Ebola into foreign contract. Who knows, they may even ask the House and the Senate to borrow money abroad to fight Ebola.
There were some squabbles about how much was allocated and how much Lagos State was getting to ease the challenges faced by extra money spent in their successful operation so far. Others caution that money in foreign exchange, whether to buy cars or vans or ambulance will soon eclipse most of the gains Nigeria made against Ebola. We say, God forbid bad thing. At the same time we are all aware of our ingrain corruption that has not yet infected Ebola.
Realizing how dangerous and gruesome Ebola task is, workers are better paid to help with Ebola patients in Nigeria. If possible, apart from disinfecting them after work, temporary housing should be made available to some workers around the isolated units of Ebola patients. It is the best way to make sure some do not go back home to infect their families and friends. They should be able to go home during their off days of course, but may be not on a daily basis.
In terms of shortage of supplies, we have heard that suits that were supposed to be disposed of or properly disinfected and cloves never to be used again, are in short supply. This is a shame, we should be able to produce these high-density polyethylene fibers or Tyvek suits locally. We have factories producing raincoats, rain boots and other materials. This is an opportunity for them to diversify and hire more workers to meet demands.
If General Motors and Ford can switch assembly lines into producing war vehicles, it should not be that difficult for many African countries to turn raincoats into Tyvek suits. There are all types of disinfectants in the market almost overnight after the Ebola scare. Some of us do not hug, some fist bump and others refuse to kiss, not even check to check anymore.
Africans must be kind to their true friends and people of goodwill everywhere. We know the difference between our friends when in need, and our exploiters when not needed. Ebola must not affect our sense of differentiation, judgment and appreciation by foreigners in goodwill.
Disclaimer:

"The views/contents expressed in this article are the sole responsibility of the author(s) and do not necessarily reflect those of The Nigerian Voice. The Nigerian Voice will not be responsible or liable for any inaccurate or incorrect statements contained in this article."
Articles by Farouk Martins Aresa