Bassey Albert Akpan: Why Ibibio Should Not Support Him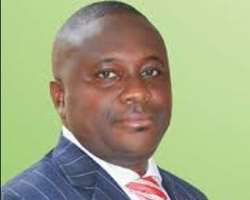 Despite all the noise-making about how this and that group has "adopted" this and that aspirant, the truth remains that the official period for election campaign are still weeks away. But when that time finally arrives, Ibibio will conduct a serious scrutiny of all its sons and daughters who are now scrambling to represent them. One such person will be Bassey Albert Akpan.
From 2007, up until a few months months ago when Akpabio unceremoniously removed him from office as the Commissioner for Finance, Bassey Albert Akpan dined, wined, danced, and sang the songs of joy with Godswill Akpabio.

While the administration, in which he served as a Commissioner, was busy eliminating the Ibibio, Bassey Albert Akpan only listened to that old Congolese music of "na wettin concern me." While Akpabio's administration played the politics of marginalization against the Ibibio, Bassey Albert Akpan, who was a key member of the administration, joined with Akpabio to condemn Ibibio leaders who expressed the voices of opposition.

When Chief Paul Inyang was assassinated by the administration, in which he was a key member, Bassey Akpan said nothing---his attitude then was that it was the "bad" Ibibio who were killing their leaders.

When Edidem James Robert Obot was assassinated, Bassey Albert Akpan neither raised any voice of condemnation of the assassination, nor used his position to pressure Akpabio to set up a Commission of Inquiry to investigate the death of the Paramount Ruler. The least he could have done would have been to resign in protest from the administration of Godswill Akpabio. Instead, Bassey Albert Akpan was busy accumulating more money in readiness to succeed Akpabio and at the same time condone and support the behavior of Akpabio under the false impression that he will be Akpabio's successor.

Now that Godswill Akpabio has removed him from his "bedroom," and has dumped him like a spoiled potato, Bassey Albert Akpan has become a converted Ibibio man, who has "discovered" the need for Ibibio to come together. Listen to this statement credited to him: "The ex-commissioner said the feedback from the 24 local government areas already visited showed that the people of the state want change and are asking to him to contest the governorship poll. Albert also explained that there was need for Ibibio to come together to resist any form of imposition, saying that no ambition should be bigger than the collective unity of Ibibio people."

It makes one to wonder whether Bassey Albert Akpan would have had the courage to make the above statement if he was still in the embrace of Godswill Akpabio. I wonder, and so are many others, whether Bassey Albert Akpan would have made the same statements if Akpabio had fronted him, instead of Udom Emmanuel, as his successor.

For the seven good years that Bassey Albert Akpan had been a member of Akpabio's kitchen cabinet, if everyone remained silent as he did while the administration, in which he was a key member, engaged in its myopic, self-centered, and stupid plan to economically and socially disseminate every son and daughter of Ibibio-speaking indigenes of the State, which "Ibibio" would Bassey Akpan be preaching to today?

As a Commissioner for Finance, Bassey Albert can never claim or feign ignorance to the looting of Akwa Ibom State Treasury by Akpabio. If there is anyone who knows the exact amount of money that Akpabio has stolen from the people, that person is Bassey Albert Akpan. But he is not talking because he so desperately wants to succeed Akpabio.

Rather than talk about how Akwa Ibom people can recover all the peoples' money that Akpabio has stolen, Bassey Albert Akpan has decided to cling on to the shoulders of Akpabio and make self-serving and meaningless noises about the need for Ibibio to unite so that he can succeed Akpabio as the next governor of Akwa Ibom State.

But Bassey Albert Akpan should not in any way be shown support to contest for the governorship position in 2015, because he is a mercilessly corrupt man, who has amazed wealth by helping Akpabio to loot the treasury of the people. As a Commissioner for Finance since 2007, Bassey Albert Akpan has been a factual contributor to the mass unemployment---especially among the youths---and the grinding poverty in which the people of Akwa Ibom State now find themselves.

When he joined Akpabio's administration in 2007, Bassey Akpan was, by any definition, penniless. But now he is a multi-billionaire, thanks to Godswill Akpabio.

Come 2015, he is poised and ready, like a trained model about to walk the fashion lane, to use his billions to challenge Akpabio. So far he is doing a good job of recruiting thugs and funding various cult organizations whose members are being trained to commit all sorts of election violence in Akwa Ibom State, all in the name of politics---a behavior he learned from his boss, Godswill Akpabio, in 2011.

If Bassey Albert Akpan is allowed to succeed Akpabio, he will be worse than Akpabio in all capacities. In his Local Government of Ibiono, Bassey Albert Akpan is associated with all sorts of political violence. And when one remembers the type of violence that has been associated with the administration of Godswill Akpabio, in which, until recently, Bassey was a key member, a mere anticipation of a worst scenario is in itself nauseating, to say the least.

Bassey Albert Akpan is a very corrupt man who, if allowed to become the next governor of Akwa Ibom State, his corruption will surpass that of Godswill Akpabio. When people say that Bassey Albert Akpan is very rich, I would ask them where and how he became rich; I still don't have the answer. He has never owned a business, at least not before he became the Commissioner for Finance.

It is soothing to know that for the 2015 Election, the Ibibio people have already resolved to fight against imposition. They do not need or want the preaching of any Ibibio traitor, such as Bassey Albert Akpan, who until Akpabio kicked him out of his administration few months ago, was very well a key-player in the campaign to marginalize the Ibibio with a planned systemic decimation of their roles and importance in the political and social schemes of Akwa Ibom State.

Let no one trust Bassey Albert Akpan. He is a traitor of the Ibibio in whom the destiny of the people should never be entrusted into his leadership.

Ikpafak Thompson Essien
The Voice of the Poor Masses
Defender of the Oppressed
Social Critic
A native of Ibibio nation of Ubium Republic extraction, now living in the safe and beautiful city of Portland, Oregon, where no AKPF, ADUMA, ADV, and Akwa Ibom State politicians can reach
Disclaimer:

"The views/contents expressed in this article are the sole responsibility of the author(s) and do not necessarily reflect those of The Nigerian Voice. The Nigerian Voice will not be responsible or liable for any inaccurate or incorrect statements contained in this article."
Articles by Chris Oduok