Open Letter To Umana Okon Umana: Wake Up! Godswill Akpabio Is After You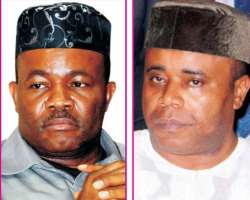 Brother Umana Okon Umana:
I have a feeling that if you had your way, you might have preferred that I sent this letter to you in private. But since the issues I will raise here are important, I chose to communicate with you through this medium so that every Akwa Ibom indigene, and their friends, may have the opportunity to "chip in" their opinion.
On August 17, 204, in my article titled: "Akwa Ibom State Politics: The Race for 2015---Who will Contest Against Udoedehe?—Part 2," I wrote: "Second, even if it means spending the last kobo in the coffers of Akwa Ibom State, Akpabio may work in tandem with the presidency to stage the arrest of Umana Okon Umana and charge him with financial improprieties for the period he served as the Secretary to the Government. If this scenario takes place, Akpabio will make sure that Umana remains incarcerated until the end of the gubernatorial election."
Sir, whether or not you believe it, Godswill Akpabio is poised and is ready to destroy you. What Akpabio is doing now is to test your reaction by going after the most important person in your life---your wife. The article published by the Update Publication is the first covert attempt by Akpabio to assess your reaction in preparation for his next plan of action against you. If you want, you have the option to prepare for the fight or play dumb and stay in fear of Akpabio until he destroys you completely.
So far, your response to the test has been poor. By rushing to issue threats to the Update newspaper and its Editor on the story about your wife, you have diverted attention from your real enemy and pick a quarrel with an entity which has nothing to do with the war between you and Godswill Akpabio. You cannot fake ignorance or pretend to not know that the release of the document on a business transaction which occurred in 2007, at this period where every potential candidate is preparing for the 2015 election, is not any attempt by any newspaper outfit to libel you, or destroy your name; Akpabio is the brain behind the entire nonsense.
What is the point threatening the editor of the Update newspaper and demanding that he pays you N100 million when the poor man can barely pay for his daily living? As a leader, you could have invited Mr. Emmanuel Effiong (I hope he is the Editor) for a meeting to discuss the source of the content of the article about your wife. Such a meeting could have afforded you the opportunity to have first-hand information about the people who are directly involved in such scandalous documents.
Every Akwa Ibom person knows that when Unoma Akpabio locked you out of the office last year, her husband sent his "boys" to cart off some very vital, and probably very implicating, documents in your office. Since then, they have had enough time to study and put everything together and are ready to use the information against you. If you do not wake up now to fight Akpabio, you will wake up one day and discover that your wife has been sent to prison and you will be next.
Remember what you and the rest of those who supported Akpabio did to Frank Okon in 2011? Frank Okon was a bustling candidate for governor. One day he woke up to hear that the Akwa Ibom State House of Assembly had indicted him over a deal, which happened way back when Frank was a Personal Assistant to Obong Victor Attah, in regards to Ibom Science Park. The House of Assembly, in their infinite wisdom at the time, thought that by indicting Frank, he would become a criminal and as an indicted criminal, he would be disqualified from contesting for the governorship position. Frank took the matter to court and won. But, by the time the court cleared him, the gubernatorial election was over.
Godswill Akpabio is playing the same game with you by going after your wife first. Once he is finished with your wife, he will definitely come after you. If you think Akpabio is playing with you, then continue to amuse your fantasies that you are a hero whom no one can touch.
My recommendation is that you must go after Akpabio with all your might and muscle. I have written before, let me repeat here; Akpabio is a bully and a coward. In all my years of dealing with bullies as a school teacher, I have come to understand that the best way to handle a coward and a bully is to fight back.
I understand that Akpabio is covered by the Immunity Clause, but his brothers are not; go after them. Bring out all the financial improprieties that Akpabio has used his brothers to execute for him out in the open. Let Emem Akpabio, let Nsentip Akpabio, let Ibanga Akpabio, let Ukpong Akpabio, let all Akpabio's clan that are colluding with Akpabio to loot Akwa Ibom State treasury come and explain how they were able to become billionaires. Put them on the defense. Then prepare for Akpabio so that immediately he hands over the mantle of office on May 29, 2015, he will never have peace of mind.
Do not tell us that you do not know anything about the corrupt practices of the Akpabio's brothers; you know a lot. But if you think clearing your name is by threatening to file a lawsuit against a poor editor, then very soon, you are going to wake up and find yourself handcuffed like a common criminal and placed under detention till the end of the election, as I predicted.
Godswill Akpabio has the means to put you in detention by bribing everyone, and he will, unless you fight back. The Update newspaper did not come out of the middle of nowhere to link you and your wife to the transaction between your company and PHB Bank. You could have set the record straight without threatening a lawsuit, which you know can never stand the test of time in any court of competent jurisdiction. The reporter mentioned that he has a copy of the document from which he derived his report and that they have been trying to contact you before they went public with the story, but your "body-guards" won't allow his access to you.
Many Akwa Ibom people think that for you to ignore the mischief of Godswill Akpabio and go after the Editor and his news organization is a calculated ploy by you to avoid confrontation with Akpabio. You should learn from Senator Aloysius Etok, who stood up to Akpabio. When Akpabio discovered that the Senator was too much for him, he ran away; that is Akpabio for you---a coward with a very low self-esteem and full of inferiority complexes.
Please go after Akpabio; we will support you in the fight. I am convinced that nearly every Akwa Ibom people will support you in your fight against the monster that Akwa Ibom State was unfortunate to have as a governor.
The destructive tendency of Godswill Akpabio is no longer politics, but wickedness. It will be a false assumption to believe that the best way to fight a wicked man like Akpabio, or such as Akpabio, is by playing subtle with him. Always remember this one thing about Akpabio; fight him, he will run, but run from him, he will come after you; this is a simple common characteristic of bullies.
Sincerely,
Ikpafak Thompson Essien
The Voice of the Poor Masses
Defender of the Oppressed
Social Critic Residing in Portland, Oregon
Disclaimer:

"The views/contents expressed in this article are the sole responsibility of the author(s) and do not necessarily reflect those of The Nigerian Voice. The Nigerian Voice will not be responsible or liable for any inaccurate or incorrect statements contained in this article."
Articles by Chris Oduok