2015 Election: Akpabio Promises To Kill Anyone Who Opposes His Succession Bid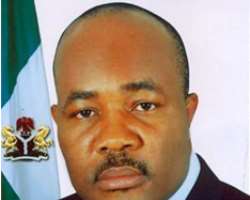 During the 2011 gubernatorial race in Akwa Ibom State, scores of people were assassinated, billions of naira worth of properties were destroyed, ballot boxes and other voting materials were carted away at gun points, many people were injured, maimed, and raped---all in the name of politics. Akwa Ibom people rightfully blamed Akpabio for the mayhem, though some of his supporters vouched for his innocence. Since then, many people, such as me, have labelled Akpabio as a man with a killing instinct, who has no regard for life.
As they are preparing for the 2015 election, it appears as if Akwa Ibom people are going to be saddled with the burden of what happened in 2011. So far, Akpabio has issued a warning----which many have interpreted as a coded message for his killers.

Speaking in Uyo during the the foundation-laying ceremony for the construction of the People's Democratic Party Secretariat in the State, Akpabio said those who want to contest against a candidate of his choice must bow down for him or face death.

Hear him: 'Just as God threw Lucifer unto the Earth, those who have betrayed the governor of Akwa Ibom State will not enter the Government House. And because of impatience, Absalom (son to King David) wanted to take over by killing King David. And when David heard, he asked the people to leave him. This did not end up well with Absalom. He died before his father. Those who want to take power through the backdoor will die and the PDP will continue,' he said. (Source:http://www.punchng.com/politics/death-awaits-politicians-se http://www.punchng.com/politics/death-awaits-politicians-seeking-power-through-backdoor-akpabio/eking-power-through-backdoor-akpabio/.)

Those who are close to Akpabio unanimously agree that with mounting opposition, especially from those who once dined and wined with him, inside him, Akpabio knows that he is facing a humongous opposition to his plan towards imposing a successor of his choice.

Those close to him say Akpabio is fearful of the manifestations of a lame duck governor. They say unlike when he was an incumbent in 2011, this time around, he may find it more difficult than he anticipated to stand up to and defeat the voices of opposition against his sole ambition to impose a successor of his choice on the people.

Some observers agree that while it might be one thing for Akpabio to successfully bribe through and intimidate the hierarchy of PDP for the emergence of Udom Emmanuel as the PDP candidate in the State, it will be another task for Udom (or any choice of Akpabio) to win the governorship race------though some people have speculated that Udom may not, after all, be his final choice.

Also, his critics have observed that Akpabio is very scared of losing and that this fear is what is priming Akpabio into issuing irresponsible statements in public places, including the threats to kill his opponents, under the false assumption that such threats will deter potential candidates to withdraw their ambition to contest against his choice of a successor.

Another issue that is making Akpabio to tremble is the awareness that he may eventually lose the State to either another faction of PDP (such as Umana Okon Umana and Albert Bassey Unity Vanguard---just to mention one possibility) or to the opposition (such as the APC, under Senator John Udoedehe and Group Captain Sam Ewang Unity Vanguard.)

One analyst summed it up with these words; 'Can you imagine the outcome if Umana, Albert, Udoedehe, Ewang, Okpolum, Bishop Akpan, and maybe Iyanam and Esuene decide to settle their differences and team up (together) to fight Akpabio? The politics in Akwa Ibom State will change---instantly! If such a scenario were to occur, all that speculations of President Jonathan being on the side of Akpabio will be nonsense. Akpabio himself would likely run into hiding and abandon the State before May 29, 2015.'

But no matter the outcome, the politics in Akwa Ibom State can be conducted without assassinations and kidnappings. It is very shameful that an individual, who is privileged to occupy the position of Chief Executive Officer and Chief Security Officer of the State will issue statements in public that say he will kill those who are planning to exercise their civic rights and responsibilities.

Godswill Akpabio's threats to kill his opponents must be condemned without any conditions attached. The attitude of Akpabio is primitive, which in the year of our Lord 2014, a leader who holds such killing instincts should not be allowed to occupy any political office in our society.

Say no to imposition. Akpabio must be probed!

Ikpafak Thompson Essien City of Portland, Oregon
Disclaimer:

"The views/contents expressed in this article are the sole responsibility of the author(s) and do not necessarily reflect those of The Nigerian Voice. The Nigerian Voice will not be responsible or liable for any inaccurate or incorrect statements contained in this article."
Articles by Chris Oduok